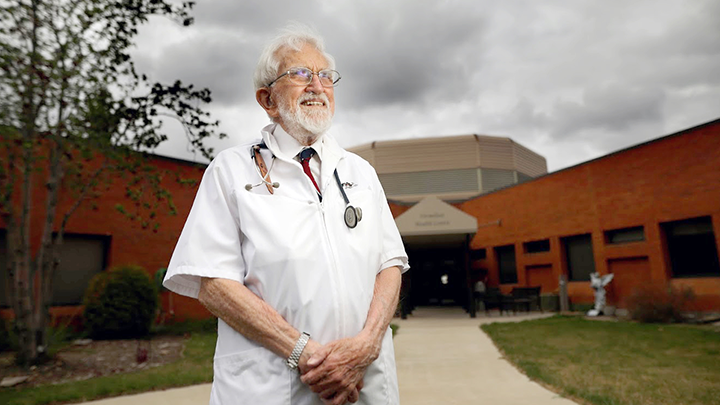 Vermilion seniors count on the expertise and experience of Dr. George Charles Stewart-Hunter, who has practised medicine since 1946, in countries around the world, before coming to town in 1968. This long-service award recipient from Central Zone, at 95 years young, shows no signs of slowing down.
Beloved Vermilion doctor a big believer in the value of teamwork
Story by Yolanda Genu | Photo by Leah Hennel
VERMILION — For Dr. George Charles Stewart-Hunter, teamwork is the key to success. After having delivered healthcare for more than half a century, he certainly knows a thing or two about teamwork.
Stewart-Hunter is a long-service award recipient in Central Zone, where he long provided obstetrics care, but now focuses on geriatrics.
"I work with an incredible team," says Stewart-Hunter. "We talk to each other, and sometimes our team disagrees with me. We can argue, and they can also come up with suggestions. The team is part of the decisions. As a doctor, you're not isolated anymore."
Stewart-Hunter first declared as a boy of 8 that he wanted to be a surgeon. Born in England, he received his medical degree from the University of Liverpool.
A superb storyteller with a sharp memory, he recalls his experiences vividly, and can recount some of them through letters he wrote to his parents as a teen in boarding school on the Isle of Man — letters which he recently found tucked away in storage.
One of them, dated Sept. 30, 1940, relates his medical intervention with a bird:
"It had a dislocated wing, so I put it to sleep with chloroform. I was in the science part of the school, so it was available, and I sat and bandaged the wing, and it is kicking merrily with a bit of a hangover."
After graduation in 1946, his career in obstetrics began during his time in the military.
Drafted into the Royal Air Force and sent to Singapore to work in a hospital, Stewart-Hunter quickly became the head of obstetrics and gynecology (OB/GYN) on his assigned unit, after the acting specialist fell ill and was sent back to England.
Having only completed obstetrics training as a medical student, he learned on the job. On his first day, impeccably dressed and ready to serve, Stewart-Hunter recalls helping 40 to 50 women give birth.
"I probably delivered as many babies as I had in my entire life," says Stewart-Hunter. Today he reckons he did as much gynecology as almost any specialist in the world.
Upon his return to England, he applied for jobs near local universities through a Dean, who later offered him an OB/GYN position. After much deliberation, he took it. Later, however, a senior position became available in another area.
Stewart-Hunter soon ended up lecturing at the University of London, before moving to Nigeria to help open a new university teaching hospital. He's also worked in Wales, and taught in Scotland, Australia and Kenya.
Now a geriatrics physician in Vermilion, where he's lived since 1968, Stewart-Hunter looks after the nursing home and long-term care out of town.
With a wry sense of humour — reflecting on his obstetrics-to-geriatrics career— he refers to it as "hatching to dispatching".
He also does house calls, cares for patients in palliative care and is a pain-control specialist.
Stewart-Hunter says innovation is working as a team; he feels that in the past the doctor made decisions with little input from the team and no one questioned the decisions, giving doctors the final say.
Collaborating also improves communication and makes it easier for teams to find solutions. When his team suggests a change, he gives it a try and writes it in his notes — and this has worked like a dream.
"Because our team is excellent," adds Stewart-Hunter.
In addition to a rewarding medical career, he says his biggest achievement was getting his pilot license, and flew throughout the U.S., to the Bahamas, and to other destinations with his wife.
At 95 years young — with an incredible medical career that shows no signs of slowing down — he also enjoys painting and has captured many of his life's experiences in his watercolours. Subjects have included wildlife, landscapes, flowers and animals — including his beloved dog — in artwork that now hangs on his office wall of fame.