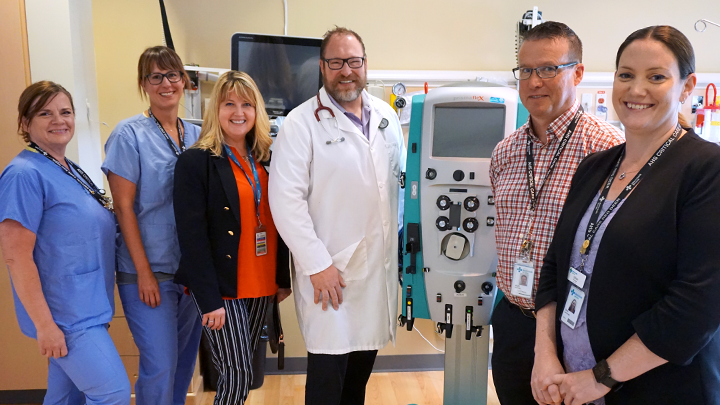 Members of the Red Deer Regional Hospital Centre Intensive Care Unit (ICU) team — Lyndsay Clarke, left, Shelley Hennig, Kelly Longard, Dr. Robin Curtis, Geoff Norris and Gillian Brown — are supporting a research trial that aims to address the best ways to treat kidney failure and reduce mortality rates among patients.
Study underway to combat kidney failure in the critically ill
Story by Tracy Kennedy | Photo by Melissa Ballantyne
RED DEER — In the intensive care unit (ICU), the healthcare team performs miracles every day. In the ICU at Red Deer Regional Hospital Centre, they're also looking to perform miracles in the future, too.
Toward that end, the ICU is participating in its first major international clinical trial.
The trial aims to address the best ways to treat kidney failure and reduce mortality rates among patients admitted to ICU. It's being led by Dr. Sean Bagshaw, chair of the Department of Critical Care Medicine at the University of Alberta and scientific director of AHS' Critical Care Strategic Clinical Network.
The study is known the STARRT-AKI (Standard vs. Accelerated Renal Replacement Therapy in Critically Ill Patients with Acute Kidney Injury) trial. It investigates whether an early start to renal replacement therapy (RRT) — also called dialysis — in critically ill patients is the best time to use the therapy. RRT replaces the normal blood-filtering function of the kidneys, and is used when a patient experiences renal failure due to acute kidney injury or chronic kidney disease.
The Red Deer Regional Hospital Centre (RDRHC) ICU has 34 patients participating in the study — the highest enrolment for a regional/community hospital site in Alberta.
"We are very grateful to the RDRHC team for their commitment to the trial and, naturally, thankful for patients and their families who have consented to participate," says Dr. Bagshaw.
"We would like to thank the RDRH ICU team for championing the STARRT-AKI trial. There is no question they are an example of how regional centres — not only in Alberta but also across Canada — can participate in important leading-edge research to improve care for critically ill patients."
The Red Deer team is led by Dr. Michael Russell and acute care manager Gillian Brown.
"Acute kidney injury is one of the things we struggle with and, if we can help turn that around earlier for patients, they'll have better outcomes," says Brown. "That is the hope — our aim — to always look at the factors that put them at compromise and see how early we can turn that around.
"The trial takes a team effort. I had bedside nurses and physicians calling me 24/7 to help with enrolment of these patients. All the staff here were very supportive and extremely keen."
The trial has recently completed recruitment. In total, 168 sites across 15 countries — including Canada, Australia, New Zealand, China, United Kingdom and France — participated and enrolled more than 3,000 patients.
Kelly Longard, director of Cardiac Sciences, Critical Care and Respiratory at RDRHC, is pleased to be a part of the project.
"We're very proud of being on the leading edge of this important trial with our academic partners," says Longard.
"The number of patients we've enrolled demonstrates how busy we are as an ICU and regional centre. It's great to showcase RDRHC in our community and on a larger stage."