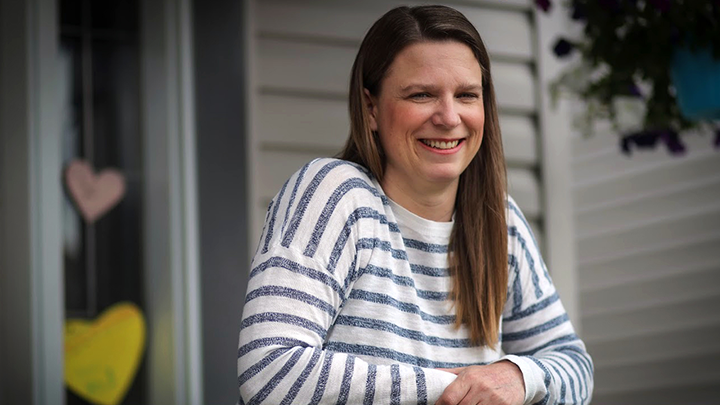 A longtime resident of Airdrie, Michelle Bates co-founded the Airdrie Health Foundation nine years ago following the passing of her five-year-old son, Lane. In addition to her role as executive director of the foundation, she is a registered pharmacy technician and has worked at Peter Lougheed Centre for more than 20 years.
Meet Michelle Bates, executive director for Airdrie Health Foundation
Story by Amelia Schofield | Photo by Leah Hennel
AIRDRIE — Alberta Health Services recognizes May as Health Philanthropy Month. Throughout the month, we'll be celebrating the foundations and auxiliaries who raise funds for healthcare across the province.
The Faces of the Foundations profile series will introduce you to the individuals who lead healthcare philanthropy across Alberta. This week, we're pleased to profile Michelle Bates, Executive Director with Airdrie Health Foundation.
Why did you get involved with the Airdrie Health Foundation?
I never actually intended to be part of or co-found the Airdrie Health Foundation, but life is full of unexpected surprises and challenges and sometimes life takes you on a journey you never imagined.
Ten years ago, at the height of the H1N1 pandemic, our five-year-old son Lane suddenly passed away. Lane had a bit of a cold that week but never complained about anything and didn't have a fever. He had no symptoms that indicated anything was this wrong, but I had a feeling something wasn't right.
The night he passed, I had come home from work around 11 p.m. and I still had a feeling that something wasn't right but I couldn't figure it out. I wanted a doctor to see him. However, Airdrie's urgent care closed at 10 p.m. and I knew there could be a wait for the emergency rooms in Calgary due to the pandemic. So, we decided to wait to see our family physician in the morning. Lane woke up early in the morning and tragically passed away.
A year later, we were in need of medical care late at night and we travelled to Didsbury. After this trip, I started to ask why Airdrie didn't have 24/7 healthcare. From this, a group came together to support 24/7 healthcare in Airdrie. This resulted in forming the Airdrie Health Foundation and the Airdrie Community Health Centre opened 24/7 in April 2017.
Why is healthcare philanthropy important to you?
In the years I have worked on enhancing healthcare for Airdrie residents, it is apparent that we cannot do what needs to be done without healthcare philanthropy. As a community, we need to recognize what is needed and we need to come together to take care of each other.
Tell me about some of the foundation's recent accomplishments.
The Airdrie Health Foundation recently funded telemedicine equipment that helped to increase the number of cardiology appointments in Airdrie. At the time, a few cardiologists from Calgary would come to Airdrie to work out of the Highland Primary Care Network. However, there was a limited number of cardiology appointments each month, resulting in patients from Airdrie and the surrounding area travelling to Calgary for their appointments. The cardiologists found there were barriers preventing these patients from travelling to Calgary for their appointments, which could lead to negative health outcomes.
The telemedicine equipment now allows patients to stay in Airdrie by going to the Highland Primary Care Network (PCN), and with the help of staff at the PCN, the cardiologist can do a full cardiology exam from their office in Calgary. The equipment has many attachments that allow for the exam. These attachments provide the ability to take patient's blood pressure in the clinic and have it printed out at the physician's office, and allow the physician to hear the patient's heartbeat. Working with these amazing healthcare providers — and enabling them to do their jobs and keeping our residents healthy — is an unbelievable feeling.
How can Albertans support the foundation?
As with most charities, we're always looking for donations. These funds allow us to increase positive health outcomes for patients, increase the scope of practice in our healthcare facilities, and keep our residents here in Airdrie for their appointments and medical emergencies. We have saved lives, changed lives and helped reduce wait times at the Airdrie Community Health Centre and Calgary's hospitals through the work we do. For more information, we encourage people to visit AirdrieHealthFoundation.com.