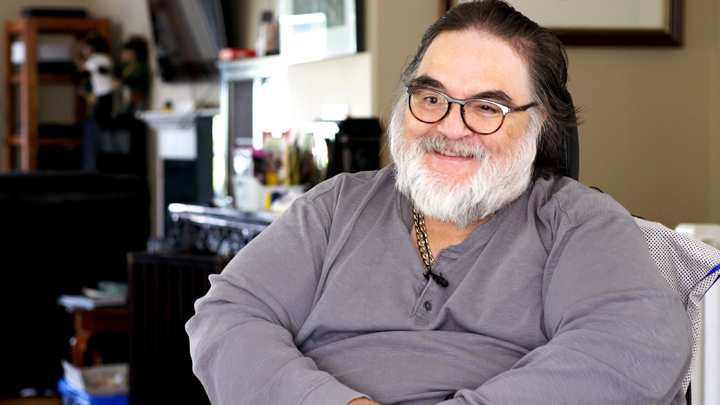 Home hemodialysis has proven a life-changer for Danny Kolotyluk. "It's been just incredible. One of the best things I think I've ever done."
100 patients enjoy more independence, control over health, in comfort
Story by Marni Kuhlmann | Photo by Evan Isbister
Danny Kolotyluk is grateful to be among 100 patients currently doing home hemodialysis in the Alberta Kidney Care – North (AKC-N) program — one of the largest home hemodialysis programs in Canada — a milestone that's being celebrated this year by Alberta Health Services (AHS) and the University Hospital Foundation (UHF).
"Home hemodialysis helps give patients in kidney failure more independence and control over their health, all while in the comfort of their own home," says Cathy Osborne, Senior Operating Officer for the University of Alberta Hospital (UAH), Mazankowski Alberta Heart Institute and Kaye Edmonton Clinic.
"Together with the UHF, whose donors generously support additional home hemodialysis equipment to the Alberta Kidney Care – North program, our team is able to help provide a better quality of life for 100 Albertans on home hemodialysis."
In the past, Kolotyluk spent many hours at the hemodialysis unit at the University of Alberta Hospital (UAH). With his kidneys no longer working properly, he needs hemodialysis treatments to remove excess fluid and waste products from his blood.
Facility or hospital-based hemodialysis requires a massive time commitment. Having to attend three times a week, for at least four hours each session, gave Kolotyluk a lot of time to think about a better option. He found that option through the Home Hemodialysis Program of Alberta Kidney Care – North (AKC-N).
While traditional therapy is effective and safe, and healthcare staff do all they can to ensure people who come to hospital to dialyze have a good and comfortable experience, Kolotyluk says he found his experience "harsh" — as many others do — with cramping, headaches and nausea afterwards.
"I really wanted to get on home dialysis because we were doing the night shift, so I'd start at 6 and finish at 10 p.m.," adds the Edmonton dentist.
Since switching to home hemodialysis, Kolotyluk can dialyze on his own schedule. Like many patients, he dialyzes at night while he sleeps. This slower, gentler form of dialysis is easier on the body than three-hour daytime treatments. Patients also benefit from fewer dietary and fluid restrictions, and feel better overall.
Patients have access to on-call help around the clock from the program's nurses and technologists, and receive extensive training before starting their hemodialysis at home.
"We make a very strong commitment to individuals who are learning to dialyze themselves. We're not going to send you home until you're comfortable, nor will we send you home until our nursing staff, the teachers, are also comfortable," says Dr. Robert Pauly, Medical Director, Home Hemodialysis Program. "We're really aiming for success once you get home."
For Kolotyluk, home hemodialysis has been life-changing. He reports having more time and energy and feels well enough to enjoy activities and outings with his wife of 45 years, Janine.
"It's been just incredible. One of the best things I think I've ever done."