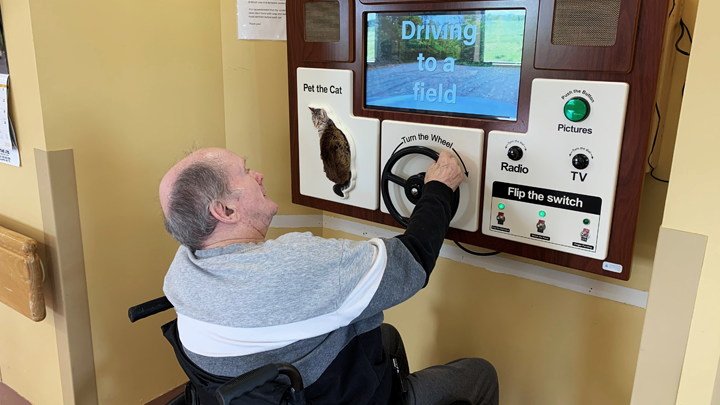 Resident Robert Smart enjoys a virtual drive on the ABBY system at Two Hills Hospital and Care Centre.
Technology tailors tactile and virtual experiences to individual residents
Story by Yolanda Genu | Photo by Chelsey Konieczny
With a smile on his face, long-term care resident Robert Smart taps a screen, turns the wheel and inquires: "Where are we going to drive today?"
Smart, who's no longer able to drive, isn't really hitting the road though — he's experiencing the feelings, sights and sounds of his latest 'road trip' virtually through new technology at the Two Hills Hospital and Care Centre (HCC).
The ABBY system is a wall-mounted interactive computer, designed for people living with dementia. Each unit consists of a touch screen, several switches, dials and a steering wheel that lets users engage in meaningful activities that bring comfort or have a calming effect, such as petting a cat or driving a car. The system can also be customized with particular information for individual residents to allow them to enjoy familiar activities, inspire memories or calm agitated behavior.
Both Two Hills and Wetaskiwin HCCs now have an ABBY system, thanks to a successful combined grant application.
"At first, we were both submitting the same proposal," says Michelle Jerke, continuing care manager at Wetaskiwin HCC. "When the duplication was discovered, it was recommended we combine the information into one, in hopes it would be more successful. In the end, it was a win-win."
The ABBY can be used comfortably by residents, whether standing or sitting. Its memory can be individualized — and the experience tailored — to each resident's interests, hobbies and favourite music. Residents simply select their name on a touchscreen to launch their personalized experience.
The system also provides social opportunities for residents, with some coming to watch while others interact, or choosing to listen to music over dinner.
"Our residents enjoy playing interactive games and listening to music," says Tammy Tarkowski, site manager of Two Hills HCC. "The behavioral benefit — calming and de-escalating — is great. It's another tool that supports residents and staff in using restraints as a last resort."
"Although the ABBY is located in the dementia unit, it's accessible to other residents," adds Chelsey Konieczny, recreation therapist at Two Hills.
Robert Smart has been using the ABBY machine since it was installed last December. 2019. Smart says he finds the driving relaxing, and now uses the device daily.
"We've noticed his responsive behaviors have slowly decreased; he's a lot calmer," says Konieczny. "One of his favourite activities is steering the wheel. It's as if he's driving a car, and the experience is amazing for him.
"It's been great to see the difference the ABBY system has made in our residents' lives."