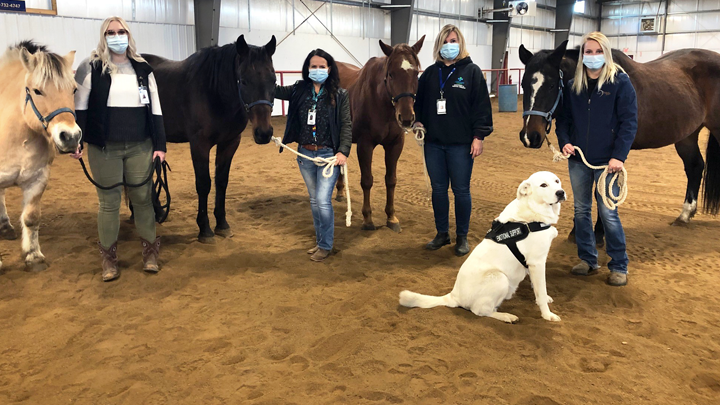 The Lethbridge Therapeutic Riding Association and others have partnered with Alberta Health Services therapy aide Hannah Yunick, left, recreation therapists Heidi Davis and Brandy Tonin, and program coordinator Eilish Short, to create the Equine Wellness Connection. Joining in the photo op are Arlo the dog and his equestrian pals Toby, Scooter, King and Princess. Photo supplied.
Equine Wellness Connection garners recreational therapy award
Story by Sherri Gallant
Winston Churchill once remarked that "the outside of a horse is good for the inside of a man". His adage has been proven true by a therapeutic program that pairs participants with horses — and has garnered recognition with a Community Partnership Award from the Alberta Therapeutic Recreation Association (ATRA).
The Equine Wellness Connection (EWC) is partnership between AHS Community Therapeutic Recreation, Alberta Health Services (AHS) Addiction and Mental Health Therapeutic Recreation and the non-profit Lethbridge Therapeutic Riding Association (LTRA).
This South Zone program is free to participants and facilitated by two recreation therapists, a therapy aide and LTRA staff who manage all livestock, the facility and create a welcoming environment for clients and staff alike.
"I'm learning how to recognize feelings in my body, and I feel calm," says one participant.
"I've noticed that my arm has a better range, maybe a full inch," adds another. "I lean into Blue to feel his warm body and it stretches my shoulder."
Therapy is provided once a week for six weeks, for an hour each time. It provides individuals who experience chronic pain, mental, emotional, and/or physical health considerations a chance to groom and interact with horses in a safe, meaningful, creative and facilitated environment — thus providing a therapeutic experience for both the participant and the animal.
LTRA staff say they've noticed that the horses appear calm as well after their grooming sessions.
"The online awards ceremony was so exciting for the team," says Annette Yunick, professional practice lead in the South Zone for Allied Health, Therapeutic Recreation.
"And to cap it off, that very same day, the Honorable MLA Grant Hunter (Associate Minister of Red Tape Reduction) visited LTRA to provide a grant for $14,800 that will support the EWC program and allow clients to join the program at no cost."
Yunick provides clinical practice design and support for the Community Therapeutic Recreation Program. Brandy Tonin, recreation therapist, provides leadership for the Addiction and Mental Recreation Program.
The program is also part of the team's provincial Community Rehabilitation Model of Care, which includes the collection of many outcomes, one being the EQ-5D-5L (Euro quality of life assessment), client goal setting, satisfaction surveys and more.
Along with Yunick and Tonin are recreation therapist Heidi Davis of Community Therapeutic Recreation and Addiction and Mental Health, and Eilish Short, therapeutic coach with LTRA.
"Within the Addiction and Mental Health Program — from complex trauma, autism, depression, addiction and personality disorder — clients have provided great feedback about the group," says Tonin. "This program allows clients to engage in healthy leisure pursuits and aligns with their path to recovery.
"This is a particularly good experience for those who have not had success with human relationships and who do not find safety in humans. These clients often find safety and success in relationships with animals. It's also a chance for clients who have been self-focused for a long time to now be other-focused — to be able to give of themselves and find purpose and meaning in their lives — which is the very essence of hope.
"The intent is that it will ultimately help clients to move into the community with some new-found confidence."