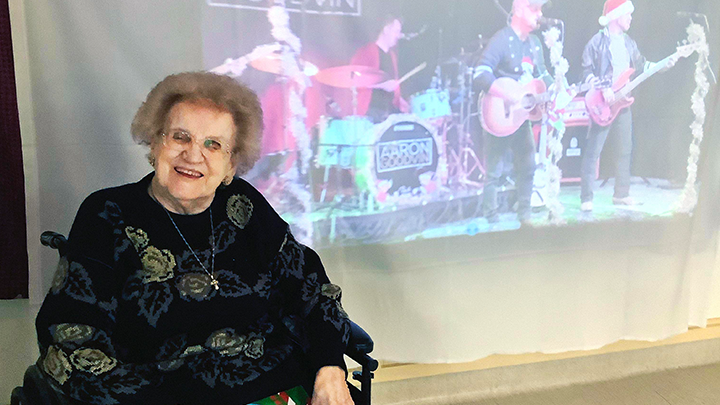 Anne Wrona enjoys some 'screen time' with country music star Aaron Goodvin at a virtual concert arranged for continuing care residents at Milk River Health Centre. Other performers included Duane Steele and Bobby Wills.
Talent agency teams up with top Canadian talent for virtual concerts
Story by Jennifer Vanderlaan | Photo by Jennifer Misura
The gift of music through virtual concerts by Canadian country stars made the recent holiday season all the more rousing for long-term care residents at Milk River Health Centre.
To make the magic happen, the South Zone therapeutic recreation team reached out to the Sakamoto Agency — a Lethbridge booking and talent agency — with a knack for organizing virtual performances for seniors in Western Canada.
To say the agency delivered would be understatement. In fact, it exceeded all expectations of the rec team when it gifted the Milk River seniors with a three-part virtual concert series featuring some of Canada's most talented country music artists, including Duane Steele, Bobby Wills and Aaron Goodvin.
Over the holidays, the pre-recorded performances were projected via Zoom onto a large screen in a common area — where residents could gather safely, with furniture arranged for appropriate social distancing, sanitizing and other precautions — to enjoy the big show. (The show was also made available for seniors to view on a tablet in their own room, if they were unable to attend with their neighbours.)
"We were able to clear a large room for the event," says Jennifer Misura, therapy assistant. "It was like we were at a real, live concert."
To generate some buzz and a shot of pre-event hype, staff handed out make-shift concert tickets to the residents a few weeks ahead of time. On the day of the event, each was given a bandana to wear to get them into the country spirit.
The country artists, themselves, also got into the spirit of the show, as each opened their act with a personalized message and greeting for the Milk River residents.
"The message at the beginning of the concert was a really special added touch that enhanced the experience for everyone," adds Misura.
The energy in the room soon became palpable as residents stomped their feet and clapped their hands in time with the high-energy tunes.
"The concerts definitely helped to fill some of that social need that's so vital during this time," says Misura.
Music is often used as a tool that's often used in therapy to calm anxiety, ease pain and assist in rehabilitation.
"We have a lot of programs based on music," says Misura. "Music provides a meaningful social experience and an opportunity to express emotion, because it can touch us in so many different ways."
Music also gives people an opportunity to reminisce, which brings further comfort to long-term care residents, who may be feeling more isolated during the ongoing pandemic.
Anne Wrona, 89, a resident of Milk River Health Centre, says music was, and remains, a big part of her life.
"I used to be in an orchestra, and I played the mandolin," she says with a smile. "At one time, I even had a soprano voice."
Wrona has called herself a fan of country music for as long as she can remember. It's a genre she finds particularly comforting, as it reminds her of family get-togethers of yesteryear, where they would play music together, especially over the holidays.
"I think it would be a sad world if there were no music," Wrona adds. "I want to thank all the artists who take the time to entertain us, because it means a lot."
The Concert Connections initiative took shape when a staff member at a seniors' residence in Alberta reached out to Sakamoto Agency with ideas on how to bring cheer and lift spirits for residents. Appreciating the power of music therapy, Sakamoto Agency quickly came on board to offer virtual concerts for the seniors.
"The residents of care homes were just on my heart," says Paul Biro, vice president and partner, Sakamoto Agency. "I felt compelled to do something for them, as they're seeing greater restrictions, and are more at risk than many others."
By the time the final guitar strummed, the generosity of the Sakamoto Agency and its artists had given more than 20 residents of Milk River Health Centre a gift of memory and good times they'll never forget.