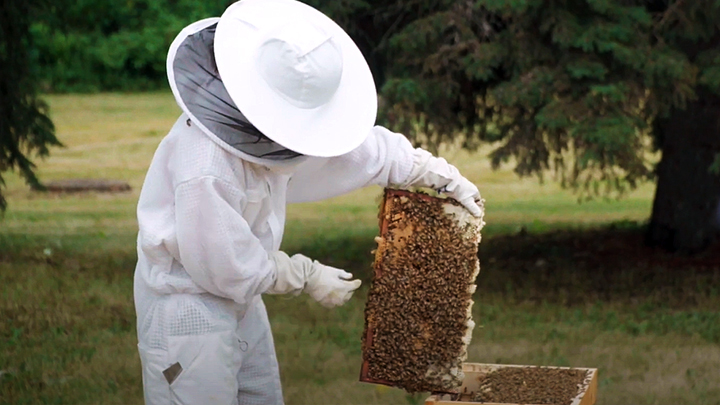 Beekeeping expert Enessa Habib performs her weekly check on the hives at Alberta Hospital Edmonton.
At Alberta Hospital Edmonton, patients receiving treatment for mental health issues can participate in horticulture programs as part of their therapy and treatment.
YEG Honeycomb brings beekeeping to Alberta Hospital Edmonton
Story by Christine Harris | Photo by Evan Isbister
A buzzworthy new initiative has come to Alberta Hospital Edmonton (AHE) with the introduction of beekeeping to its on-site horticulture program.
It's a sweet idea, called YEG Honeycomb, and it's part of an urban beekeeping pilot to bring colonies and beekeeping to six historic sites across the Edmonton area.
As well as receiving treatment for their mental health issues, AHE patients also participate in horticulture programs as part of their therapy and care. YEG Honeycomb gives them the opportunity to gain first-hand knowledge of the art of beekeeping, beginning with the basics and eventually helping to manage the hives.
"Our larger mission within Addiction and Mental Health is client-centred care," says Darren Crawford, program manager, Allied Health and Patient Experience at AHE. "We look at an individual's interests, goals and what will help them sustain a healthy, positive life as they leave hospital and engage in community opportunities.
"Creating opportunities to see patients engaged, harvesting the honeycomb and supporting that process will help them with their mental health and attaining goals to move forward and transition out of the facility and into the community."
Increasingly, clinicians are coming to understand how practising mindfulness — the act of being engaged in the present moment — can benefit patients living with mental health issues. Spending time outdoors, being in green spaces and caring for living creatures are a few of the reasons that beekeeping is viewed as a way to promote mindfulness and support their care and well-being.
The pilot was introduced to AHE earlier this summer and will continue to develop at the hospital over the coming years.
"I feel extremely privileged to be working with Alberta Hospital Edmonton," says Enessa Habib, beekeeping expert and owner of the YEG Honeycomb. "We have an amazing team that wants to bring these programs and services to patients.
"Sometimes we're inclined to start looking after something that is smaller or more fragile than we are. I think that can really reflect back on us — and help us with what we need to do to take care of ourselves."