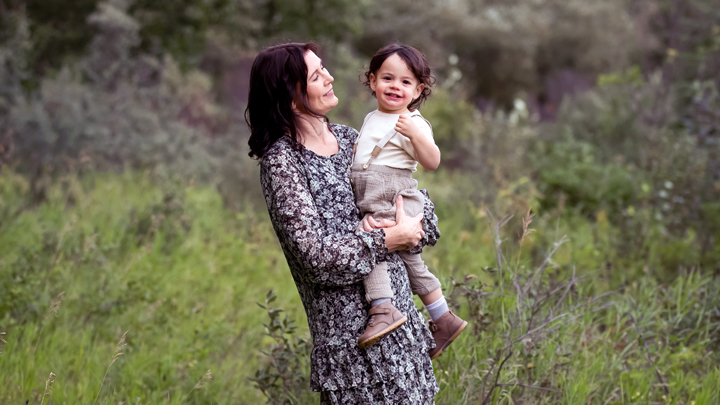 Rhonda, shown here with her son, is expecting her second child. Though she initially hesitated on getting her second dose of the COVID-19 vaccine, she recently completed her immunizations to fully protect herself and her family. Photo supplied.
Despite initial concerns, St. Albert woman follows through on full COVID-19 immunization
Story by Tracy Kennedy
At the best of times, pregnancy can be nerve-wracking for an expectant mother. Add fertility treatments and a global pandemic to the mix, and pregnancy can feel like navigating a minefield.
Rhonda, 44, knows all too well the struggles of fertility, pregnancy and parenting during COVID-19. The St. Albert mom of one toddler had her first shot done at a local pharmacy in May. It was the second dose that ended up with a bit of a pregnant pause.
"We knew we were getting ready to start IVF (in-vitro fertilization) treatments for our second child so these health decisions were big to me," says Rhonda. "I got the first dose because I wanted to have some protection. I'm doing the best I can, making the best choices I can to be as healthy as possible. Then treatments began, and time just passed."
When she learned the treatments were successful and she was pregnant, Rhonda says she felt uncertain about getting her second dose.
"You're seeing all these reports on social media and you can't tell what's fact and what's fiction," she says. "You don't know because this is all new, and you don't want to inadvertently cause harm to the baby because of the unintentional consequences of a vaccine."
Like many expectant moms, Rhonda worried about comparisons made to Thalidomide, a drug developed in the 1950s for nausea and insomnia in pregnant women. Thalidomide was responsible for causing birth defects in babies, and was taken off the market. Unlike COVID-19 vaccines, Thalidomide did not have efficacy or safety data, nor did it undergo extensive clinical trials. By comparison, COVID-19 vaccines Pfizer and Moderna have been tested on more than 60,000 people in randomized clinical trials and have shown 90 per cent effectiveness.
Some people mistakenly claim that COVID-19 vaccines are 'experimental.' Though COVID-19 vaccines were developed rapidly, they used science that's been around for decades. Extremely robust data from clinical trials and real-world use in many millions of people show that vaccination is safe, and offers good protection against becoming infected and excellent protection against serious illness or death from COVID-19.
Further to that, only a tiny fraction of the 54.8 million doses administered to Canadians led to adverse events — less than 0.03 per cent, of which even fewer were considered serious, representing only 0.008 per cent of all doses administered. At the same time, pregnant women who contract COVID-19 are at higher risk of being admitted to hospital and developing complications requiring intensive care than those who are not pregnant.
The event that set Rhonda into motion was when her husband became gravely ill, and was hospitalized with bronchial pneumonia. Though he never had COVID, his lungs were affected in much the same way.
"He was so sick, and everyone around him was so sick. And I thought, if COVID is anything like this, I don't want any part of it," says Rhonda.
"I also considered that if I got sick, I could not only have a negative outcome with the pregnancy, but what if I became unable to care for my 18-month-old? There's the life within you, and then there's the lives that already exist that depend on you, and I have a responsibility to them as well — to be the best and healthiest parent I can be."
She says this pregnancy will be her last, so it's critical she does all she can to be healthy and safe. As soon as her husband was discharged from hospital in September, Rhonda got her second dose of Moderna, to protect herself and her family. She hopes others will see the big picture, as she has, and do the same.
"If the vaccine weren't safe, they would have discontinued its use in pregnant women. No one wants to harm babies. You have to be logical about it. Dig deep, listen to yourself and turn off the outside noise. Think about what's best for your family."