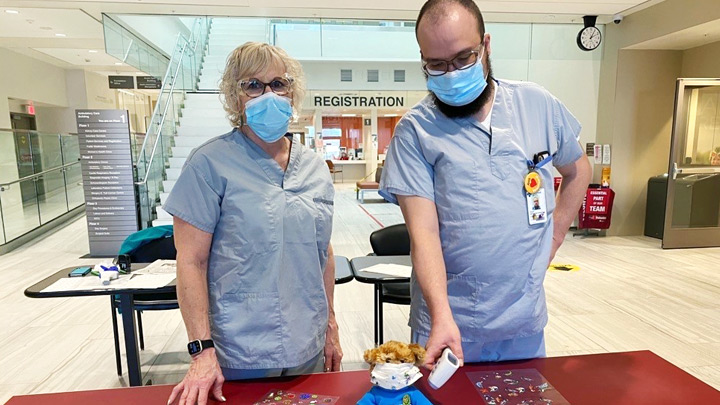 Screeners Wanda Fischer and Dean Halbert check their Teddy's temperature at the entrance to Medicine Hat Regional Hospital. Photo supplied.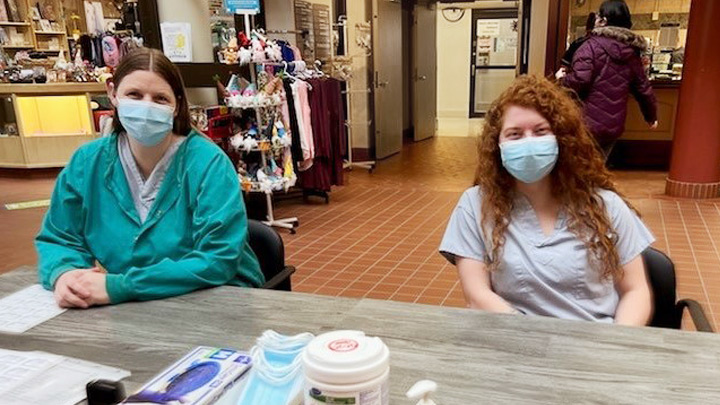 Leanne Loken, left, and Jenna Medhurst welcome all to Medicine Hat Regional Hospital. Some visitors have brought gift cards and tokens of appreciation to screeners. Photo supplied.
Protection, service and smiles begin at the doors to Alberta hospitals
Story by Kelly Morris
MEDICINE HAT — As the first smiling faces that patients and visitors see upon entering a hospital, screeners not only offer a layer of protection, they also provide a warm welcome and helping hand.
As COVID-19 restrictions and mask mandates lift across the province, Albertans are reminded that masking and screening requirements do remain in place at all Alberta Health Services (AHS) and Alberta Precision Laboratories facilities. With a goal to provide protection and customer service, screeners are still on hand to greet everyone at the door.
Screeners have been on the job since the pandemic began. They're the first line of protection for patients and staff at hospitals — as they ask visitors about their current health status, take their temperature and go through a few COVID-19-related queries before allowing access to the building.
"It's the ultimate customer service job. They help people out. They push people's wheel chairs. They go above and beyond," says Kendra Griscowsky, site manager for Medicine Hat Regional Hospital (MHRH).
"The hospital is a big confusing place. Between the screeners and greeters and volunteers, they're helping people get to where they need to go."
For some, a hospital visit can bring fear or sadness. Being welcomed by a friendly face, a smile and an offer of assistance often help to ease their anxiety.
"If they see a young man or woman that smiles, maybe jokes with them a little bit and puts them at ease, you can see the tension just kind of resolve when they realize, I'm going to be okay here," Griscowsky adds.
MHRH screener Leanne Loken says she's proud of the protective and helpful role she and her colleagues play.
"Just know that we will always be here to help you get where you need to go without any issue," she says. "No need to have fears about not knowing where to go or what to do, we'll help you through it."
Unfortunately, not everyone is happy with the screeners' presence.
Griscowsky recalls stories of people's angry reactions when asked to don a mask, sanitize their hands or answer health-related questions.
"Greeters have been threatened and insulted," says Griscowsky. "They take a lot. But they're a group of really caring and kind people who are performing a very necessary service. It's amazing that they keep smiling, because they take abuse day after day. But they're great at their jobs, and they're kind and caring and you'd never know that they hear the stuff that they do."
Thankfully, the positive experiences outweigh the negative ones, with many kind visitors arriving with gift cards and other tokens of appreciation for their greeters.
"You get regular visitors that you get to chat with and get to know them," says Loken. "They bring a smile to your face and brighten your day. Same with all the staff you encounter."
Screeners at Alberta hospitals will continue their valuable work as long as there are mask and visitor guidelines in place.