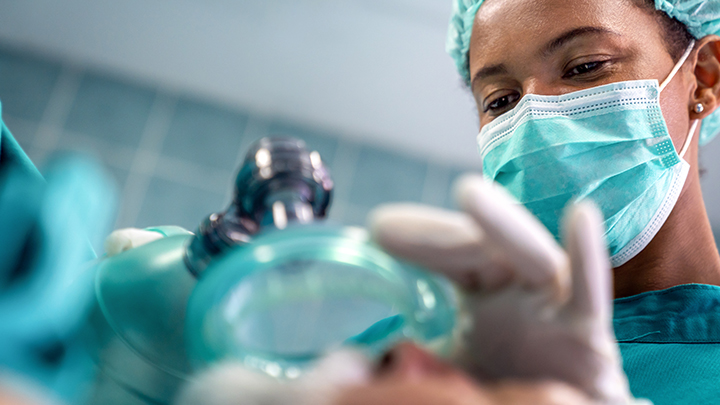 Respiratory therapists will be playing a larger role under the Anesthesia Care Team (ACT) model, a project designed to reduce surgical wait times.
Anesthesia Care Team model boosts role of respiratory therapists
Story by Christine Harris
Alberta Health Services (AHS) is debuting a new pilot program — the Anesthesia Care Team (ACT) model — which aims to reduce surgical wait times by drawing more upon the skills and expertise of respiratory therapists.
The premise of the pilot is simple: By having a qualified respiratory therapist II (RT II) perform certain tasks traditionally performed by an anesthesiologist, it allows the anesthesiologist to extend care to more patients and increase access to safe and timely surgeries for more Albertans.
"Working under the Anesthesia Care Team model is both challenging and rewarding, for myself and my team," says Steve Saramaga, an RT II at Edmonton's Royal Alexandra Hospital currently participating in the pilot.
He's found it to be an immensely fulfilling experience where he's able to use the full range of his skills and training as an RT to support patient care.
"Under this model, I perform patient assessments and obtain a medical history, develop an anesthetic care plan after discussion with our anesthesiologists, and then carry through with the plan by administering and monitoring light sedation and ensuring the patient's needs are met during their stay," he adds. "This occurs under the supervision of an anesthesiologist the entire time."
The Anesthesia Care team model improves access to healthcare because it recognizes the team members for the value and potential they can bring."
Under the ACT pilot, an anesthesiologist can oversee two or three surgeries with the support of one RT II providing anesthesia service in each room. This differs from the current structure, in which an RT II would support an anesthesiologist by providing anesthesia service during procedures only.
"We have identified areas where it is clear that once the planning and design of care is completed, the vast majority of the patient's immediate needs can be met by a non-anesthesiologist working directly with the anesthesiologist," says Dr. Dominic Cave, ACT pilot sponsor and anesthesiologist at the University of Alberta Hospital.
"In some ways this is similar to the care provided by a nurse in the ICU, but with much greater involvement by the anesthesiologist given the nature of the patients and the surgical environment, where things can change much more quickly."
The ACT pilot is one way AHS is adopting innovative care models to work towards decreasing surgical wait times across the province, while supporting the workforce to increase capacity.
Increasing access to surgeries is a key part of the Alberta Surgical Initiative (ASI), a plan that strives to ensure that all Albertans receive their scheduled surgeries within clinically appropriate wait times. To make sure the ASI is successful, AHS must have a skilled workforce available to support those surgeries, including anesthesia care, as we expand access in surgical facilities.
While the pilot was recently launched in Alberta — and includes anesthesiologists and RT IIs in the Calgary and Edmonton zones — the ACT model is already in place across Canada in Ontario, British Columbia and Manitoba.
As well as improving surgical capacity in a safe and effective way, it also supports RTs in practising within their full scope of practice.