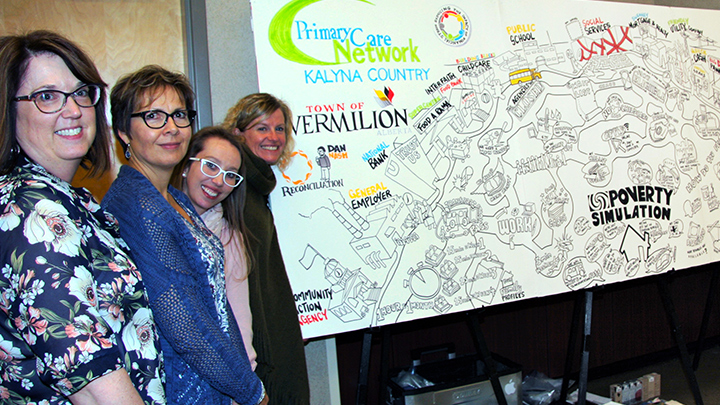 Community members and staff in the Town of Vermilion — from left, Joanne Stewart (AHS), Carol Coleman (Vermilion Family and Community Support Services), Natasja Hallatt (Kalyna Country PCN) and Charlotte Thompson (Kalyna Country PCN), standing next to a graphic recording created by Aaron Russell — recently took part in a poverty simulation exercise in support of the Reducing the Impact of Financial Strain project. Photo by Shawna McGhan.
Healthcare teams aim to address financial worries as a barrier to health
Story by Danielle Griffith | Photo by Shawna McGhan
Think back to your last medical visit. You likely discussed a current health concern or how to remain well. But would you be surprised if your primary care team asked you about your financial health?
In 2019, a small group of Primary Care Network (PCN) physicians and nurses began to ask patients a simple question about their financial well-being — 'Do you ever have difficulty making ends meet at the end of the month?' The team screened for financial stress to determine what supports could help reduce the risk of further health concerns. In what's come to be known as social prescribing, health teams also work to connect patients with benefits and supports in their local community, to things such as transportation, food, medication and access to technology.
These initial conversations extended to community partners who helped design the Reducing the Impact of Financial Strain (RIFS) project. The RIFS project is a ground-breaking collaboration between Alberta Health Services (AHS), the Alberta Medical Association, Primary Care Networks (PCNs) and communities who came together to test ways financial strain could be addressed.
The health teams developed relationships and connections with community partners and social agencies. They began by understanding the experiences of people living with financial strain and then mapped the assets people can tap into in their local community. Some teams hosted a transformational poverty simulation exercise in collaboration with AHS, PCN staff, Family and Community Support Services, and other local partners. Joanne Stewart, AHS health promotion facilitator, in her video, and Brian Match, executive director of Kalyna Country PCN, in his video, describe the impact of the poverty simulation.
Health providers discovered that when patients are struggling to make ends meet, it is ineffective to manage their chronic condition without addressing patients' financial difficulties. Seeing the whole patient, and referring them to other community supports outside of primary care, can have a positive impact on patients' wellness journeys. Lacey Smoole, Chronic Disease Management nurse with McLeod River Primary Care Network, shares an example of this with her patient in this video.
In fact, 55 per cent of Albertan's say that they lose sleep over money and many face challenges to make ends meet.
"It's really foundational to understand those circumstances that people are in, to understand their health and be able to improve it," says Dr. Karla Gustafson, Medical Officer of Health for the Calgary Zone, in a recent interview with CBC about the RIFS project.
Stories and discoveries from health providers are being launched in a new website to help care teams learn about the impact financial strain has on patients. The webpage also aims to spark conversations and create safe spaces for honest dialogue and upstream action with community partners, patients and their care teams.
Sandra Campbell, who worked with AHS on the project as an advisor, shared that it makes a world of difference to have a family doctor who understands her financial situation.
"I encourage more healthcare providers to look at the whole person and consider factors that affect a patient's health beyond what they see in the exam room."
Health teams across Alberta are invited to view and discuss the digital stories that patients, community partners, and providers created to explore ways they can come from a place of empathy, connecting patients to supports in their local community.
In her Alberta Health Services (AHS) digital storyteller video, Shelly (a patient who asked her surname not be used for privacy reasons) has experienced the impact that low finances can have on health. "I never thought I would have to make choices between essential services like electricity, gas, phone, internet, medications and food."