Health Care Task Force grateful for community input
Health Care Task Force grateful for community input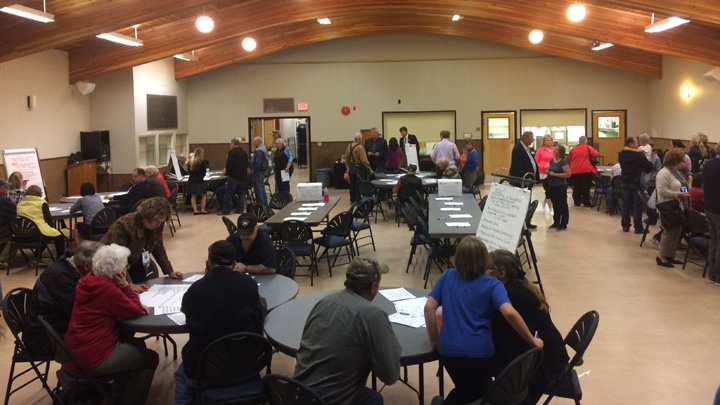 One of the most rewarding aspects of working in health care is the opportunity this provides to work closely with - and for - the community.
This work is particularly rewarding when we get to do this work, together, with the very best interests of Albertans at heart.
Last month, a joint task force was formed to finalize a plan for health care in Beaverlodge and area. The task force was asked to refresh recommendations for future infrastructure needs, as well as community based health care programs and services.
Members of the task force were selected to represent community interests, and included representatives from AHS staff and physicians, local stakeholder groups and community leaders.
We are fortunate to have such dedicated local people invested in this work. We are also extremely fortunate that so many members of the Beaverlodge and area community decided to participate in this process.
Almost 1,025 people completed a survey that was available online and within the community, and close to 150 people come to an open house in Beaverlodge on September 20, giving up their time to provide input into how they see their health care needs, now and in the future.
Their input is invaluable, and helped provide us with a great understanding of what is currently working in Beaverlodge and where healthcare could go in the future. The survey, which was available online and circulated throughout the community, closed on September 21, to allow task force members time to consider all submissions.
We know that the timeframe to complete the survey was short, and that given the tight timelines some people were unable to attend the open house. With an understanding of the importance of completing the report, time was of the essence for the task force to provide its recommendations to AHS President and CEO Dr. Verna Yiu by the end of September.
It is clear that people deeply value the health care services that are currently available in the community, and at the Beaverlodge Municipal Hospital. In particular, people were generous in their praise for their local physicians, health care staff and volunteers.
But, it was also clear that the hospital is old, and that we need to do something about that. AHS is certainly of the view that Beaverlodge needs a new facility – it is one of our top priorities.
The joint task force – chaired by Beaverlodge mayor Leona Hanson and AHS senior leader Stacy Greening – is now considering the information provided at the public house, as well as survey submissions, in addition to service utilization data, as it prepares its recommendations regarding the future of health care services in the community.
Recommendations will be provided to AHS President and CEO Dr. Verna Yiu by September 30.
Both the survey and the open house focused on eight questions. Below is a summary of what was heard on September 20, information that is now being considered as the task force prepares its recommendations.
1) Health care services can include your family physician, your pharmacist, or your local hospital. Where do you go for health services and why?
It was clear that most respondents access health services in Beaverlodge itself, whether it be their local family physician, the local walk-in medical clinic, services at Beaverlodge Municipal Hospital (including the Emergency Department and laboratory services), and/or Beaverlodge Community Health Services (including Public Health).
Support for local services in the community was high. Respondents spoke of the importance of having services close to home, particularly given the prevalence of farming and other industries in the area.
They stated that local health care services provide employment, act as a recruitment tool for health care professionals to come to the community, support the local economy, are easily accessible, and allow for consistency between hospital/lab services and the local family physicians.
Local services mean a reduced need to drive to other centres, particularly in winter when road conditions are poor. And, local services do not only provide support to Beaverlodge residents, but also to people living in surrounding, mostly rural areas.
Respondents said that they sometimes needed to travel outside of their community to access specialty services such as ultrasound, CT, MRI and other diagnostic imaging (in Grande Prairie), or services such as cardiology, cancer treatment, internists, respiratory therapy and hematology (in Edmonton).
2) What do you think of the strengths of health service delivery in Beaverlodge and area?
Generally, people are happy with the health care services in Beaverlodge and area, while recognizing the challenges of providing those services in ageing infrastructure.
Respondents talked highly of the great care provided by their local physicians and health care professionals, and stated that their health care teams were vital and important members of the community. Physicians and staff are personable, friendly, take time to get to know their patients, are compassionate, and have a "vested interest in the health of the community".
People spoke of the importance of Beaverlodge Municipal Hospital to the community, that it provides 24/7 care, that it complements the services at the Queen Elizabeth II Regional Hospital in Grande Prairie, and that the wait-times are shorter than in other centres.
The hospital is well equipped to look after people working in local industry (such as oil/gas, agriculture and forestry), is convenient, has services such as x-ray and lab, has a modern kitchen that provides "tasty" food, and has free parking.
However, most acknowledged that those hospital services are being provided in spite of challenging conditions due to the ageing infrastructure.
3) What do you think are the challenges of health service delivery in Beaverlodge and area?
There was wide acknowledgement that while services provided out of Beaverlodge Municipal Hospital are extremely beneficial, the hospital itself is old and insufficient for the needs of the community and surrounding area, and the community is concerned about the site's "uncertain future".
Respondents stated that the current facility doesn't have adequate space for a growing community, and that residents of Grande Prairie are placing further pressure on the hospital by travelling to Beaverlodge, where wait-times are shorter.
People said that local physicians are busy with too many patients, that residents have to travel elsewhere for some services, that there is no residence provided to visiting or training health care professionals, and that physician recruitment is difficult due to the narrow scope of local services and the ageing hospital.
Concern was expressed about the lack of privacy afforded to patients at the current hospital, that acute space is being used for long term care, that there is a lack of continuing care, and that local physicians aren't promised admitting privileges.
4) What are the key health conditions/concerns you access services for?
It was apparent that residents of Beaverlodge and area access local services for a wide range of health reasons.
Primary care needs include: arthritis, hearing, mental health, diabetes, chronic disease, foot care, asthma, nutrition, epilepsy, allergies, seniors care (adult day programs and walking programs), public health (immunization, health education), medication prescriptions, optometry, annual health check-ups and dental care.
Other levels of need include emergency care, palliative care, diagnostic imaging (x-ray, lab and ultrasound), heart and stroke care, cancer care, EMS, obstetrics, respiratory, inpatient acute care, and long-term care.
5) What health concerns have you had that required you to seek services outside your community, and why?
Most people have had to seek health care services outside of Beaverlodge.
Health concerns/services accessed outside the community and area include: dermatology, rehabilitation, prosthetics, epilepsy, diabetes, general geriatric care, dental surgery, mental health therapy, maternity, CT, colonoscopy, mammography, allergy testing, neurology, urology, hip and joint, surgery, cardiac rehabilitation, and addictions treatment and rehabilitation.
6) What are the key health needs in your community?
Again, most of the concern was with regards to services at the Beaverlodge Municipal Hospital. However, key needs also included increased support for physicians, residents, nurses and other health care professionals, better recruitment of physicians, and more focus on healthy living and prevention. There was interest in education, exercise, and support for those living with chronic diseases such as diabetes.
With regards to the hospital, people want to see a maintenance of acute care inpatient services to continue to provide the same services residents currently receive, as well as the retention of a 24/7 emergency department and full laboratory and diagnostic imaging.
There is also a need for the community to access obstetrics, an outpatient department, occupational therapy, children and adolescent public health, psychiatry and mental health supports, and nutrition services.
7) What health needs do you have that are not being met?
People stated that Beaverlodge needs continuing care, allowing residents to age in place, and that more palliative care beds are required.
Other needs that were mentioned include access to surgical services and post-operative rehabilitation services, enhanced diagnostic imaging services, dental surgery, cardiac rehabilitation, increased chronic disease management (including Type 1 and 2 diabetes care), increased mental health services, obstetrics, a respiratory therapist, pediatric care, chemotherapy, and in-hospital laundry services.
People also wanted family space and enhanced privacy within the hospital, for delicate or sensitive conversations.
Further information related to the task force and its work can be found here: http://www.albertahealthservices.ca/zones/Page13373.aspx