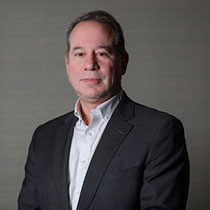 Dr. Mark Anselmo serves as the Calgary Zone Medical Director for Alberta Health Services. Dr. Anselmo is responsible for the overall clinical operations in the Calgary Zone, including physicians and practitioners.
Before beginning this role on October 18 2021, he held a variety of medical leadership roles, including Department Chair of Pediatrics, Facility Medical Director of the Alberta Children's Hospital and Section Chief-Pediatric Respiratory Medicine, all in the Calgary Zone.
Dr. Anselmo is a member of the Alberta Children's Hospital Research Institute and is an associate professor of Pediatrics in the Cumming School of Medicine. Dr. Anselmo serves on the Boards of the Alberta Children's Hospital Foundation and the Calgary Health Foundation. His clinical interests include asthma, interstitial lung disease, and pulmonary hypertension. Dr. Anselmo earned his medical degree from the University of Alberta, underwent his residency training at the University of Saskatchewan and pulmonary fellowship training at Harvard University. He returned to Alberta with his family in 2010 after spending seven years in Quebec working at the Montreal Children's Hospital.
Dr. Anselmo is a patient-focused leader who is committed to patient safety and the overall wellness of patients, physicians, and staff.
Outside of work, Dr. Anselmo enjoys nature, skiing with family and friends, playing hockey while avoiding backwards cross-overs, and supporting the Edmonton Oilers. His favorite hobby is spending time with his wife, dog, and three adult children anywhere in the mountains.