Community Paramedic Program
Enhancing Care in the Community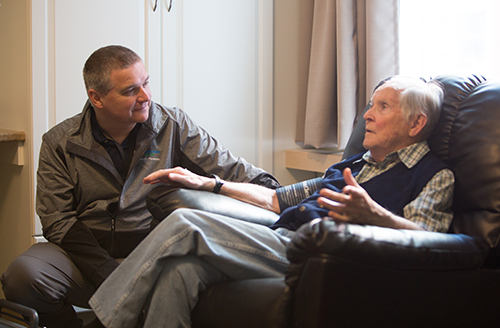 For many Alberta seniors, visits to the hospital are a time-consuming and stressful - but necessary – part of life.
This was certainly the case for 96-year-old Yvonne Routledge, a feisty senior who was spending more and more time in hospital as she battled the challenges of growing old.
Yvonne lives in a long term care facility, and her care team was finding it more difficult to provide some of the care she needed.
This usually resulted in Yvonne being transported and cared for in the hospital, which meant that someone who truly needed hospital care was waiting for an available bed.
That changed however, when Yvonne's long term care facility connected her with the Community Paramedic program almost two years ago.
This connection changed Yvonne's outlook on life.
"At 96, ongoing medical care is just part of life. What this program does is makes that care way easier and less stressful," said Yvonne.
"The paramedics are excellent and I'm happier because I don't always have to be taken to hospital for treatment that can easily be done in the comfort of my home."
The community paramedic program started in 2012 in Calgary and expanded to Edmonton in 2014.
The program recently expanded with $11M in funds from the Enhancing Care in the Community initiative to all parts of Alberta.
In 2016, 11,047 patients avoided unnecessary transports to hospital and were provided care in their home. This equals approximately $1,100.00 less per patient to be treated in the home.
Emergency Medical Services (EMS) is committed to providing the right care in the right place. They also provide palliative and end-of-life care in the home to patients who would normally be transported to hospital for care.
From October 2016-September 2017, 466 palliative patients were treated in the home – or, 88 per cent of palliative patients.
Yvonne added, "I just wanted to let everybody know that my experience with these people is just wonderful.
"They're the most compassionate people I've ever known and I think they're doing what the good lord wants good people to do."