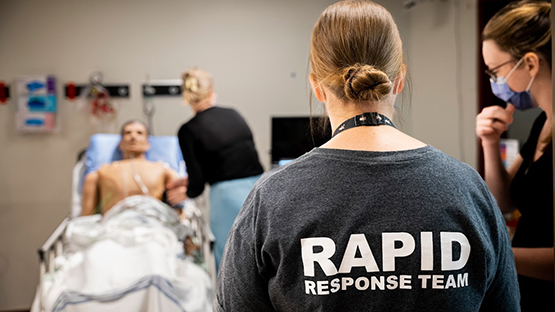 eSIM™ (Educate, Simulate, Innovate, Motivate) is a provincial simulation program under the Quality & Healthcare Improvement portfolio in Alberta Health Services. Simulation is an educational technique in which clinical events are recreated to engage individuals, teams, systems and communities in an interactive, immersive and meaningful "real-world" experience, often through self-reflection and guided facilitation. Review our eSIM 2020-2021 Annual Report and our most recent strategic plan for more information.
eSIM will be leaders in healthcare simulation in order to promote best practice, prevent harm, and enhance quality of care.
eSIM's goal is to lead simulation along the continuum of care within AHS by enhancing patient, workforce, system, and performance outcomes.
eSim embodies Quality, Safety, Impact, Mentorship, Accessibility, and Interprofessional Collaboration.