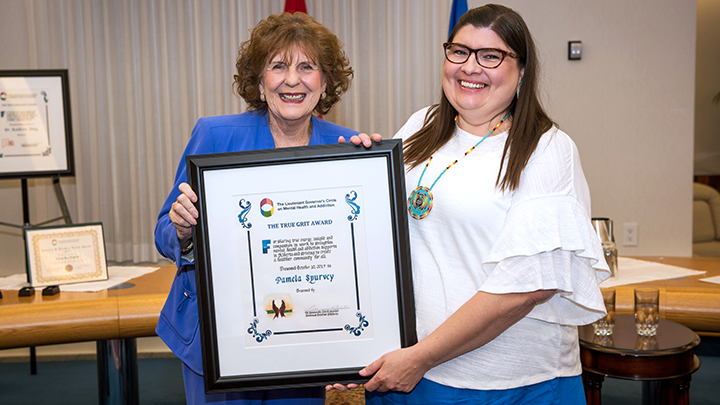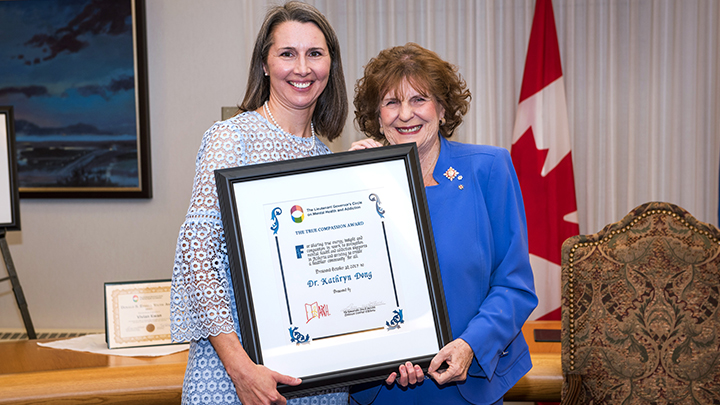 Lt.-Gov. presents True Award to doctor, peer support worker for triumphs in improving mental health and addiction care
Story by: Gregory Kennedy | Photos courtesy of Fred Katz
EDMONTON — Albertans living with mental health issues and drug addiction now have more opportunities to turn their lives around thanks to the dedication and drive of two Alberta Health Services (AHS) employees — Pamela Spurvey and Dr. Kathryn Dong — this year's winners of the True Award from The Lieutenant Governor's Circle on Mental Health and Addiction.
For improving mental healthcare in the province, Spurvey, a peer support worker on the Young Adult & Cross Level Services team, and Dr. Dong, Director of the Inner City Health and Wellness Program at the Royal Alexandra Hospital, were personally presented with their awards by Alberta Lt.-Gov. Lois Mitchell at a Government House ceremony on Oct. 10.
"The True Awards were the idea of (previous) Lt.-Gov. Donald Ethell, who wanted a place for positive conversations around mental illness and addictions," says Glynnis Lieb, executive director of the Circle. "He was seeing what we all do — that the vast majority of conversation about mental illness and addiction is usually negative.
"He really wanted this to be a moment where people can speak honestly about their experiences in a positive environment where their accomplishments are being celebrated and people are focusing on what they can do, not what they can't do."
The True Awards honour successful efforts to reduce stigma, encourage recovery and strengthen programs and services in the area of mental health and addiction.
Pamela Spurvey
After a traumatic and tumultuous childhood, Spurvey spent many years feeling hopeless and believing there was no way out — lost in the grips of addiction and mental health challenges. However, with the help of a supportive community, self-help groups and guidance from healthcare providers, she gained the confidence needed to achieve wellness — and reconnect with her Indigenous culture. She's now helping others to empower themselves, gain a sense of hope and achieve wellness.
"Addiction and mental health doesn't stop and think about time. And I didn't realize how much time had went by — and how much time had been lost to sorrow, pain and unhappiness," says Spurvey, who's been in recovery for 10 years and a peer support worker for eight.
"Now I have so much light and life — and I get to give back to such a great community — and be a part of so many people's lives who are in that dark place. I'm able to look back at my past now and see it as a gift that allows me to help others."
Lieb applauds Spurvey's strength of character and her willingness to help others.
"The selection committee was incredibly moved by the strength and resolve it took Pamela to climb her way out of the place she had gotten to in life struggling with addiction, and by how much she now uses her experiences to help other people realize that they're not alone, and to remove some of the shame that's tied to those experiences," says Lieb.
"As a young woman, shame was instilled upon her about being Indigenous. That was really important, because a lot of her struggles came with the shame she felt related to who she was, because of racism she experienced growing up.
"There's lots of discussion now about trauma and its link to addiction. The trauma of growing up believing you're worth less because of how you were born. That was really important, because Pamela's now found a place where she's proud of who she is, proud of her heritage. She's taken the time to learn about herself and pass on that knowledge to her own children so they don't have to grow up with the same kind of self-doubt, and even self-loathing."
Spurvey is also a mentor with the Edmonton Drug Treatment Court, an organization that proved instrumental in her own recovery success. In addition, she sits on committees for Homeward Trust as a voice for people experiencing homelessness, serves as a certified financial literacy instructor with Empower U, a program designed to help people achieve financial literacy and independence, and works at the Salvation Army to support women trying to achieve wellness.
"Working with Alberta Health Services is such a great opportunity for me. I'm very thankful that they hired me, and recognize the value of 'lived experience'— and how it can really make a difference in people's lives," says Spurvey. "I wanted to be someone who could tell people that hope exists."
Dr. Kathryn Dong
Dr. Dong leads the Addiction Recovery and Community Health (ARCH) Team, a specialized treatment team with a focus on addiction medicine and social determinants of health at the Royal Alex.
She completed her Fellowship of the Royal College of Physicians (FRCP) in emergency medicine and received her master's degree in population health at the University of Alberta. As an emergency physician, volunteer and researcher in Edmonton's downtown core, she began to think about how to improve healthcare service delivery and health outcomes for patients who use substances and experience multiple social inequities.
"At a time when we have so many repeat customers with mental illness coming through emergency doors, Kathryn stood up and said, 'There's something we can do differently here,' " says Lieb.
"She took a stand — and not everybody was on board at the start — and she developed a clear vision of what she wanted to see happening at the Royal Alex. And we ended up with the ARCH program that's well-known and very successful. That kind of visionary — that kind of commitment to actually doing better by the people who are seeking services at hospital — is really incredible."
Dr. Dong says: "Prior to this project, which began in July 2014, we would see people in emergency and treat a condition such as pneumonia, but upon release they'd go back to their circumstances, for example, an addiction, mental health concerns and/or homelessness.
"Many of our more high-risk community members use emergency departments when seeking healthcare. Treating their immediate healthcare needs without adequately addressing the other important factors impacting their health doesn't lead to optimal health outcomes."
Dr. Dong's program includes an addiction counsellor, doctors, a nurse practitioner, peer support worker, social worker, as well as research team members and administrative support. In addition to ongoing education and research, ARCH partners with multiple community agencies, provincial programs and other AHS programs to achieve its positive results.
"Providing direct referrals to key support services, such as outpatient addiction treatment programs, income support programs and housing, helps us provide more specialized care; like obtaining proper identification or help getting a healthcare card," adds Dr. Dong.
"We work with people after they leave the emergency department or hospital to assist them in meeting their own goals; this allows us to provide a much more intensive intervention that we can in one ED visit — with great results!"
The Lieutenant Governor's Circle on Mental Health and Addiction
The Lieutenant Governor's Circle on Mental Health and Addiction is a charitable organization dedicated to shining a light on the positive work taking place in mental healthcare across the province, and giving hope and comfort to those affected by letting them know that they are not alone.
The Circle also strives to promote greater understanding and work to combat stigma by organizing and sponsoring educational opportunities — such as lectures, seminars and round table discussions — so that Albertans can learn about mental health issues and their impact on the health and well­being of individuals and society as a whole.