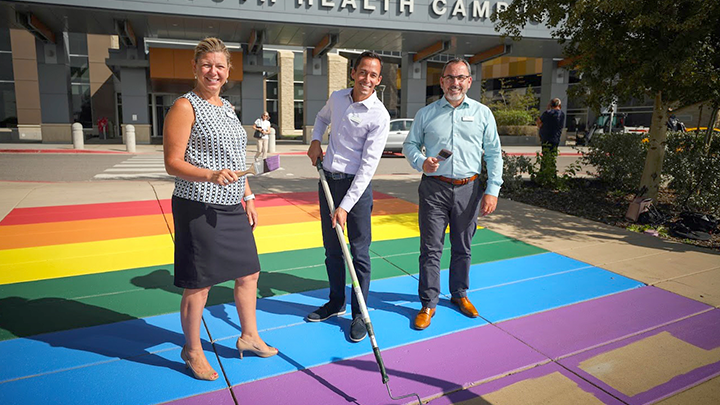 Lara Osterreicher, Executive Director of Surgery, Neurosciences and Maternal Child Health, left, Dr. Colin Del Castilho, Facility Medical Director, and Paul Stewart, Executive Director of Cardiac, Critical Care and Emergency, put the finishing touches on the rainbow pride sidewalk at South Health Campus.
Colours signal a space that promotes inclusivity and acceptance
Story by Melanie Veriotes | Photo by Leah Hennel
CALGARY — When visitors arrive at the door, your home's entrance plays a big part in how welcome they feel. Recently, the sidewalk at South Health Campus (SHC) was upgraded to be more inviting with the addition of a freshly-painted rainbow pride flag.
"Research tells us that people who identify as a sexual or gender minority may have unmet health needs and a reduced likelihood of accessing routine, emergency and preventive healthcare services," says Dr. Colin Del Castilho, Facility Medical Director. "Our ultimate goal at Alberta Health Services (AHS) is to improve patient experiences, outcomes and quality of care."
Hospitals can be intimidating places and people can sometimes avoid them out of fear of being judged.
Steve Mape, SHC Site Manager, recalls past instances in his own life as a gay man when he was not as secure with himself. "Places like this can be scary for someone who does not accept themselves," he says. "I could not have candid conversations with my own healthcare professionals."
The rainbow sidewalk signals a space that visibly promotes inclusivity and acceptance. Mape says it makes it so much easier to enter, "knowing that the staff, volunteers and physicians here are going to be accepting."
Mape adds that often in healthcare we do a great deal of talking, but this sidewalk goes a step further and is 'walking the walk'. As an AHS staff member, "it's something that I'm proud to be a part of."
Dr. Megan Yaraskavitch, a neurologist at SHC, offers a physician's perspective. She welcomes the diverse nature that people who come in to the hospital and her favorite part of practising medicine is getting to know them. Yaraskavitch believes the differences among people are something she learns from — and that we should all celebrate.
She adds that she's proud of South Health Campus for taking the initiative on creating a safe space for people. As a physician, she wants people to know that "this is a safe place to be yourself. You are safe here and you can talk to me."
The original eight-colour pride flag was created in 1978 by San Francisco-based artist Gilbert Baker. Today, there are many versions of the flag, but the most commonly-seen version features six colours — red, orange, yellow, green, blue, and purple — which have been painted on the SHC rainbow sidewalk.
Reflecting the diversity of the LGBTQ2S+ (Lesbian, Gay, Bisexual, Transgender, Queer and Two-Spirited) community while sending an all-inclusive message, Baker assigned meaning to each of the colours in the rainbow of the pride flag: red for life, orange for healing, yellow for sunlight, green for nature, blue for harmony and purple for spirit.
The rainbow sidewalk is supported through donations to the SHC Art Council through Calgary Health Trust and is one of several initiatives implemented by AHS to support an inclusive and supportive environment. Other initiatives include the Sexual Orientation, Gender Identity & Expression (SOGIE) Advisory Council, Safer Places Toolkit, the best practice guidelines and the celebration of pride events across the province during community designated pride festivals.