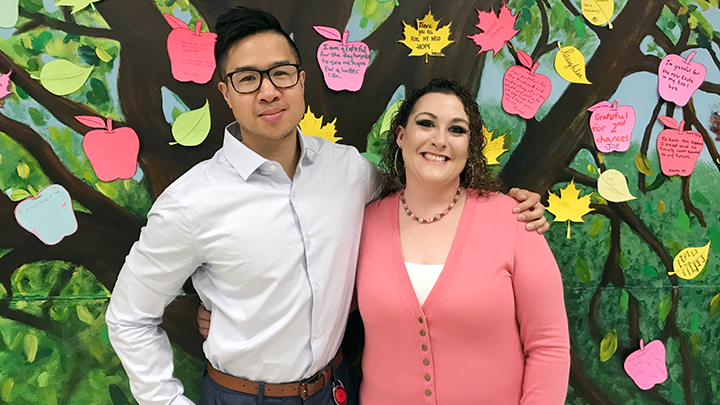 Mike Mach, Edmonton Zone Day Hospital & rTMS Manager, Addiction and Mental Health, stands alongside former Day Hospital patient Lawna Anderson in front of the Gratitude Tree mural at Alberta Hospital Edmonton. The mural helps patients at the day hospital practise gratitude by writing what they are grateful for on a leaf and adding it to the mural.
Intensive program offers an alternative to hospitalization
Story & photo by Sharman Hnatiuk
EDMONTON — Lawna Anderson, 37, says she's alive today because of the Day Hospital at Alberta Hospital Edmonton (AHE).
The Edmonton mother-of-two has lived with depression for as long as she can remember. Following a suicidal episode in February, her psychiatrist referred her to the new Edmonton Zone Day Hospital at AHE.
The Day Hospital provides, on average, 21 days of intensive group and individualized support. This allows patients referred to the program to benefit from a therapeutic setting, while being able to remain in their home.
"Attending the Day Hospital meant I wasn't waiting for my next appointment. I was getting the care I needed immediately, day after day," says Anderson.
"The program is very intense. The opportunity to see my children each night, and sleep in my own bed, was so important to the work I had to do each day so I could be successful in this program,"
Since opening in January 2019, more than 400 patients have received treatment at the Day Hospital, including access to brain-stimulation therapy used to treat depression and anxiety.
"Day Hospital patients referred to us are acutely ill and require a high level of mental-health support," says Mike Mach, Edmonton Zone Day Hospital & rTMS (Repetitive Transcranial Magnetic Stimulation) Manager, Addiction and Mental Health.
"Hospitalization is not always the best option for a patient, but their severity of symptoms may prevent successful treatment in an outpatient setting or in the community. The intensity of Day Hospital gives patients the time and tools they need to succeed."
Daily interaction outside a hospital setting provides patients with the opportunity to develop skills and maintain a family-support system. Patients can drive to the Day Hospital, and transit is also provided from four pick-up points across Edmonton.
"I lost two people in my life who I loved, my mother and my fiancé, to suicide," adds Anderson. "The difference for me is that I have the Day Hospital. I have the support I need and I know I can come back. It gives me hope."
The Mental Health Foundation donated $454,700 towards equipment and facility enhancements to help Alberta Health Service open this acute-care Day Hospital, the first of its kind in the province.
The work being done at the Day Hospital supports the AHS goal of Enhancing Care in the Community by increasing the volume and scope of services closer to where Albertans spend the greatest proportion of their time — which is either in their home or community.
Call 780-424-2424 for adult addiction and mental health access 24/7 in the Edmonton Zone or call 811 to speak with a Registered Nurse about your health concerns.