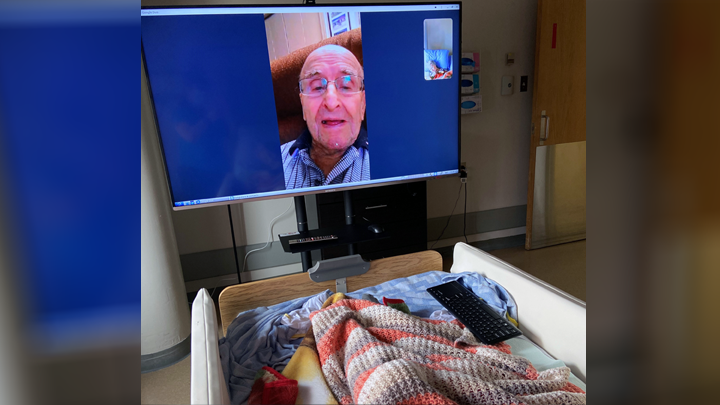 Paul Routhier, 92, enjoys a virtual visit with his wife, Lorraine (not shown), a continuing care resident at the St. Therese - St. Paul Healthcare Centre, thanks to a new 55-inch smart TV donated by Family and Community Support Services. Photo supplied.
Virtual visits bring joy to continuing care residents across northeastern Alberta
Story by Lisa Laferriere
Continuing care residents across northeastern Alberta are keeping in closer contact with their loved ones thanks to the donation of new, customized Smart TVs.
The specialized screens were donated to 10 seniors' facilities across the region earlier this year by the County of St. Paul and Elk Point Family and Community Support Services (FCSS) with support from local organizations.
One of the facilities to receive a TV is the Alberta Health Services (AHS) continuing care centre in the St. Therese – St. Paul Healthcare Centre.
"Earlier this year when the COVID-19 restrictions were put into place, we were unable to go see my mom," says Sue Holton, whose mother resides at the St. Paul centre. "After the TVs were set up, our family could see her and talk to her — and it made a big difference having someone on the other end of it who could work the technology."
Holton says her mother, Lorraine, doesn't have a cell phone, and finds them too small to use for a virtual visit.
"The new television screen is so big, and it's right in front of her, so it's clear and easy for her to see," adds Holton.
Bev Chomlak, recreation therapist with AHS in St. Paul, and says the new TV has made a positive difference for residents and their families. "The TV has been wonderful. The benefit it's providing to residents is beyond words."
Not only do the large 55-inch screens make is easy for residents to see their loved ones, but they came with microphones and headsets, which amplify to a high volume, to ensure everyone can hear. A portable cart makes the TV easy to move around the centre for residents who aren't able to leave their rooms.
The local FCSS program received almost $25,000 in grant funding from the New Horizons Grant for Seniors to support local programs, says director Janice Fodchuk.
"I just felt so bad for the people who weren't able to see each other (due to visiting restrictions)," adds Fodchuk. "We decided that if we could digitally connect people with their families, and help them stay connected, then that's where we wanted our funds to go."
Fodchuk wanted to find technology that would be user friendly for most seniors, and conducive to a communal living environment.
"I knew that iPads would be too small for some people, but not everyone knows how to use them, so I started pursuing Smart TVs," says Fodchuk. "But Smart TVs don't come with cameras in them, so it took some extra work to be able to make this happen."
Fodchuk reached out to the owner of the local Canadian Tire store, Paul Guitard, who arranged a special discount on 10 Smart TVs. Jagger Smyl Joly, the local owner of eyeTech Solutions, attached Google Chrome boxes to each television, equipped them with headsets and microphones and made the portable carts.
"This was a project I couldn't say no to," says Smyl Joly. "It was for a good cause."
Holton says the TV has not only allowed her and her five siblings to keep in touch with their mother, but has also benefited their father, 92, who lives down the street from the healthcare centre.
"My parents have been married for 62 years and have been nearly inseparable their whole lives together," says Holton. "This technology really helps them stay connected."
Although AHS continuing care visitation rules have changed since the TVs arrived, Chomlak says residents still use them regularly to visit with family.
As well, "we've started virtual programming now that we weren't able to do before," she adds. "We participate in some virtual music programs, can directly connect with other centres and can, for example, easily watch videos that really resonate with the residents."
For example, residents enjoyed watching a YouTube livestream of a local farm.
"They got to see people feeding baby animals, and chickens hatching in real time, on a local farm. It's a great connection for them.
"As a recreation therapist … It makes me so happy knowing that they have easy access to be able to see their family members and other things, like local farm activity, that bring them so much joy. These televisions have been … a wonderful lifeline to our residents and their families."
AHS facilities that received a donated TV include: St. Therese – St. Paul Continuing Care Centre; Elk Point Long Term Care Centre; Two Hills Long Term Care Centre; and Vilna Long Term Care Centre. Other facility recipients include: Sunnyside Manor in St. Paul; Extendicare in St. Paul; Heritage Homes Phase II and Phase II in St .Paul; Fort George Manor in Elk Point; and Buckingham House in Elk Point.