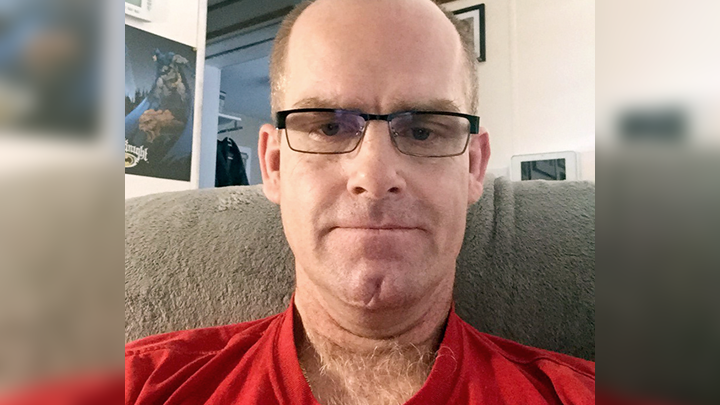 After a lifetime of alcohol misuse, Curtis Bird sought help for his addiction this past spring and is currently in recovery. Photo supplied.
National Addictions Awareness Week highlights the path forward
Story by Diana Rinne
Told to stop drinking in his 20s, Curtis Bird continued down the road of addiction for another 30 years before realizing this spring that he had to make a change. Sober since May 20, he's feeling pretty good about the changes he's made and his life's healthy new direction.
"I'm feeling, actually, great. It feels like a curse has been lifted off of me to tell you the truth," he says, adding that alcohol has always been a part of his life.
"Ever since I can remember, I grew up around alcohol. I'm not saying anything negative about my dad, but I mean I saw him pretty drunk more than a few times. But I didn't think there was anything abnormal about it."
Curtis grew up in the small town of 100 Mile House in B.C., and made the move to Vancouver in his early 20s where he "just let that chain off" to embrace the underground music scene and all that went with it.
"I'm surprised I never did get hooked on other things," he says. "I did a ton of drugs in my early 20s."
As he aged, alcohol became his drug of choice. By the time he moved to Grande Prairie in 2004 to work in the oil patch, Curtis had already been charged a few times for Driving Under the Influence (DUI).
In 2012, at the age of 42, he was pulled over and handed his fourth DUI. "I just thank God that I never hurt anyone," he says. "After the last DUI, I was in jail for 90 days and was sober for a year afterward."
After a year of sobriety, with life going well, Curtis started drinking again. "I figured everything was fine."
It wasn't.
"It was part of my life for so long I didn't really think too much about it. You know, you buy an eight-pack of beer, why wouldn't you drink it?" he adds. "I got to the point where I was getting a 60-pounder (of hard liquor) and a four-litre box of wine and that would last a few days — and then I'd go back at it again."
Curtis says he knew he had a problem, but it took a while get to the point where he knew he had to make a change. "I was fighting with my wife a lot and we separated … I was missing time at work. It wasn't a good scene at all."
Last April, Curtis hit the wall at work — and had to sign an agreement with his employer that he would seek help for his addiction.
"There's a line in the AA Big Book that really stuck with me that says 'How do you know when you hit rock bottom? When you stop digging.' So I guess that was my point. I guess I could have gotten a hell of a lot worse," he says.
Off work for about a month-and-a-half while all of the details were sorted out, as he looked into rehab options, Curtis kept on drinking. "I was just drinking pretty much constantly, then I finally hit (the wall). May 20 was the last time I had a drink. I just said to myself, 'what the hell am I doing?'"
On June 10, he entered the Alberta Health Services (AHS) 21-day adult residential treatment program at the Northern Addictions Centre in Grande Prairie.
"I was drowning my anger and bitterness in alcohol. The one thing I've got to say is the people at the rehab centre helped me understand was that drinking is a part of it, but you have to look at what else is going on in your life and why you are doing that. It's a symptom of a bigger problem. I had a lot of resentment and anger in me definitely, and I've let a lot of that go. I'm a happier person now."
Reflecting on his year of sobriety after spending 90 days in jail for a DUI, Curtis says this time, his sobriety is much different.
"The last time I did a year's sobriety was because I wound up in jail. This time around, it's pretty much for me … it's a different motivation. It's more about what I want to do now, instead of being forced to do."
He's also re-embraced his faith, which Curtis says has been a big help in his recovery.
As part of the process, Curtis recently wrote letters to his brothers to mend some fences. "It was like, 'damn, I didn't realize how much I was actually hurting you guys'. My younger brother told me that he was legitimately scared that I would wind up dead. He was pretty happy that I got sober finally."
Curtis says it's easy to tell someone to just stop drinking, but actually doing it is hard. "It's something you have to get into yourself — the best thing for me that I found was finding something else to focus on," adding that he also quit smoking right before he quit drinking.
"For example, right now I'm on a tea kick," he says with a chuckle. "I used to really be into microbreweries when I was drinking and trying out every different type of beer I could. So this is what I've kind of done with tea lately."
As he continues his recovery, Curtis is well aware there will be new challenges. A back injury brought this to light recently.
"Before, my first reaction would have been 'oh screw it, just go get a bottle of whiskey and get drunk and forget about it.' I haven't done that and I'm super-happy about that. I'm not going to say it didn't occur to me, but it's not an overwhelming compulsion anymore."
Change Begins With Me is the theme of this year's National Addictions Awareness Week, which runs Nov. 22-28. If you need help, or are looking for information on Addiction and Mental Health services available in Alberta through AHS, click here. The Addiction Help Line is available 24/7 at 1-866-332-2322. Additional resources are also available at Help in Tough Times.