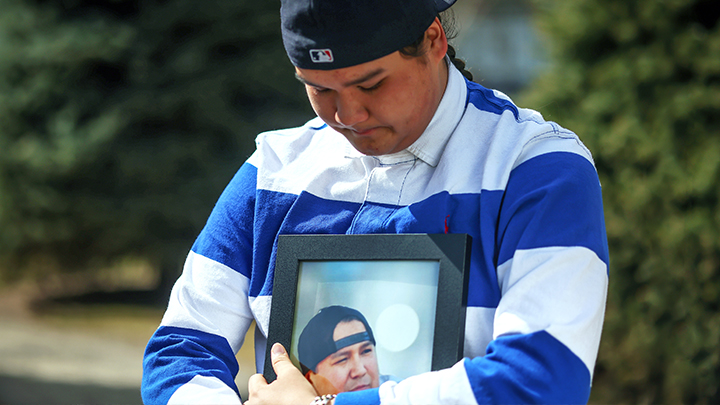 Mason Machiskinic holds a photo of his dad, Fletcher, who passed away from COVID-19. Photo by Leah Hennel.
Youth enjoy meaningful options to move forward, connect with culture
Story by Kim Bradley | Photo by Leah Hennel
CALGARY — Feeling lost after their father's death, two teen brothers found a measure of healing by turning to the Urban Society for Aboriginal Youth (USAY) program, an initiative supported by Alberta Health Services (AHS).
When their dad passed away from COVID-19 earlier this year, Mason Machiskinic, 16, and brother Jace, 18, were left on their own.
"Before I got into the program, I was just sitting at home doing nothing," says Mason. "USAY has helped my mental health and my social skills. It gives me new experiences and new friendships. I like being surrounded by Indigenous people and hearing stories of Indigenous culture. It's nice to know there are other people out there like me."
Honouring Life: Indigenous Youth Suicide Prevention — Aboriginal Youth Communities and Empowerment Strategy is a grant program administered by AHS Indigenous Wellness Core. It supports Indigenous communities and organizations across Alberta by building community capacity in mental wellness, resilience and youth life promotion activities. Since 2018, more than $10.3 million has been given to 54 Indigenous communities, Métis Settlements and Indigenous-serving community organizations.
Alberta Health is transitioning the grant program to operational funding to enable the AHS Indigenous Wellness Core to continue to administer the program over the long term.
This comes as welcome news for the USAY team.
"Honouring Life offers programming to the USAY community that wouldn't exist without their support. The programs we offer focus on health from a broad, diverse Indigenous lens, providing cultural, fun and engaging activities," says LeeAnne Ireland, USAY executive director.
"It isn't just about one type of activity, but providing a whole host of options from youth to choose from. USAY is able to focus on creating connections with youth, really focusing on relationships, to let them know they always have someone in their corner and waiting to help if or when they need it."
Originally from Saskatchewan, Mason said connecting with Indigenous culture has given him a sense of belonging and pride. "Listening to an Elder brought me back to my culture. I didn't understand it, but it brought me a warm feeling."
Marjorie Luzentales-Simpson, AHS project manager, says thanks to operational funding, AHS will be able to expand the program's reach — to offer support to Indigenous communities and organizations to build, administer and evaluate projects that support youth, families and communities — in living lives full of hope, meaning, belonging and purpose.
In addition, the program will include crisis-response mental wellness support for Indigenous youth, which will allow communities and organizations to respond to urgent suicide and other crises.
As he continues to take advantage of the program, Mason says he's looking forward their upcoming tipi camping trip with his new friends, where he'll get to experience the outdoors and more teachings from the Elders.
---
For more information on the Honouring Life program, visit the Honouring Life website or email honouringlife@ahs.ca.