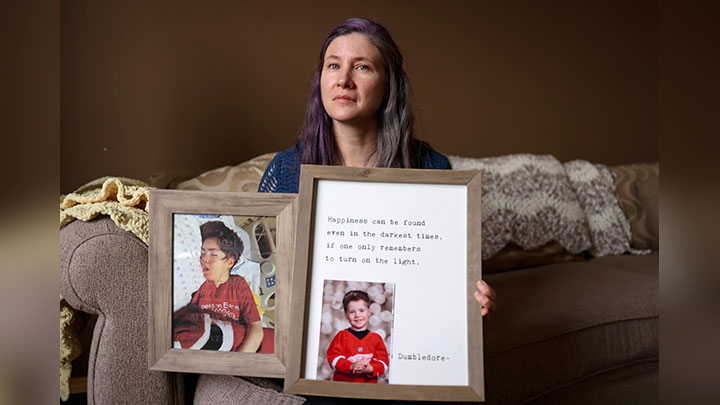 Lori Brown lost her son Daniel in 2021, but drew great comfort from the compassionate hospice care he received at the Rotary Flames House in Calgary. Photo by Leah Hennel.
Families moved by compassionate, end-of-life care at Rotary Flames House
Story by Kim Bradley | Photo by Leah Hennel
CALGARY — When Lori Brown lost her nine-year-old son Daniel after a long battle with a rare neuro-degenerative condition in 2021, she took comfort in the exceptional care he received and the connections she made with palliative care staff at the end of his short life.
These "earth angels", as Brown refers to staff at Rotary Flames House, are a unique class of caregivers naturally equipped to offer compassionate care to patients and families dealing with one of life's most traumatic experiences.
"Nurses are trained to help people get better and some of them struggle when they can't do that. But these nurses care so deeply and I believe they're created for this purpose," she says. "It's not something you can learn. They have skill built within them already, and they realize this is what they're meant for."
Daniel spent four years in and out of Rotary Flames House for respite and symptom management after being diagnosed CLN2 Batten Disease. Individuals with this condition lack an enzyme that breaks down waste products within cells, causing organ failure and loss of muscle tone, for which there was no treatment for at the time. Daniel experienced seizures and required oxygen to breathe.
Rotary Flames House became a second home, and the staff a second family, to the Browns who are from Red Deer. The team provided round-the-clock care for Daniel, giving his parents a chance to rest.
In December 2020, Daniel was admitted one final time, and celebrated his last Christmas and New Year there with his mom and dad, Tony, before passing on Jan. 5, 2021.
Brown laid in his bed with him and cuddled him for what would be the last time. Later in the night, he passed peacefully, in his sleep, with a smile.
She still thinks about the staff today and the profound impact they had on her family.
"We went fairly often, so I really got to know a lot of the team to the point where this morning, over a year later, I was thinking of one particular nurse I wish I could talk to again. She became a mentor to me, someone I would talk to about anything."
Marie McNeill, one of the Rotary Flames House registered nurses who cared for Daniel who made that lasting impact on Brown, says the honour was all hers.
"We get so much more back from this job than we put into it," says McNeill. "From the children to the parents, it's very impactful. I say to people all the time, it's an exercise in gratitude every single day.
"It's such a privilege to be a part of this journey for them. We get to know them better than we know our own families sometimes, so their victories are our victories, and when we see deterioration, we are heartbroken as well."
McNeill, who spent 25 years working in pediatric oncology before joining Rotary Flames House six years ago, adds that moving to hospice care is a big adjustment for any caregiver, but one that's well worth it.
"I've been on the other side of the curtain where you're doing everything you can to keep them alive. Here we're doing everything we can to keep them comfortable.
"To be able to support families at the worst time of their lives, and to have them trust you with their children, is such an honour. It's incredibly rewarding work."
---
In honour of National Hospice Palliative Care Week, AHS is celebrating all "earth angels" working in hospice and palliative care in our province. Learn more about Rotary Flames House. Learn more about palliative and end-of-life care.