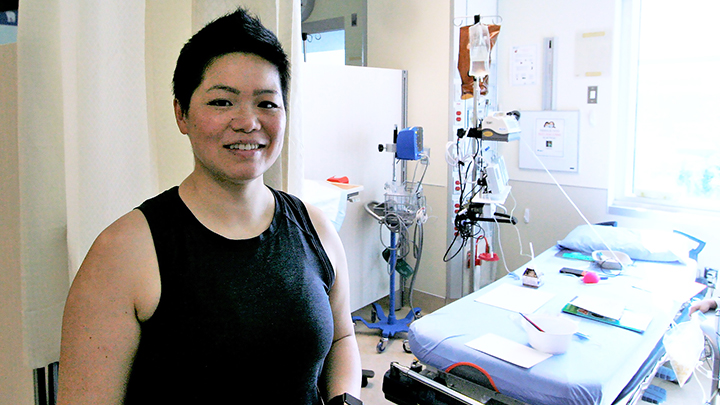 Cynthia says she can't wait to have easy online access to the health records of her son Colton, who's fighting cancer, when MyAHS Connect expands on May 28. "I think this would be an amazing tool for a family to have. Not only to track that information over so long, but also to help with communication between family members."
More patients to benefit on healthcare journey through MyAHS Connect
Story by Suzy Thompson
CALGARY — MyAHS Connect has hit a milestone, surpassing 100,000 patients who are using this new patient portal. Soon even more patients and families across much of Calgary Zone will be able to benefit through Launch 4 of Connect Care on May 28.
Currently active in much of Edmonton Zone and northwest Alberta, it will be established provincewide within the next two years, and hopefully attract hundreds of thousands more patients who will sign up to experience the benefits of leading their healthcare journey.
MyAHS Connect is a secure, online, interactive tool, provided by Alberta Health Services (AHS), that gives patients access to their health information and allows them to manage their appointments and interact directly with their healthcare team. It sounds handy for most, but for some patients and their families, the patient portal will change their lives.
"My husband and I really like to keep track of a lot of data. For every appointment we have, we get a little bit of paperwork," says Cynthia, in describing the healthcare journey or her son, Colton, as he plays quietly in his hospital bed awaiting a round of chemotherapy. (The family has asked to keep their surname private.)
Colton was diagnosed with acute lymphoblastic leukemia when he was two. Now six, he's been receiving continuous cancer treatment, primarily at the Alberta Children's Hospital in Calgary. Cynthia says managing his health information over four years has been more complicated than she ever imagined, and sometimes nearly impossible.
"For every phase that he goes through, a spreadsheet tracks all the medication that he gets and what sort of symptoms he's feeling. It tracks appointments and blood work, CBCs and any sort of other blood test results, like liver enzymes and kidney function," she adds.
"So it's a big spreadsheet that changes with each phase that he goes through. Over four years he's had countless amounts of chemo, so those spreadsheets just grow and grow and grow — and you can't often get good information from those spreadsheets. You'd have to go in and manually check and remember, 'OK, which phase was this in and what date was this?' So, it can get a little bit tricky to track all that information."
With the Connect Care's Launch 4 on May 28, that copious health information will be available to his family through the MyAHS Connect portal.
Cynthia says she can't wait to have easy access to Colton's copious health information when MyAHS Connect expands on May 28.
"I think this would be an amazing tool for a family to have," Cynthia says. "Not only to track that information over so long, but also to help with communication between family members. A lot of times with my husband and I when we're exchanging information, a lot of it gets lost. Or when we're taking shifts to care for him some of that information is lost on what the plan is.
"I'm not sure why anyone wouldn't sign up for this just to get that single point of information," she adds, before Colton calls her away to help him with a spelling activity he's brought along.
Connect Care patient and family advisor Erin Day agrees. Her husband Shannon has fought a 10-year battle with Parkinson's Disease, in addition to recovering from a 2015 car accident. Their experience with the avalanche of health information is similar to that of Colton's family. Now, she's enthusiastic about how much MyAHS Connect will help them.
"I think this is going to be a game-changer in terms of patients and families having access to their own healthcare information," she tells AHS staff who've come to take part in a Connect Care Clinical Operations Readiness event.
"It's going to increase their involvement in the process. I think it's going to enrich conversations between patients and healthcare providers. I know for my husband, being in the hospital is an incredibly vulnerable situation — and I think it will be really empowering for him to be able to see what his day in the hospital will look like. And that's where MyAHS Connect comes in."
If you would like to learn more about MyAHS Connect, check out our Insite and AHS pages. AHS staff and prescribers using Connect Care from Launches 1-4 have the opportunity to sign up for MyAHS Connect. This way, you can experience the benefits of MyAHS Connect firsthand, see how it will positively impact patients, and become an advocate for the program.