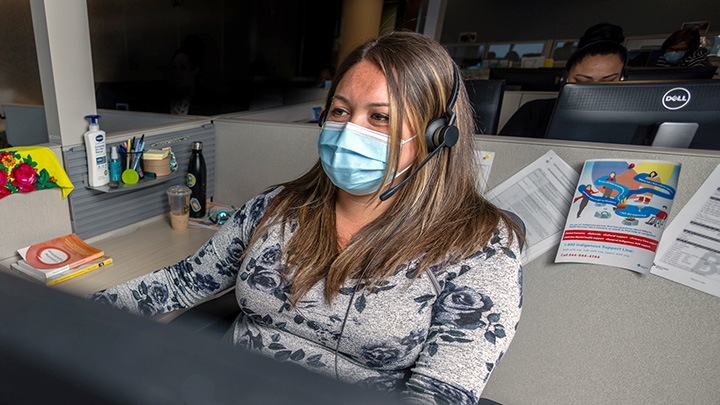 Melissa Creyke, mental health therapist and Indigenous listener, works with the Indigenous Support Line. Since its June 2022 launch in AHS' North Zone, the line has received more than 600 calls. Photo supplied.
Callers get detailed help to access the right service on first try
Story by Logan Clow
More than 600 calls have been fielded by the Indigenous Support Line since its launch in North Zone in June 2022.
Alberta Health Services' toll-free support line first rolled out in a phased approach, beginning in the northwestern part of the zone, with additional areas brought online in the weeks afterward.
"Indigenous clients are accessing the right service on the first try and are not left to navigate the system alone," says Donna Matier, Director, Indigenous Health, North Zone.
The toll-free Indigenous Support Line can be reached by calling 1-844-944-4744. It's staffed by Indigenous Health Link staff, who answer callers' questions and help them to access culturally appropriate care and navigate the healthcare system.
"The Indigenous Support Line is creating a brave space where our people can speak their truth, a place where they can feel supported asking for guidance and help navigating a complex healthcare system," says Casey Eagle Speaker, co-chair of the AHS Wisdom Council.
Early numbers reveal that from its launch until the end of March this year, the line received 596 calls from the North, with nearly all calls being answered within 10 minutes. Callers received:
Referrals to AHS services and supports
Referrals to community resources, such as the Alberta Indigenous Virtual Care Clinic and 211 Alberta
Cultural supports and resources
Answers to their medical questions and concerns
In a follow-up survey with clients, all respondents said they felt respected and supported by the person who assisted them, and more than 97 per cent said they would use the line again — and would recommend the line to friends and family.
"The information shared with me wouldn't have been available on the Internet. It would have taken more steps. I feel like I would have been more frustrated," one survey client shared.
The line is available weekdays from noon to 8 p.m. Clients can call at any point in their healthcare journey with questions or concerns. The Indigenous Support Line more recently expanded into the South Zone on May 1, and into the Central Zone on Aug. 9.
"The support line connects individuals with someone who listens with patience, spirituality, acceptance, caring and empathy," says Cheryl Sheldon, co-chair of the Wisdom Council, which provides guidance and recommendations to ensure AHS develops and implements culturally appropriate and innovative health service delivery for Indigenous Peoples.
"Those phone conversations build a deeper understanding of the difficulties Indigenous clients face and it makes a difference, it matters to them, and they feel like they matter to AHS."
---
For more information on the toll-free AHS Indigenous Support Line, click here.