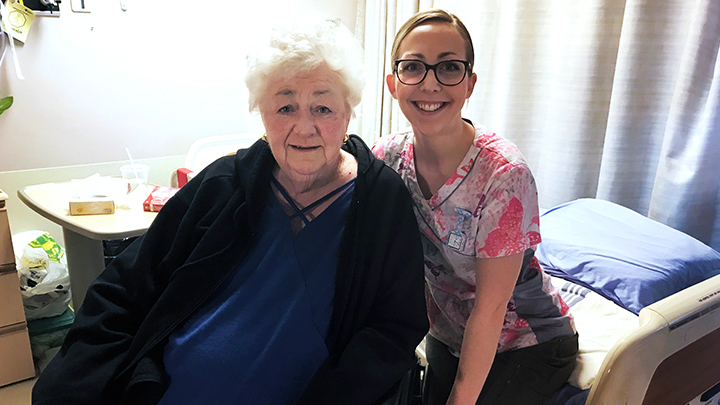 Leduc takes action, motivates patients to end PJ Paralysis
Story & photo by Sharman Hnatiuk
LEDUC — Wearing PJs all day may be comfortable, but it's hardly motivating. That's the conclusion of staff here on the sub-acute and transitions unit at Leduc Community Hospital who recently donned their pyjamas for a day to better understand how patients benefit and return to normal routines sooner when they're encouraged to get out of bed and get dressed.
The Leduc Community Hospital is the first Alberta Health Services (AHS) site to join the End PJ Paralysis movement. Coined by professor Brian Dolan of the United Kingdom's National Health Service, the term "PJ Paralysis "describes the negative physical and psychological effects patients experience when they spend long periods of time in their pyjamas in hospital.
Patients who remain in their PJs longer than necessary run a higher risk of infection, loss of mobility, fitness and strength — and can incur longer stays in hospital.

Since the launch of the #endPJparalysis campaign, U.K. healthcare providers are reporting quicker recovery and discharge times. Professor Dolan's hashtag has been shared millions of times by healthcare professionals and others around the globe.
"Wearing pyjamas to work made me feel vulnerable — and that I wasn't equipped to do my job. So I understand why our patients lack motivation wearing their pyjamas all day," says Tricia Sware-Bilawchuk, transition unit manager at Leduc Community Hospital. "If we can help patients get back to their normal routine as quickly as possible, including getting up and out of bed, this can lead to a quicker recovery."
Bed-bound patients can lose one to five per cent of their muscle strength every day they're in bed. For patients over the age of 80, every 10 days of bed rest in hospital ages their muscles the equivalent of 10 years.
Gail Wing has been attending inpatient rehabilitation in Leduc since she broke her ankle for a second time in February. The 69-year-old knew she wanted to join the End PJ Paralysis movement from the moment she arrived.
"I feel so much better when I get up and get dressed for the day," says Wing. "I'm not sick — so why would I stay in my pyjamas?"
The End PJ Paralysis initiative — which is beginning to spread to other sites around the province — is a joint effort between AHS staff and physicians, and patients and their families. This approach encourages family members to contribute to the care of their loved ones by bringing in items such as day clothes, well-fitting shoes and toiletries.