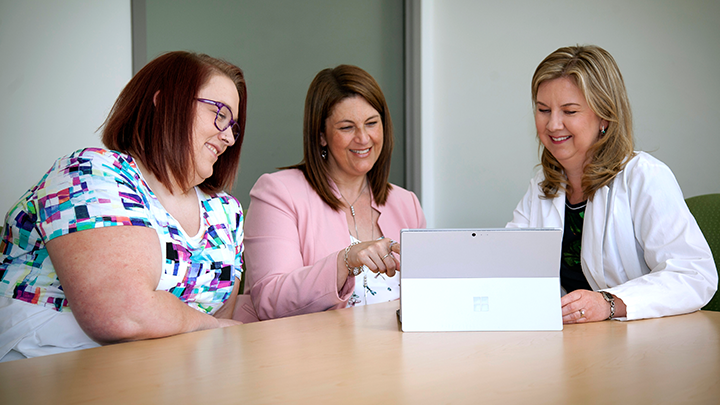 Photo shoot aims to dispel stigma for people living with obesity
Story by Debby Waldman
Danielle Lehnert hates having her picture taken. Living with obesity, she generally avoids it. But she's been working on her self-esteem, and recently she stepped in front of the camera for a good cause — to show people with obesity in a positive light.
"I wanted to break the stigma of larger people, that we're not just fat and skin and useless," says Lehnert, who developed obesity at 18 after taking medication to treat two brain conditions. "We care. We love. We have feelings like everyone."
Lehnert, 29, is one of several volunteer models who were photographed in various settings — getting in and out of bed, having their blood pressure taken and talking with care providers.
The photo shoot is just one of many efforts across the province to improve care for Albertans living with obesity. It was organized by the Diabetes, Obesity and Nutrition Strategic Clinical Network (DON SCN) of Alberta Health Services (AHS), Obesity Canada and Mary Forhan, an associate professor in the Department of Occupational Therapy at the University of Alberta.
The photos will be available on AHS' internal media library as well as in Obesity Canada's image bank. Forhan says she expects the photos to be used for a variety of presentations, including the provincial Bariatric-Friendly Hospital initiative, recruitment posters for research studies and advertising for programs.
Showing positive images in healthcare settings helps reduce the stigma of obesity and educates healthcare providers who, studies have shown, often carry their own weight biases.
"The main bias people have is thinking that people with obesity just need to eat less and move more," says Kathy Dmytruk of the DON SCN. "It's more complicated than that. We're really trying to change people's attitudes and create more of a positive patient experience and educate healthcare providers to understand that it's a disease, and that that bias impacts care."
Through its Bariatric-Friendly Hospital initiative, the DON SCN focuses on improving hospital care for patients living with obesity.
Part of the initiative involves helping healthcare providers understand how to select the right equipment for patients with larger bodies and care for them better.

For example, using larger blood pressure cuffs helps healthcare providers get an accurate reading. Offering proper-sized gowns shows patients respect and helps them feel more comfortable. And using proper-sized equipment such as beds, wheelchairs and mechanical lifts ensures patients feel safe in care.

Not every hospital or health clinic has equipment that meets the needs for patients with obesity. Some do, but staff don't always access it when needed. Dmytruk says this could be because it's difficult to locate, they use it so infrequently they forget about it, or they don't know how to use it.
At some hospitals in Alberta, there's no system in place to share bariatric-specific equipment. That's changing, however, with the Bariatric Friendly Hospital initiative.
"We're trying to create standards and guidelines to educate healthcare professionals on the importance of using the right equipment and the right language, and making patients feel comfortable and safe and cared for," Dmytruk adds.

While receiving care, the models in the photo session say they've all experienced some form of bias, whether having to wear two hospital gowns back to back, because there were none available that fit them, or being turned away for a CT scan because the machine is not designed for their dimensions.
"It's important to recognize your bias and address your bias, and understand that with obesity, people don't choose to have it, and people have tried to lose weight," says Dmytruk.
"We need to be respectful to all patients we see and treat them with the same level of respect and dignity as everybody, regardless of their size or illness."
For more information, visit the Bariatric-Friendly Hospital initiative. To view images from the photoshoot, visit Obesity Canada's image bank.
Additional Learning
Weight Bias
Negative attitudes toward a person because he or she has obesity can be manifested in different ways, leading to prejudice and discrimination. Patients experience weight bias resulting in avoiding accessing healthcare services.
Weight bias prevents healthcare providers from delivering optimal care, and increases patient risk for psychological distress and delays patients in seeking appropriate screening/ treatment.
Webinar: Weight Bias. What is it, and is it impacting your practice?