Find resources that can support your work to change the drinking culture on your Alberta campus. A whole campus approach is possible to support your students, staff and faculty. Our goal is to work upstream, preventing alcohol-related harms before they even happen. We envision a safe, caring and inclusive campus environment for those who:
Drink within Canada's Lower Risk Drinking Guidelines,
Drink beyond the guidelines' frequency or volume of alcohol consumed
Have not drank alcohol in their lifetime, and intend to continue this decision
Are in recovery and are looking for a supportive setting to decrease their alcohol use or stop drinking altogether.
You can be part of this healthy change on campus.
Need Help?
1. Watch a Brief Video
Get a sense of what is possible.
2. Explore the Practical Guide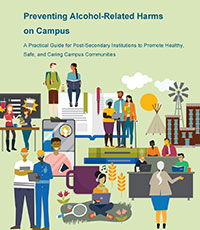 Learn important prevention and health promotion strategies for campuses.
3. Contact Us
Talk more about your campuses needs.