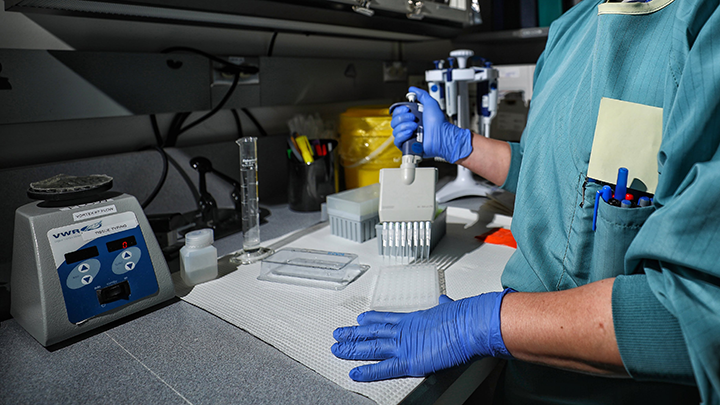 Explorers at Work
Within Experimental Oncology, scientists are navigating two main streams of work: discovery research into the primary differences between cancer cells and normal cells, and translational research exploring how cancer prevention, diagnosis and treatment discoveries can be moved into practice.
Embedded within Edmonton's Cross Cancer Institute, Experimental Oncology researchers have regular contact with patients, and with medical physicists, pharmacists, oncologists, surgeons, and other cancer scientists within academic institutions like the University of Alberta and University of Calgary.
The result is fertile ground for raising and exploring new research questions that emerge in everyday clinical practice.
Cancer occurs when changes to the genes within cells cause uncontrolled cell growth or division. Our scientists are working to understand how genes and changes in DNA might affect the risk of developing cancers of the breast, brain, skin, and blood. We also work on prostate cancer, childhood cancers, and colorectal cancer.
Examples of our work include the study of:
Repair of DNA damage caused by ionizing radiation and chemotherapeutic drugs
Epigenetics – how external factors such as diet, age, or drug exposure – may affect the genes involved in cancer
Viruses that target tumours, and their potential for treating cancer
Membrane transporters (proteins which help molecules enter or leave cells) and their role in drug transport and resistance
Letting Scientists See Cancer – Cell Imaging Facility
Housed within Edmonton's Cross Cancer Institute, the world-class Cell Imaging Facility plays a major role in helping researchers view the most minute objects. More than 15 different platforms, including several light microscopes, and one electron microscope are here, enabling 3-dimensional visualization of molecules in cancer cells, including those involved in DNA damage and repair.
Available for researchers within Alberta Health Services, the University of Alberta, or for hire by external scientists within Canada and beyond, the shared resource supports hundreds of research projects and has trained and collaborated with more than a thousand colleagues.
Among the many notable research projects is the discovery and study of several human nucleotide transporter proteins, one of which has become a biomarker for breast cancer treatment and is now in a Phase 3 clinical trial.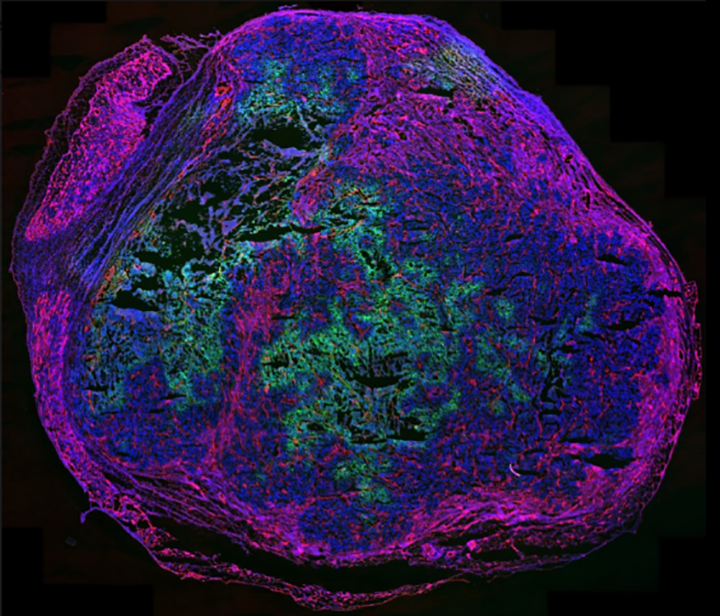 Confocal microscope image of solid tumour showing areas of low oxygen (in green), which are highly resistant to chemotherapy and radiotherapy. Novel staining method developed by Dr. Michael Weinfeld's team, Cross Cancer Institute