Fairview Continuing Care Recreation Therapy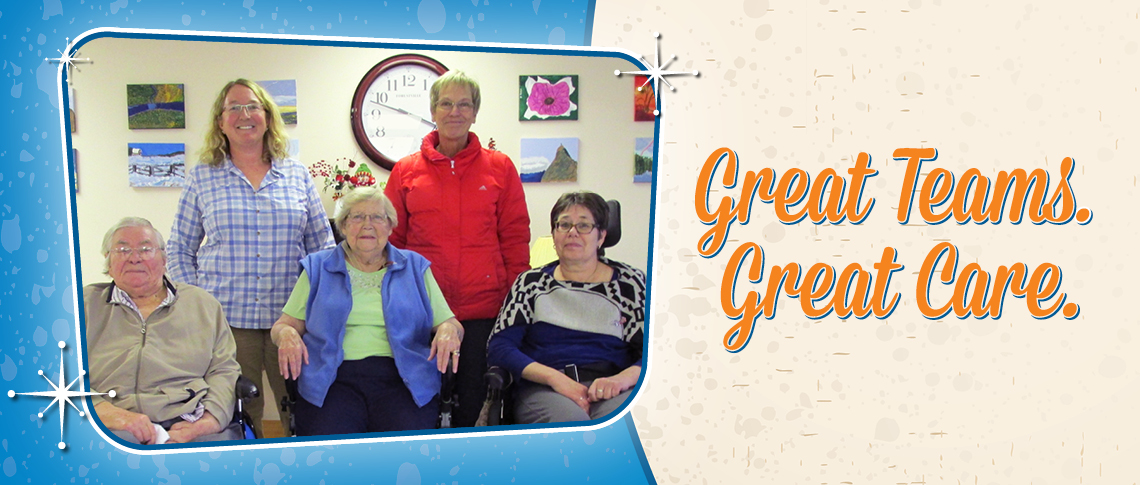 Celebrating great AHS teams providing great care
Story by Andrea Martin
Betty and Ian Sewall's farm may be a long way from Scotland, but their hardy Highland cattle are one of the star attractions for visiting seniors from Fairview's Continuing Care Centre.
The couple keeps Scottish Highland cattle— known for their long, shaggy hair and horns that reach over six feet across—and a variety of other animals, including ducks, turkeys and chickens.
"Each summer, we invite long-term care residents from Fairview to visit the farm," says Betty Sewall, who has lived in the area with her husband for more than 20 years. "Many of the residents grew up on farms in the area so getting out for a country cruise lifts their spirits."
For each outing, residents are loaded onto a specialized bus that can accommodate six wheelchairs.
"Most residents have mobility issues, so we can also bring the animals to them. We have miniature donkeys that we hitch up to a small chuck wagon and walk around the van," explains Betty Sewall. "Residents also love to hold our two feather-footed chickens, Molly and Muffin."
"Even the quietest residents will open up after petting or feeding the hens a little bread. They re-connect with a memory or experience from their past, and then a flood of stories spill out."
The couple host residents as part of Fairview's busy Continuing Care Recreation Therapy program, where Betty is also an avid volunteer. She assists with activities such as cribbage, indoor bowling and making cookies with residents.
"In Fairview, everyone knows someone in long-term care, whether it's their grandpa, aunt or former neighbour," says recreation therapist Kerry Appleton. "The hospital is really the heart of the town and the people in our community are incredibly generous in how they support our residents and programs."
Over two hundred and thirty volunteers support Appleton's two-person recreation team, which consists of a therapy assistant and therapy aide. They provide daily activities such as a breakfast club, games night, art classes and dance programs, to the facility's 65 long-term care residents.
"Many volunteers grew up with or have family ties to our residents, so they bring news from around town and talk about old times," explains Appleton. "They also assist with bringing residents in wheelchairs to our program room and help them participate in the various activities.
"Many of our programs wouldn't happen without our volunteers."
In addition, school and community groups also give their time, performing songs for residents or running weekend activities such as bingo and church services.
"With such strong community support, we can provide a range of activities seven days a week," says Appleton.
As for Betty Sewall, the reason for why she volunteers is simple.
"My mom was an avid volunteer, so I like to think that I am following in her footsteps."
Learn more about becoming a volunteer and follow AHS Volunteers on Facebook.