South Health Campus Environmental Services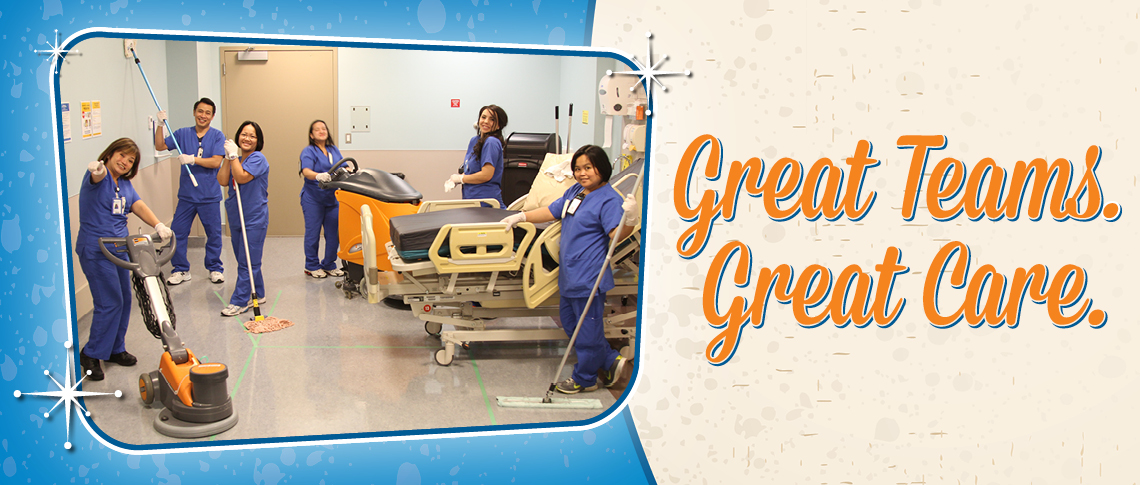 Hospital clerk and porter play role to save lives
Story by Nadia Hinds
Working for Alberta Health Services means helping to improve health care for all Albertans from taking care of the smallest detail to the most critical. Such is the role of the environmental services team who make sure that hospitals are clean and safe for all patients and their families.
"In a year, our teammates clean over 1.6 million patient beds," says Ashlee MacFarlane, a clerk with Environmental Services at South Health Campus. In her role, MacFarlane plans the work schedule for porters who assist patients and make deliveries within AHS facilities.
"Our jobs are important to keeping patients safe—we collect over a million kilograms of waste and recycled cardboard a year," says MacFarlane. That's the equivalent of three Boeing 747s. The Environment Services team prevents the spread of communicable diseases by washing walls, cleaning floors, and collecting and transporting garbage.
"We are always a call away to help our colleagues whether it's cleaning a patient room or finding the right person to change a light bulb."
MacFarlane begins her day by ensuring she has the staff assigned for daily duties. This is an art, as schedules are set eight weeks in advance.
"I started as a housekeeper, then worked as a porter, was transferred into a working leader position and now I'm a clerk," says MacFarlane, who has been with AHS for five years. "I love my job and I love working at AHS."
MacFarlane spends her day interacting with porters, housekeepers and laundry workers coordinating everyone's efforts in addition to performing payroll and administrative duties.
"Whether it's a wellness challenge or making sure we always wash our hands to avoid spreading germs, we are champions and we do our best," says MacFarlane.
Murari Adhikari is one of the Environmental Services team champions. He works with MacFarlane as a porter. His role is to ensure patients get to the right place.
"I'm happy with AHS," says Adhikari. "I enjoy helping people. I want to stay with AHS and continue to move up the ranks." Recently MacFarlane trained Adhikari to be her backup clerk.
"It's nice to learn each other's job," says MacFarlane. "We get a better understanding of how things work around here. On-going training and professional development, plus great teamwork are what make building a career at AHS possible."
Given the varied nature of the roles in the Environmental Services team, there are many opportunities to branch out and explore other opportunities.
"Our work is always different and our team members come from many different places," says Adhikari. "We are very proud of the work we do and we have a lot of fun together."