Edmonton Nursing Relief Team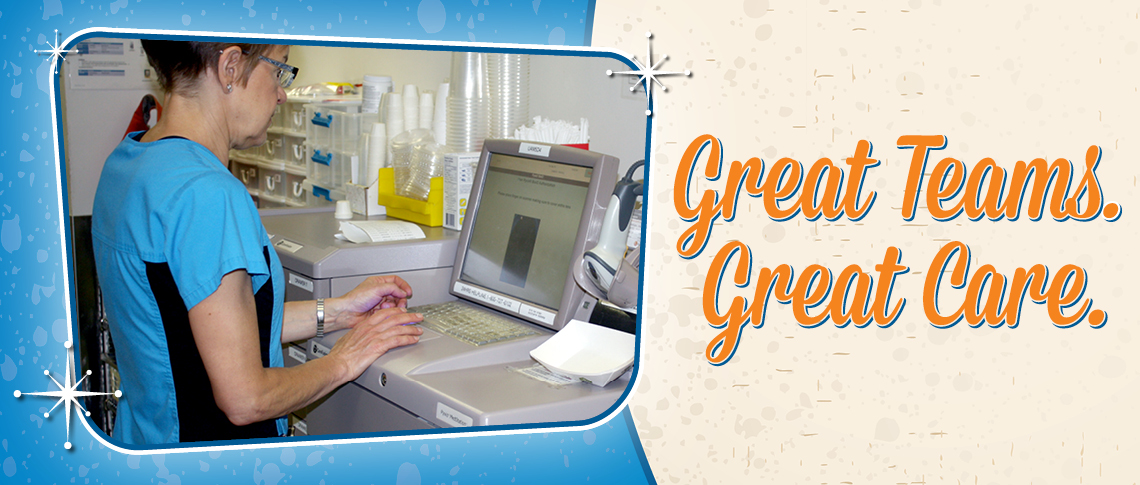 Covering for the team: Relief Nurses
Story by Laura Manuel
Imagine working with a different team every shift. For Registered Nurse (RN) Tracy Fenske, this is the way she has worked for 28 years. As a relief nurse for the Medicine Relief Team at the University of Alberta Hospital (UAH), Fenske fills shifts when other nurses are unavailable.
"I am part of whatever team I am assigned to that day," explains Fenske. "I could be working on any one of 13 units."
Historically, the relief team has been called the 'float pool.' This is a group of staff who are available to cover shifts when regular staff are absent or on leave. Due to changes in staff scheduling, the UAH Relief Team is now coordinated by the Edmonton Staffing Service Centre, part of Provincial Staffing Services.
Fenske notes that a relief nurse must be open and flexible. As she is not one of the 'regulars' on the unit, she must demonstrate her commitment to the team for her shift.
"I always introduce myself… I learn from the other staff," says Fenske.
Kim Endersby, Relief Team Program Manager with the Edmonton Staffing Services Centre, manages over 200 staff members like Fenske. While the staff are assigned their shifts through an online program, Endersby must manage the other components of employment.
"I get a lot of emails," says Endersby. "I recruit and hire the relief staff as well as coordinate their initial training and orientation and manage their continuing education."
As a former unit manager, she already knows many of the staff in the UAH Medicine Program. Her connections, and weekly meetings with the Medicine unit managers, have helped with the smooth management of the relief team.
Dolores McCallum, unit manager for 5D4 at UAH, has observed changes in how relief staff are placed on her unit.
"There have been some new [scheduling] processes to learn," explains McCallum, "but the increased availability of the relief staff means over-time costs have come down."
McCallum, Endersby and Fenske have developed a unique working relationship. They understand the regular redefining of teams when a relief nurse is on a unit.
All agree that relief nursing is an excellent stepping stone for a new graduate nurse.
"It's a good way to discover what kind of nursing you want to do," says Fenske.