Adult Acute Psychiatric Unit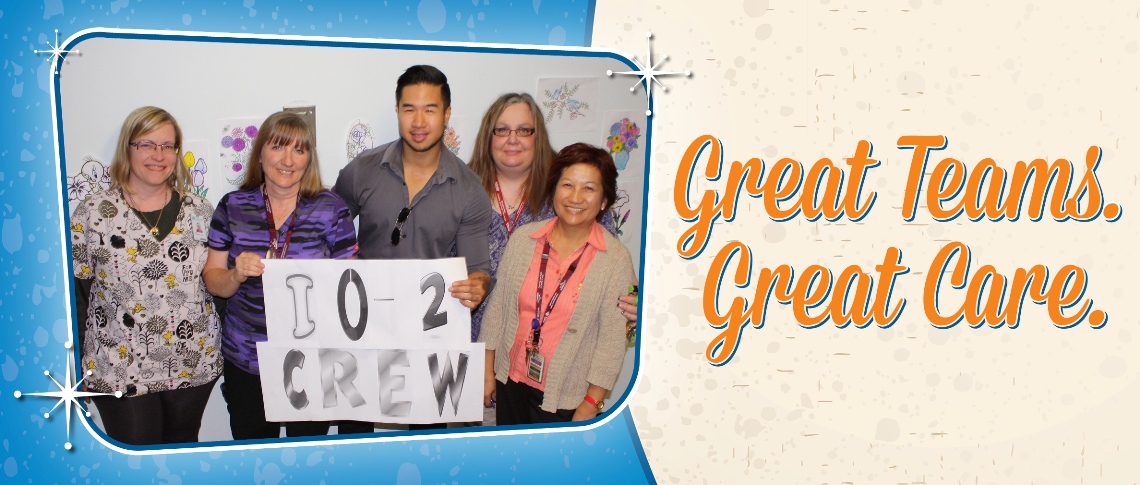 Team-based approach addresses patient needs
Story by Sean Woods
The stigma that revolves around mental illness is unfortunately very real. Patients admitted into psychiatry not only have to overcome their obstacles but often those that society has set upon them.
"Being an inpatient in a psychiatric hospital is not the best of times in somebody's life," says Mike Mach, unit manager of 10-2, an Adult Acute Psychiatric unit at Alberta Hospital Edmonton. "Our objective is always to try and banish the stigma associated with mental health, and set the right example for others to follow."
Unit 10-2 is a 30-bed inpatient unit that works closely with adult patients and their families who are dealing with mental illness and addictions.
"Because mental health is so complex and multi-faceted, it is crucial to adopt a holistic approach when it comes to addressing the needs of our patients," says Mach.
This approach is seen in the makeup of the team, which includes a unit manager, psychologist, pharmacists, psychiatrists, social workers, recreational therapist, occupational therapists, volunteers, peer support, registered and psychiatric nurses, psychiatric aides, addictions counsellors, and sometimes a dietitian.
The unit runs some programs to promote wellness with their patients. Among those programs are music with patients, pet therapy, and a peer support initiative. This initiative brings former mental health patients back to the hospital to support current patients in their journey to health.
"Having that support provides the patients with hope," says Mach. "And it helps reduce the stigma associated with mental health."
Through a program called CoACT , the team is also implementing a collaborative care model. This model helps patients, families and care providers better communicate and work together. For example, dry erase whiteboards are used in patient rooms. Whiteboards support better communication between the care providers, the patient, and the family. They include information such as the date, the care team's names, scheduled appointments, and tests.
"Open communication is at the heart of our team's success," says Kim Omar, occupational therapist. "We have so many different specialties on the unit; it's important that we keep each other informed on the different aspects of our patient's care. And because we're always communicating, we know exactly which team member to go to if we need certain information. We're a tight team."
Mach agrees and likens his team to being more of a family than a unit.
"We support each other—it is all based on trust and respect," he smiles. "We wanted 10-2 to not simply be a place where people come day in, day out, but a place where people come with a purpose, a place that is meaningful and rewarding.
"Whether it's bringing in movies for the patients with no passes to watch on the weekend, or doing a sing-a-long and playing music, the staff, volunteers and our peer support workers are very passionate in their work."
Find out more about mental health careers at AHS and check out our other employee stories.