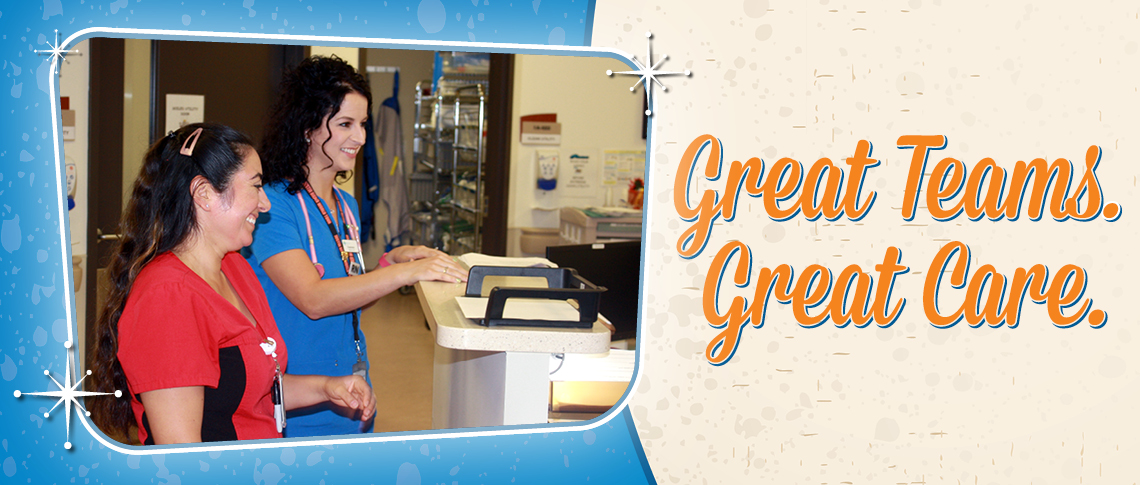 Working collaboratively to care for patients
Story by Laura Manuel
The inpatient unit at Fort Saskatchewan Community Hospital is relatively small. With only 38 beds, it delivers a range of care from medical to maternity. The variety of cases and the close-knit team create a supportive team environment.
"We need to know how to work as a small, multi-disciplinary team," says Stephanie Deley, registered nurse (RN) on the unit. "The variety of cases requires you to have a variety of skills and experience."
The inpatient unit is divided into five pods depending on the type of care required by the patient. Nurses are assigned to one or two pods but are willing to pitch in where needed.
"For example, we had a graduate nurse needing to do a patient transfer," explains Deley. "Nurses from other pods came in to mentor and assist, and supported her to complete the transfer."
Working together with different professions and scopes of practice illustrates AHS' vision of professional practice. For example, Deley often works in the labour and delivery pod where the role of each health-care provider is clear. As an RN, she focuses on supporting the physician in the delivery, while the licensed practical nurse (LPN) and the health care aide (HCA) care for the baby and mother.
"Knowing our roles and always communicating help us to provide patient- and family-centred care," says Deley.
This was made clear during a recent code blue on the unit. When the code was called, the entire team responded.
"Everyone came," recalls Andrea Redel, an LPN on the unit. "We looked at each other and said, we can't all be in here!"
The team lead quickly identified who needed to be in the room and who would take care of other patients on the unit. As a team, they functioned quickly and efficiently to deliver care. Nurses reassigned themselves to other pods to look after their colleague's patients.
The small community hospital is a different work environment from larger facilities that have more specialized programs. As the team experiences a wider variety of cases, a sense of camaraderie builds.
"It's a welcoming hospital," says Deley who relocated to Fort Saskatchewan from Grande Prairie. "The familiar faces make it easy to get to know people and ask for help."
Redel sought out a role in the community hospital specifically because of the size.
"It has a different feel from the big hospitals," says Redel.
Find out more about nursing careers at AHS and check out our other employee stories.