March 15, 2023
Meet Mark Nicoll
Improving the mental health and well-being of Alberta's children and youth is an important focus for Alberta Health Services (AHS). Focusing on prevention and early intervention for children, youth and families provides support to these individuals before they reach a crisis point. Mark Nicoll is a Registered Psychologist and Clinical Supervisor at AHS who leads a skilled team of professionals in helping young individuals and families across Alberta.
Can you tell us a bit about how you came to work as a psychologist?
Mark: I was always interested in work that allowed me to have meaningful connections with others and help in some way. My first job as a psychologist was working in the capital health region with young people and their families. I learned a lot there and then eventually went to spend a year working in the pediatric oncology program before finally ending up at Children, Youth, & Families: Addictions & Mental Health as a clinical supervisor where I do a number of things. The bulk of my time is focused on supporting other therapists with their clients and families. I also carry a small caseload, do groups, and support various projects to improve the services we provide to families.
How do you approach leadership in Addiction and Mental Health?
Mark: That's a question I keep asking myself and the answer continues to develop. So far it comes down to values for me. Respect is a big one. I want to respect the clinicians I work with and, hopefully, they feel their opinions and expertise are respected as well. I also want our clinicians to feel like our supervision is a safe space where they can reflect and think openly. We work with some pretty intense thoughts, emotions, and behaviours and we all need space to unpack these things.
Collaboration and lifelong learning are also important values. I continue to learn a lot from the people I supervise, and my hope is that we are thinking together about clients and families and the options available for their therapy. I place a lot of emphasis on continued growth and learning and try to role model that I'm never done learning. Finally, I really value having fun and being playful. When you work with kids you need to build that in, and I think it helps for leadership as well.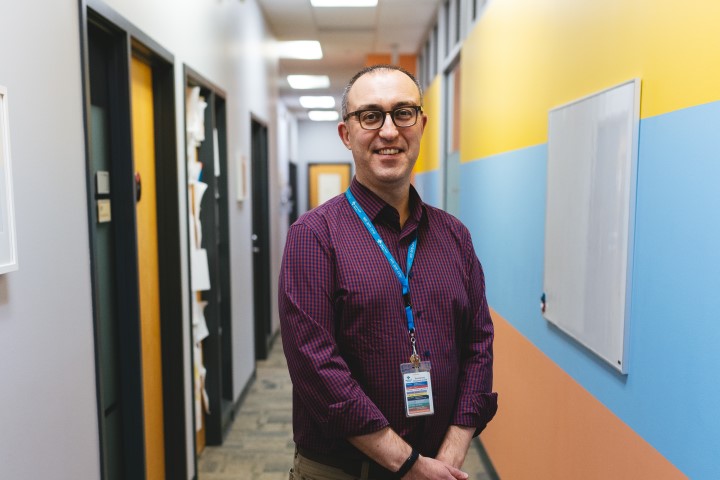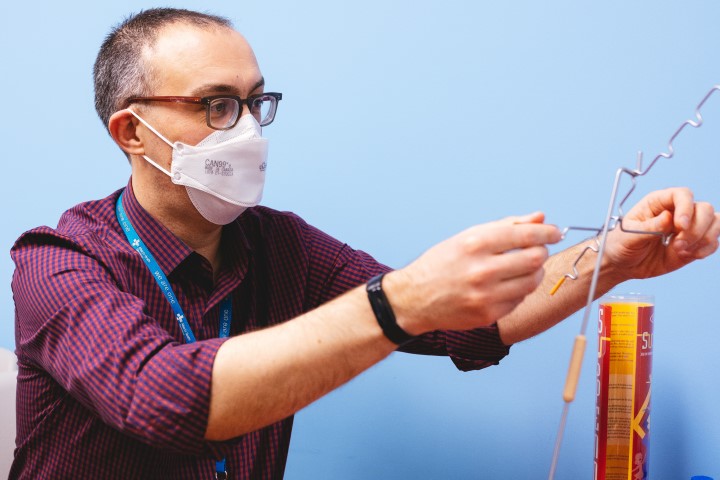 What is unique about the Addiction and Mental Health program for Children and Youth?
Mark: What stands out to me is that we're always trying to look for new ways to support families and do our work. Our program aims to meet families where they're at and make them partners in their care.
The phrase I like to think of is "a shared expertise model where our clinicians have expertise in therapy and clients and families have expertise on their lives." Sometimes that approach is a smooth process but sometimes it can be challenging for everyone. We try to keep on learning as an organization because there are always things we can do to improve.
Why did you choose to work for AHS versus the private sector?
Mark: I really like that I get to work with families that otherwise may not be able to afford to see a psychologist. I also appreciate that I get to work with others on a team and easily being able to consult people. I've learned so much from other therapists and professions like child psychiatry and pediatrics.
Having variety in my work is also something I appreciate. I get to work on various projects and be creative in terms of looking for ways to improve our services. Finally, the extended benefits and pension I get from working with AHS are significant positives as well.
Can you tell us about your most impactful patient story from your career?
Mark: I don't have one specific story … over the years I've really appreciated seeing young people and their caregivers make significant improvements in their lives. Whether it's overcoming severe social anxiety or dealing with really difficult trauma, it's a real privilege to journey with families while they're tackling these big challenges. When they come back into the office and tell you about their successes it's a great feeling to celebrate that with them.