Reporting to the Glenrose Rehabilitation Hospital's (GRH) Quality and Safety Management Council, the Healthcare Improvement Team (HIT) supports evidence-based clinical practice through an integrated approach to research, outcomes evaluation, knowledge mobilization and quality improvement.
The goal of HIT is to enhance quality of care by increasing the capacity of frontline clinicians, physicians and managers to use best practices in the delivery of clinical services.
The team consists of administrators and experts in knowledge mobilization and research.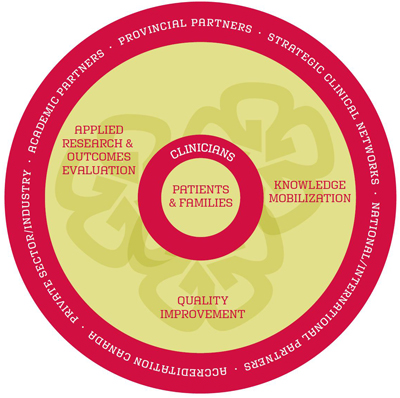 Examples of what has been achieved to date:
Implementation of best practice guidelines for Autism Spectrum Disorder diagnosis
Development of eligibility criteria and triage process for the selection of appropriate patients to participate in Ekso skeleton for gait retraining
Best practices defined and operationalized for pressure ulcer prevention in patients with spinal cord injuries
Completion of a systematic assessment to inform both Occupational and Physical Therapists in upper extremity assessment and treatment in the GRH Musculoskeletal Program
For more information please contact: healthcareimprovementteam@ahs.ca.