Health Benefits of Getting Up, Dressed, and Moving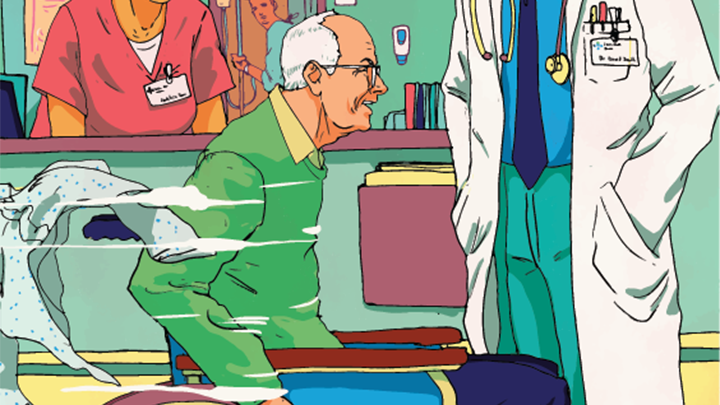 Ultimately, everything we do at Alberta Health Services (AHS) is about improving care for our patients. This is why we support the End PJ Paralysis movement across the province.
The two focus areas of End PJ Paralysis are:
1. Encouraging patients to get up, dressed and moving
Mobility is a key component of patient recovery and overall good health. Moving as much as possible while recovering in hospital is essential for maintaining muscle strength and maintaining overall better health.
2. Giving patients the choice to wear their own clothes during their hospital stay
Hospital gowns can leave patients feeling exposed and uncomfortable. We want to change that as much as possible. A key component of Patient and Family Centered Care (PFCC) is dignity and respect, which is the foundation for all our interactions. We, as health care teams, want our patients to wear their own clothes while in hospital* to maintain their dignity and help them feel as comfortable as possible during their hospital stay.
*(Gowns must be worn for surgeries and diagnostic imaging such as Xrays, MRI, etc)
Why it's Important to Get Up, Dressed, and Moving
Physical Effects of Deconditioning
Deconditioning is a medical term defined as a "physiological change following a period of inactivity, bedrest or sedentary lifestyle". In simple terms, it means that not moving for long periods of time is harmful to our bodies..
The most predictable effects of deconditioning include "diminished muscle mass, decreases of muscle strength by 2 – 5% per day, […] and a marked loss of leg strength that seriously limits mobility."
It is really important to limit the effects of deconditioning for our patients.
Here are some reasons why:
Ten days of bed rest in hospital leads to the equivalent of 10 years aging in the muscles of people over 80 (Kortbein et al 2004 J Gerontology)
One study showed 60 per cent of immobile older patients had no medical reason that required bed rest (Graf 2006 Am J Nursing)
The good news is that getting up, dressed and moving has a positive impact on your health.
Lisa-Marie McDonald, a patient and an AHS Patient Advisors believes "End PJ Paralysis puts power back in the hands of the patient". One study showed that a 50% increase in walking while in hospital was associated with a 6% shorter length of stay (McCullough et al 2006, Phys Measure). That's the kind of statistic patients, their families, AHS staff and physicians work together to achieve!
Did You Know?
Not being active while in hospital is associated with:
5 times the risk of needing institutional care on discharge
48% increase in the chance of needing help with activities of daily living 1 month after discharge
20% loss of quadriceps muscle strength and a 10% loss of aerobic capacity after spending one week in bed
Delirium, incontinence, accelerated bone loss and malnutrition
Psychological Effects of PJ Paralysis
PJ paralysis can affect a patient's physical and emotional health.
Patients often refer to the hospital gown in relation to wearing a prison jumpsuit as a sign of being institutionalized. Patients have mentioned feelings of being uncomfortably cold or exposed while wearing a gown.
Most of us want to get out of hospital and back home as quickly as possible. But prolonged bed rest can have an impact on a patients' ability to transition home, and an unexpected transfer to institutional care can be distressing.
Research shows that prolonged bed rest reduces our ability to transition home: hospital inactivity is associated with five times the risk of needing institutional care on discharge.
There are so many reasons for patients to make the effort to get up, dressed and moving as it helps avoid many of these negative effects.