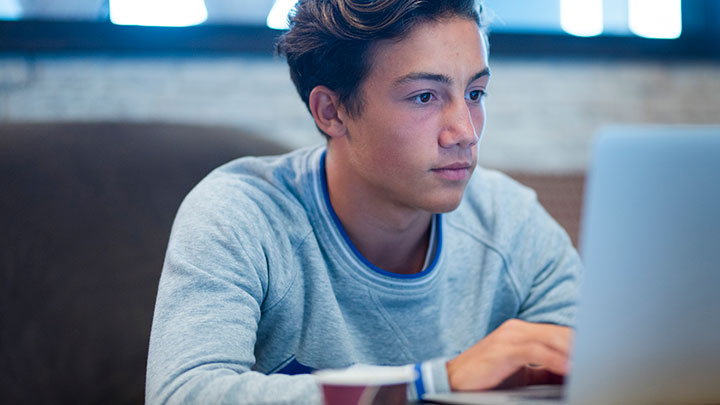 At times digital technology may be problematic for children, youth or their families. The Growing Up Online Toolkit provides information and resources such as digital technology screening and assessment tools, for service providers to support children, youth, and families.
For information for children, youth, parents, and caregivers, visit MyHealth.Alberta.ca's Growing Up Online.
Process Addiction
Addiction research has traditionally focused on substance use disorders. Non-substance related concerns, such as behavioural or process addictions, are less commonly understood, especially in children and youth.
Since digital technology plays such a prominent role in the daily life of children and youth, it is important to be aware of what they are doing online. Service providers and families need to understand that excessive time spent interfacing with technology may have a negative impact on young people.
Problematic Use of Digital Technology
Problematic use of digital technology is defined as any digital activity that causes significant distress to emotional and physical well-being, and which has a negative impact on day-to-day life.
Screening and Assessment Tools
Youth Voices
To develop the Growing Up Online Toolkit, people in various AHS programs, service providers, and youth were consulted. Additionally, Child, Youth & Family Initiatives (CYFI) consulted with several youth, as the inclusion of youth voices is fundamental to the development of services for children, youth, and their families.
Service Provider Resources
The following general resources include recommended internet resources, recreational activities, screening and assessment tools, and a comprehensive list of terms with explanations that service providers.
Summary
Substance use has held a monopoly on addictive disorders research when compared to non-substance use. Non-substance related concerns, such as process addictions, are less commonly understood, especially with regard to child and youth populations. The mental health community continues to debate what constitutes normal, problematic or pathological use of digital technology. This toolkit provides context into patterns of use amongst youth that warrant further attention and intervention.
Digital technology use by children and youth has been associated with:
Health concerns, such as decreased physical activity, an increased risk of obesity and challenges with sleep.
Cognitive and behavioural effects, such as procrastination, distraction and poor time management that interferes with academic achievement.
Conflict and unhealthy relationships with friends and family
Negative effects on relationships; for example, if private information is disclosed on profiles, resulting in jealousy and suspicion.