$1M Lois Hole research chair to focus on perinatal mental health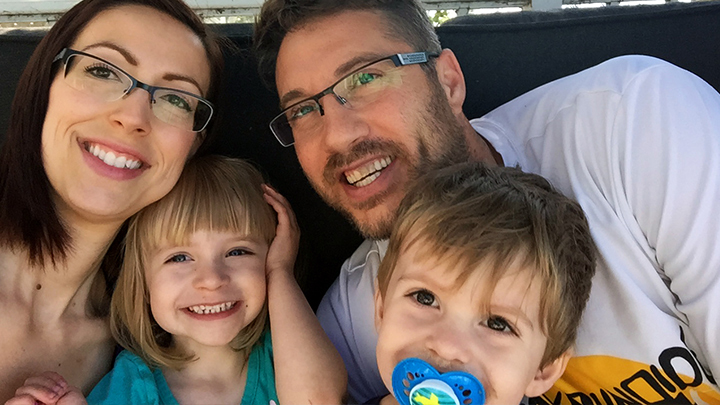 Story by Kerri Robins; photo courtesy Lana Berry
EDMONTON — Fully 25 per cent of Canadian women experience depression and/or anxiety during pregnancy, while another 13 per cent face depression and/or post-partum anxiety after their baby is born.
And sadly, says Dr. Dawn Kingston, a Registered Nurse and Associate Professor with the Faculty of Nursing at the University of Calgary, more than 94 per cent of women say they would only speak about their concerns if they knew that other pregnant women were also speaking out about their struggles with mental health.
It's because of numbers like these that Kingston has just been named to the newly established Lois Hole Hospital for Women Cross Provincial Chair in Perinatal Mental Health, thanks to a major collaborative partnership.
Funding for the chair comes in the amount of $500,000 from the Royal Alexandra Hospital Foundation, $400,000 from the University of Calgary Faculty of Nursing, and $100,000 from the Alberta Children's Hospital Research Institute (ACHRI).
Thanks to this partnership, a total of $1 million will be invested over the next five years into perinatal mental health research.
For women like Kari Ericksen and Lana Berry, research to raise awareness of positive mental health in pregnancy is a big step forward in recognizing the importance of giving women and their families a healthy head start in life.
"What I went through was a tough lesson in compassion and understanding for the impact mental health has on women going through pregnancy," says 47-year-old Ericksen, a mother of three.
Kari and her husband Tom were thrilled to learn Kari was pregnant with twins in 2000. "We were happy to be starting our family, (but) when I went into labour at 23 weeks, I was faced with feelings of extreme and severe panic and anxiety."
Ericksen was rushed to the Royal Alexandra Hospital in Edmonton where she and her husband received information that magnified her panic.
"Twenty-three weeks is so early to have a baby and our doctors were very clear in what to expect with such an early birth," she says. "It was heartbreaking thinking we had to make a decision whether we wanted the babies kept comfortable, or did we want to consider other alternatives."
"I was experiencing such panic and anxiety it made me sick, and I felt guilty for having to take medication and what it might do to my babies."
Ericksen says her mental health took a toll and she felt like a failure. "I've always been strong in attitude and emotion, and I stay physically fit, so having such negative feelings caused me shame — and I didn't want to see anyone or speak about my condition."
Ericksen persevered and went on to deliver healthy full-term twin boys. Now 16, Skyler and Griffen were later joined by younger brother Wyatt, 7.
"I went through the same panic and anxiety during my pregnancy with Wyatt, and both pregnancies had a lasting effect on me."
Andrew Otway, President and CEO of the Royal Alexandra Hospital Foundation, says donor support for the exciting and innovative work taking place at the Lois Hole Hospital for Women makes the hospital a natural fit for this research opportunity.
"Thanks to Shoppers Drug Mart support for mental health research and programs, the hospital is able to take part in this cross-provincial initiative," says Otway. "This is the exciting next step in the evolution and growth of this research, and the Royal Alexandra Hospital Foundation is so pleased to work with our community and the University of Calgary's Faculty of Nursing to advance women's health research across the province."
University of Calgary Provost and Vice-President (Academic) Dru Marshall agrees with Otway and says they're happy to partner with the foundation in the shared goal of advancing meaningful research in the communities they lead and serve.
"We are dedicated to working with community partners to make a significant impact in the lives of Albertans," says Marshall, "and academic research is not accomplished alone. We're grateful to the Royal Alexandra Hospital Foundation for their vision and commitment to advancing research in women's health, specifically the area of perinatal mental health."
Kingston, who holds a professorship in Perinatal Mental Health and Child Wellbeing, says she's thrilled to start this new chapter in her research.
"Our goal at the end of five years is to have interrupted the cycle of poor mental health by having a system of mental health care that is accessible and available to all women ─ a system that screens, refers and treats pregnant women starting at the first prenatal checkup," says Kingston.
Mental health concerns in pregnancy are the 'untold story', and that actually, mental health challenges are the most common pregnancy complication, moreso than any other physical condition complicating pregnancy.
Thirty-six year-old Lana Berry is part of the 'untold story'. With a history of mental health concerns in her family, and a diagnosis of anxiety at age 16, Berry says she was fortunate to participate in Kingston's research and cognitive e-therapy.
Through Kingston's aptly named HOPE (Healthy Outcomes for Pregnancy and post-partum Experiences), Berry was able to participate in online modules to recognize, identify and manage her feelings.
"Each module made me sit back and take a moment to do a self-check on what I was thinking about," says the Edmonton mother of Kristen, 3, and Joshua, 2. "It helped me realize that it's OK not to be happy and joyous all the time during pregnancy. It made me feel normal."
Kingston says her chair research position will be instrumental in advancing her goal to develop clinical and cost-effective models of prenatal mental health screening and intervention.
The next five years promise new e-therapies to help women and their families gain positive mental health and have lasting impacts on future generations.
"We can't wait for issues to develop," says Kingston. "We need to have proper mental health screening and care as part of regular prenatal check-ups."
For more information, please visit www.royalalex.org. If you are pregnant, and feel you need to speak to someone about your mental health, please visit your doctor, or visit www.yourhope.ca
What are E-therapies?
E-therapies are online resources that provide modules to target mental health thinking and behaviours.
Women are pre-screened and referred to these resources by their prenatal caregivers.
Currently, the first set of six modules involves cognitive therapy where women complete each module to help them better understand what they are experiencing.
The next e-therapy project likely be created under the new chair position is interpersonal e-therapy.