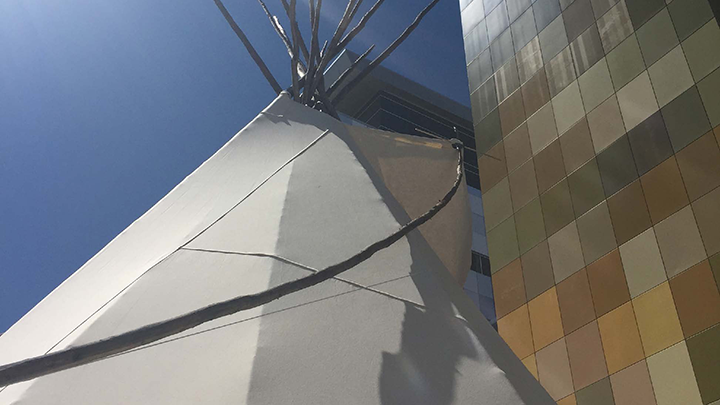 Watch the Indigenous patient digital stories above
The Calgary Zone of Alberta Health Services (AHS) is committed to: Improving the health and health experiences of Indigenous people; delivering culturally safe health services to Indigenous people; and building, nurturing and sustaining long-term relationships with Indigenous people.
The Calgary Zone is on the traditional territory of the Blackfoot peoples in the Treaty 7 area, including the Siksika, Stoney Nakoda and Tsuut'ina nations.
This land is also home to Métis peoples, Inuit people and urban-dwelling Indigenous people. Many of these people have strong ties to knowledge, traditions, medicine and ceremonies that have been passed down through the generations for thousands of years.
---
Plan & Supporting Information
---
Planning Process
From late 2018 to June 2019, the Calgary Zone hosted some 50 conversations to help inform this Indigenous Health Action Plan. Participants included First Nations health directors, representatives from urban Indigenous-led non-profit agencies, patients, Elders, healthcare providers, the AHS Wisdom Council and AHS leaders. Our plan reflects what we heard from people and outlines a path forward, together. The 15-year plan is an adjunct of the Calgary Zone Healthcare Plan and is focused on sustainable change
What We Found
Racism and culturally inappropriate healthcare services exist across Alberta, Canada and the world and are the main barriers to accessing health services. Healthcare access improves when healthcare services are owned and managed by, or tailored to the needs of local Indigenous communities. Improving the determinants of health is foundational to improving health outcomes. Indigenous peoples have said they want a blended approach—a mix of traditional and modern medicines. Integrating or embedding traditional and cultural health practices and spaces into AHS will improve the uptake of medical advice as well as openness, trust and health outcomes of Indigenous people.
Next Steps
AHS will continue this journey in phases, with the belief all of us can make a difference by speaking our truths, listening to one another, building trust and working together on common goals and actions. "Let's move to reconcili-action," says Casey Eaglespeaker, co-chair of the AHS Wisdom Council.
Committed to Act
Calgary Zone is committed to taking the following actions in phases over the life of this plan.
Our planning and engagement processes identified five pillars for action across AHS Calgary Zone:
System Requirements and Shared Accountability
Culturally Safe and Responsive Care
Engagement and Relationships
Integration and Continuity of Care
Traditional Wellness and Practices