---
Funding to support digital health supports, investments proposed to attract, retain healthcare workers
Full Version
February 24, 2023
Please print and share with your teams as needed
To all staff, physicians and volunteers,
Action On Our Priorities
We are working to urgently address four key priorities. They are:
Improving EMS response times.
Decreasing emergency department wait times.
Reducing wait times for surgeries.
Improving patient flow throughout the healthcare continuum.
Much of this work is underway. We will continue to use this update to highlight actions being taken to urgently address our priorities.
---
Improving patient flow throughout the healthcare continuum
Last week, the Government of Alberta announced a Health Workforce Strategy, designed to attract more healthcare professionals to Alberta and provide a healthy work environment for healthcare workers. The government will provide $158 million to support initiatives to recruit and retain health care workers, including:
$90 million to strengthen programs to attract and retain rural physicians.
$29 million to fulfil the agreement signed with the Alberta Medical Association focused on underserviced rural and remote communities.
$7 million for the targeted recruitment of internationally trained nurses from the U.S. and the U.K.
$1 million to fund the provincial nurse navigator program, which supports all nurses immigrating to Alberta.
AHS is in the process of developing our own Health Workforce Strategy, which will align with government's strategy with a focus on addressing immediate workforce challenges and planning for longer-term workforce needs. Together, these strategies will guide how we support provincial workforce priorities now and into the future.
---
PRIHS funding announced to support digital health projects
AHS and Alberta Innovates announced this week $9.5 million in funding for eight digital health research projects through the Partnership for Research and Innovation in the Health System – Digital Health (PRIHS) program. Funding will enable researchers from the University of Alberta and University of Calgary to explore digital health solutions that empower patients, families and healthcare teams to improve the quality of care and reduce certain barriers within the healthcare system.
Examples of funded projects include:
A digital health solution that will alert, monitor, educate, survey, triage and communicate with patients experiencing bone fragility fractures.
Telemonitoring to reduce adverse events for hospitalized patients.
An integrated digital health approach to diabetes with First Nations.
"By supporting additional testing and evaluation of digital health tools and services, we will grow our ability to provide virtual care to patients in the community and even in their homes. In doing so, we can improve capacity within our urgent care and emergency departments to care for those who need care that's only available in a hospital setting," says Dr. Braden Manns, Interim Vice President, Provincial Clinical Excellence.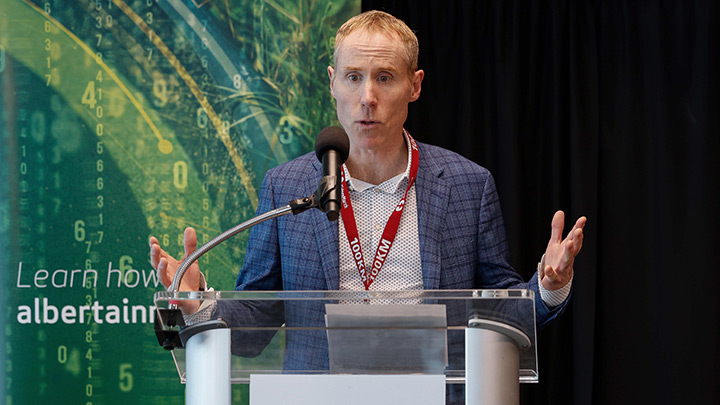 Dr. Braden Manns, Interim AHS Vice President of Provincial Clinical Excellence, talks about how digital health projects can deliver promising solutions to priority health system challenges at a media availability this week.
---
Reducing wait times for surgeries
AHS and the chartered surgical facilities together are currently performing slightly more than 6,000 surgeries per week. As of Feb. 20, the total surgical waitlist for adults sits at 69,268. For comparison, in February 2020, before the pandemic, our total waitlist was 68,000. Of those patients currently waiting, approximately 49 per cent are waiting within clinically recommended wait times.
Approximately 253,400 surgeries have been completed so far in the 2022/23 fiscal year.
Your Wellness
Access enhanced stress support
Burnout and Stress Solutions supports you with tactics to help identify, manage and control stress and burnout.
To access Burnout and Stress Solutions, contact the Employee and Family Assistance Program (EFAP) intake line at 1-877-273-3134. You will be asked a few questions to make sure you receive the best support for your specific situation. A specialist will contact you and offer coaching, support and materials. This service, as well as other EFAP supports, are all confidential.
Physicians can contact the AMA Physician and Family Support Program, a confidential 24/7 support line, at 1-877-SOS-4MDS for options and support.
Questions? Contact wellness@ahs.ca.
---
Mental Wellness Moment — the connection between food and mood
In this Mental Wellness Moment, Dr. Nicholas Mitchell — Provincial Medical Director of Addictions and Mental Health with Alberta Health Services — talks about the connection between food and mood.

Latest News
COVID-19 status and cases in Alberta
Hospitalizations and ICUs
On Feb. 13:
624 individuals were in non-ICU hospital beds with COVID-19, compared to 701 on Jan. 30, an 11 per cent decrease.
19 individuals were in ICU with COVID-19, compared with 26 on Jan. 30, a 26.9 per cent decrease.
Note: Hospitalization data is presented with a one-week delay to more accurately reflect the number of hospitalized patients who tested positive for COVID-19. There is a delay in identification of some hospitalized cases due to the time between being admitted to hospital, getting tested, and getting test results.
Variants of Concern
Alberta Precision Laboratories continues to closely monitor SARS-CoV-2 variants. From Jan. 30 to Feb. 5, an average of 81 per cent of positive samples were strain-typed. An estimated 45 per cent were BQ.1.1 and 25 per cent were other BQ.1 lineages, and an estimated 17 per cent were XBB.1.5 (based off the previous month's sequencing results). Other BA.5 lineages and BA.2 lineages (including other XBB lineages) now make up the minority of cases. To date in Alberta, we have seen 204 cases of XBB.1.5 and 115 cases of other XBB lineages.
Wastewater Surveillance
Wastewater can provide an early indication of COVID-19 infection trends in a community. For wastewater surveillance comparing weekly averages:
Seven sites increased by more than 25 per cent compared to the weekly average in the last report. These sites were Medicine Hat, Canmore, Drumheller, Red Deer & area, Lacombe, Cold Lake and Fort McMurray.
The other 13 sites decreased or had no significant changes.
High River has not recorded new data since Dec. 22, 2022.
The above interpretations were made from available data as of Feb. 21 at 7 a.m.
Other notable COVID-19-related information
As of Feb. 20, 5,556 individuals have passed away from COVID-19, including 46 since the last report. We extend our condolences to the families of these individuals, and to all who have lost loved ones from any cause during this time.
As of Feb. 20, 34,091 individuals have been hospitalized with COVID-19 in Alberta.
From Feb. 7 to Feb. 20, 10,293 COVID-19 tests were completed, a 14-day average of 735 tests per day. During this period, the daily percent positivity ranged from 6.4 per cent to 11.6 per cent.
---
Report clinical adverse events using RLS
To identify patent safety problems and make improvements, it is important to report hazards, close calls and clinical adverse events (CAEs).
AHS has a single, provincewide system for patient safety reporting called the Reporting & Learning System for Patient Safety (RLS).
All staff and physicians have a responsibility to report patient safety events. When you report a CAE, close call or hazard though RLS, the submission is reviewed, trended and shared to help us learn as an organization. Reporting helps to identify patient safety problems and to make improvements.
We encourage you to consistently submit CAEs and other patient safety problems using RLS, available on Insite.
---
Interim CEO message - recognizing the role of pharmacy teams
Today, we'd like to highlight the work of our pharmacy professionals across AHS, an essential part of our healthcare system. Pharmacy professionals have used their full scopes of practice for years to enhance and expand patient care in Alberta.
Joining the AHS Vlog to tell us more are:
Tania Mysak, Interim Executive Director, Provincial Operations, Pharmacy.
Pharmacist Steven Freriks, Clinical Practice Leader, Central Zone.

---
Edmonton Zone shigella outbreak over
A shigella outbreak that impacted Edmonton Zone residents was declared over on Feb. 16.
The first person became ill last August and an outbreak was declared on Sept. 8. In the last several months, following the sharing of health guidance and mobilization of hygiene resources, there has been a steep decline in the number of cases reported.
Throughout the outbreak, 206 people had confirmed shigella diagnoses and 139 of those people required hospitalization. This outbreak primarily affected members of Edmonton's inner-city population. No deaths were reported connected to this outbreak. Shigella is a bacteria that's commonly associated with diarrhea, as well as fever, nausea and stomach cramps.
I'd like to thank the medical officers of health and public health teams that coordinated the response to this outbreak with Infection Prevention and Control, Alberta Precision Laboratories, the City of Edmonton and multiple community partners. Also, many thanks to the clinical teams that cared for people with symptoms. While sporadic cases may continue to be diagnosed, the need for ongoing access to hygiene supplies and services will be important for this community to prevent a resurgence of the outbreak.
---
Investment to strengthen primary healthcare
The Government of Alberta announced this week proposed funding for primary care networks, payments to family doctors, funding to strengthen and modernize primary healthcare, and investments to help community-based physicians with information technology systems that will enhance continuity of care for patients.
The proposed funding includes $243 million in new funding over three years to strengthen the primary care system throughout the province. As part of this new funding, Budget 2023, if passed, would provide $125 million for implementing recommendations from Modernizing Alberta's Primary Care System (MAPS), $40 million to support primary care networks (PCNs) under the Alberta Medical Association agreement, and $27 million to PCNs to provide for an expected increase of patients attached to a primary care provider. In addition, $12 million will support IT systems designed to improve the continuity of care across the province.
Wrapping Up
Let me end this AHS Update with a simple message of gratitude for all you do — for patients and their families, for one another, and for advancing our four key priorities. In fact, we're seeing improvements in all four priority areas, and I'm excited to share details with you soon. Thank you for your ongoing hard work, ingenuity and professionalism.
Mauro Chies
Interim AHS President & CEO