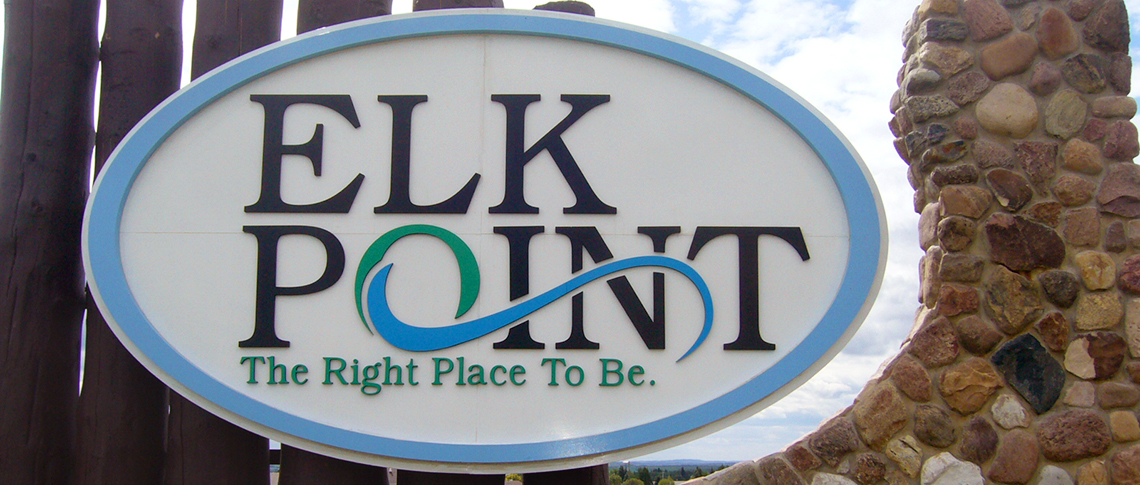 Northeast of Edmonton, the prairie landscape transitions to rolling countryside covered in mixed forest of aspen, pine, and spruce and dotted with lakes. Nestled among the trees is the town of Elk Point, which is about 235 km outside of Edmonton and 37 kilometres east of St. Paul.
Elk Point is positioned along the southern portion of the Iron Horse trail. The trail provides over 300 kilometres of reclaimed railroad for hiking, biking, horseback riding, quadding, or snowmobiling. Other popular trails follow historic fur trade routes that date back to the 1790's, including Carlton Trail and Red River Trail. An abundance of lakes, including Whitney Lakes, Kehewin Lake, Stoney Lake, and Elks Wilderness Park provide ample opportunity for your favourite water sports like canoeing and kayaking, or boating. You can also find a quiet spot to go fishing, or to observe birds and wildlife.
Elk Point has a population of 1,571, and offers excellent amenities for people of all ages. This family-friendly community has three parks, a water spray park, ball diamonds, tennis courts, and 18-hole golf course, a hockey arena and curling rink, and features a range of social and community organizations, churches, and clubs. Summertime events include a Children's Fun Day, Show and Shine, Canada Day celebrations, the Stoney Lake Rodeo, as well as an annual Senior's Week Pancake Breakfast.
The Elk Point Healthcare Centre is a fully integrated facility with acute care, continuing care and community health services all under one roof. Some of the services provided include a 24 hour emergency department, 12 acute care beds, pharmacy, rehabilitation, recreation and x-ray.
The Elk Point Healthcare Centre provides a range of programs, services, and health care. In addition to the above services, the facility uses a range of web and phone services connect residents with out-of-town specialists and special programs, including support for weight management and smoking cessation.
Small communities offer many career and lifestyle advantages. Clinical professionals have the opportunity to work to their full scope of practice, experiencing greater variety in their day-to-day work and can take additional courses and specializations that are most needed in their community.
Choosing a health career in a smaller rural community like Elk Point means that you'll also enjoy the slower pace of small-town living, and spend time on things that matter to you – whether it's time with family or exploring the outdoors, there's much to discover and much to love about Alberta's small communities.
For more information about this community, visit Elk Point's website, the County of St. Paul, or the town and county's social pages. To search for jobs in or around Elk Point, use our online job board.