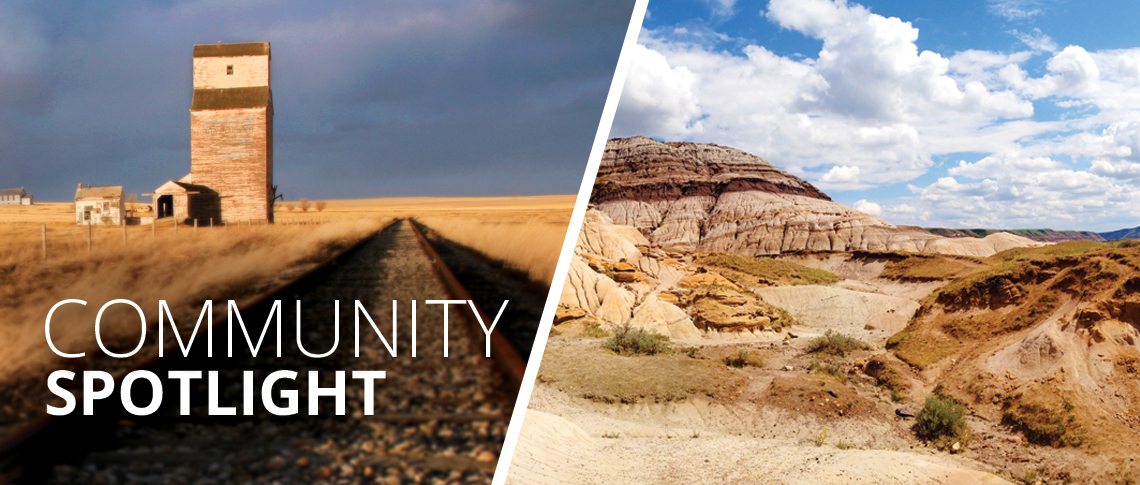 Drumheller
The first thing you'll notice about the Drumheller Valley, located in Central Alberta, is the spectacular scenery, rolling fields that suddenly give way to the Canadian Badlands—steep, dry coulees ridged with hundreds of years of erosion from wind, water and time. The Red Deer River winds its way through the Valley, attracting many with its myriad of recreational opportunities.
The Royal Tyrell Museum, Drumheller, home to world-famous dinosaur digs has a history that is rich and surprising. The site was discovered in 1884, and its name was decided by a coin toss between two founding entrepreneurs.
Early settlers discovered the skull of an Albertasaurus while they were exploring for coal, starting the collection of fossils that modern Drumheller is well-known for.
Aside from ancient artefacts, Drumheller has much to offer. Residents enjoy an excellent variety of facilities and activities in local community facilities. Visit the Aquaplex for a swim, or to enjoy the hot tub or steam room; take the kids skating at the Memorial Arena or cheer on the local hockey team. You can keep fit at the Badlands Community Facility's fitness and recreation centre, or take in local arts and cultural programs.
Begin or advance your health care career and professional development at the Drumheller Health Centre. The community's main health care facility — with 33 acute care, 4 restorative care, and 8 long term care beds — provides a range of care for all medical concerns, including general medicine, surgical, maternity, palliative, and 24-hour emergency care, allowing health care professionals the opportunity to further their knowledge. Working together, AHS health care professionals put our patients and their families first every day. Come for a job and stay for a career.
Hanna
Hanna is located in east central Alberta and is a unique town that remains close to its history – literally. While many Alberta towns have some version of a pioneer village, Hanna has grown up alongside the original village, preserving a full block of turn-of-the century homes and businesses that sprang up along the Calgary-Saskatoon railway line. Today, old and new blend together creating a thriving community of 2,673 (2011).
Residents experience a great quality of life, while enjoying a wide range of cultural and recreational activities Golf enthusiasts will enjoy the 9-hole golf course on days off, while residents can pick up fresh local produce at the Farmer's Market, or even take in an old-fashioned drive-in movie with their families. Kids and adults alike make good use of the fitness centre, swimming pool, parks and soccer fields. In the summer the baseball diamonds are quite active, especially during the annual Slo-Pitch Showdown; and in the winter, the arena is a hub of activity for hockey teams and curling bonspiels.
Staff at the Hanna Health Centre work together to provide patients with a holistic, multi-disciplinary approach to health. The four family physicians collaborate with health care professionals and support services providing patient-and-family-based care to patients of varying needs. The small town atmosphere allows health care workers to deliver more personalized care while establishing tight relationships with your colleagues, patients and their families. Together, this cross-functional team of health care professionals provides a full range of expertise to the community, from public and mental health to laboratory, diagnostics, physiotherapy and home care.
The local health care facility is comprised of a 24-hour Emergency Department, a 17 bed Acute Care ward, and a 61 bed Long Term Care facility. The Hanna health care team more than just believe in the AHS values, they live them every day, while providing excellent health care to the rural community.
Alberta Health Services is committed to enabling work-life balance and supporting employee wellness while offering competitive wages and benefits to employees and their families. Employees are encouraged to continue learn and develop through internal training resources, and to reach their highest potential. When you're at your best, we're at our best.
You can learn more about these communities on their town websites and social pages. Visit the Town of Hanna or the Town of Drumheller for more information about making these communities your new home. See what exciting opportunities await you on our online job board.