In 2015, over 14,900 AHS volunteers gave more than 992,800 hours to care for patients and to keep Albertans healthy. They share their time, energy and skills because they have a sincere desire to make a difference.
We believe our volunteers' experience and contributions matter and are what make volunteers the roots of strong Alberta communities.
Happy Volunteer Week! Patient care is at the core of what we do, and each and every volunteer helps us reach our goals. We couldn't do it without you.
Celebrate and thank volunteers in your community, April 10 - 16. Join us on Facebook or the Passion for Health blog, and find out how you can become an AHS volunteer.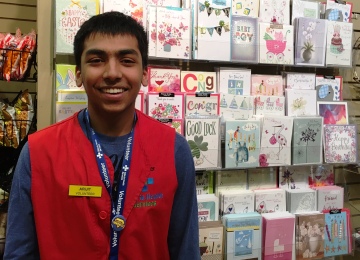 Arijit, Retail Volunteer, Foothills Medical Centre, Calgary
The benefit of volunteering here is that I really learned not to judge people and understand people for who they are as characters. It has also shown me how much I love working with patients and interacting with all different types of people and to me that's a lifelong lesson learned.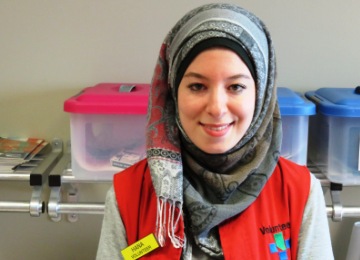 Hana, Pediatric Volunteer, Peter Lougheed Hospital, Calgary
Volunteering has helped me build on character and appreciate the diversity within my community. I love helping people and volunteering is a way for me to contribute to my community as well as become a better person.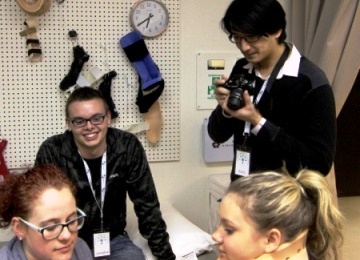 Emil Yin (holding camera), Volunteer Photographer, Young Medical Minds Program, Camrose
There was this one time when I was volunteering in a community in Ecuador. The evening before we were going to leave, the community held a celebration for us and one of the kids from the community came up to me, gave me a big hug and said "Thank you for being you."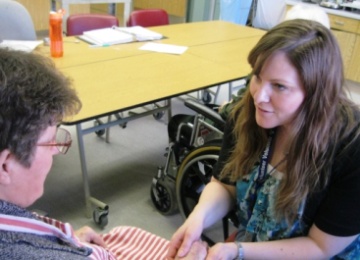 Lisa, Volunteer, with resident Diane, Stettler Hospital and Care Centre
When we visit the residents in Heritage House, my 14 year old daughter and I focus on spending time with residents in their room and doing AromaTouch Hand Massage. The essential oils I use offer a pleasant calming aroma. One day the nurses recommended we visit a resident who was having an especially sad and disappointing day. At the end of our 15 minute visit, Melissa (my daughter) and I both noticed and commented that the resident's mood had improved remarkably from beginning to end. We knew that on that particular day, we had truly made a difference in her day!.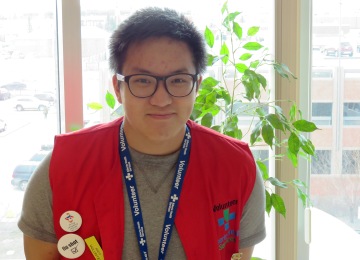 Andy Lau , Friendly Visitor Volunteer, Peter Lougheed Hospital, Calgary
Speaking with dementia patients is a bittersweet moment and, in my most memorable volunteering experience, a patient that I frequently spoke with was celebrating their birthday and we decided to sing happy birthday. The following week, the patient was eagerly awaiting the arrival of the young man who was singing happy birthday and it was in this instant that I realized that despite forgetting details, no matter how minuscule an action may appear in a moment it always leaves a lasting impression.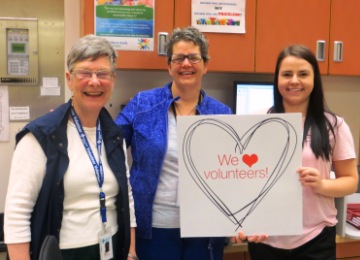 Doreen Brazier, Margot Moreland, Isabelle Huel, Diagnostic Imaging Staff, Chinook Regional Hospital
Our volunteers are awesome. They assist us with directing patients to the correct waiting areas within the department. They help make patients comfortable and try to relay to staff any concerns the patient may have. We would be lost without our regular, wonderful, hardworking volunteers on a daily basis. Our workload has increased to the point where without our volunteers, our days would be chaotic and very frustrating. Thank you for all your hard work! Without our lovely volunteers our department just wouldn't be the same!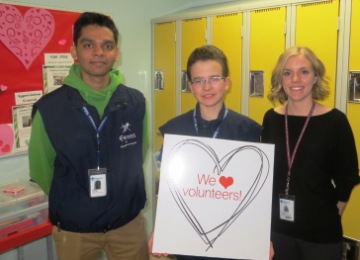 Harshil Patel, volunteer; Steven Jones, volunteer; Michelle Robertson, Volunteer Resources staff, Chinook Regional Hospital
Our volunteers deliver ice waters to our patients rain or shine. I am truly impressed with all their dedication to come in and offer their precious time to help us with the ice waters. They have even come in when the weather is awful and have lovely smiles on their faces. I would just like to say how proud I am of them all.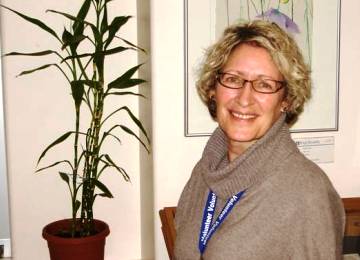 Sue, Palliative Care Volunteer, Royal Alexandra Hospital, Edmonton
My favorite volunteer moment is when I am able to make a positive difference, regardless of how small, in the lives of the patients and families I meet. Whether it is saying a kind word, getting a blanket, a glass of water, a book or just by being present in silence – I feel truly honored and grateful for the opportunity. I embrace each interaction with an open heart, a genuine commitment and a feeling of having a great privilege.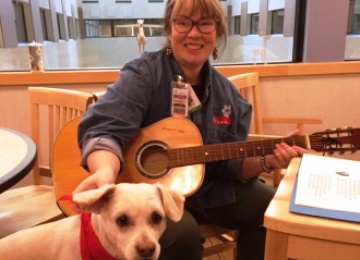 Andrea and Ganden, Pet Therapy Volunteers, Red Deer Regional Hospital Centre
My favorite place in the world is Iceland because of the untouched beauty and kind, beautiful people that live there. The food and landscape is amazing. No other country can you visit a glacier, a volcano, a geyser and see a puffin colony all in the same day!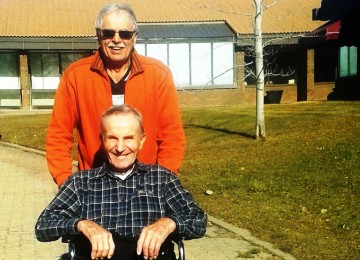 Bernie, Volunteer (standing) and resident Harold, Wainwright Health Centre
I've learned that older folks are wonderful people – they are willing to share and to give joy to my world. I know I have strong legs and I am glad that I can share them with those who don't.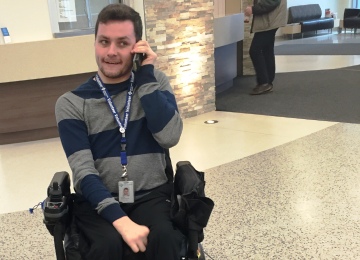 Clayton, Volunteer, Fort Saskatchewan Community Hospital
My favorite place in the whole world is Camp Kievs-K-Hi at Moose Lake, Alberta. This has been my summer home for the past 12 years. I have made many friends over the years that I still have contact with. At camp, I don't need much help and am more independent.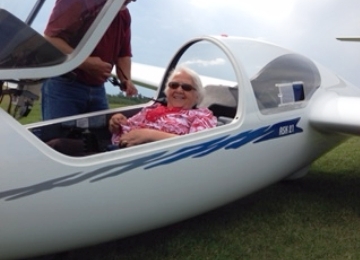 Myrtle, Palliative Care & Pastoral Care Volunteer Visitor, Oilfields General Hospital
Myrtle's great adventure was to go gliding on her 80th birthday.