October 8, 2016
Meet Siobhan (left) and Aoife
As told to Ben Surby
What led you to move to Alberta?
Siobhan: I had been working as an occupational therapist in a rehabilitation hospital in Florida; however, my partner was working in Alberta. He moved to Edmonton from Ireland over five years ago and I had been visiting him for a number of years, so I was already familiar with the city. I was looking for a new work opportunity, and it seemed like a good career and personal move.
Aoife: I have always had a keen interest in travelling and working abroad. I worked in New Zealand and Australia for four years after I graduated (as a physiotherapist) before moving back home to Ireland. I decided I still had adventures to tick off my bucket list and Canada seemed like a great place to choose. I knew Canada was a beautiful country, the people were nice, and I had good connections there.
How did you find the moving process?
Siobhan: Moving here was relatively straight forward – the visa/immigration process was the component that took the most work and time, which is to be expected when transitioning to work in another country. I also had to complete the national exam for occupational therapists and register with the Alberta College of Occupational Therapists, which took approximately eight months. Once this was completed, the time frame from applying for positions to beginning employment was pretty short. I'm currently in the process of applying for my permanent residency as well.
Aoife: Overall the registration process with Canadian Alliance of Physiotherapy took approximately two and a half years from start to finish. I spent a year in Ireland getting my paperwork together – police clearance, medical clearance, college certificates - and getting credentialed with the Canadian Alliance of Physiotherapy. I was fortunate enough to pass both my written and practical exam on my first attempt, but it can be a very daunting process. I was thankful that AHS employed me on a provisional registration once I had completed my written exam; therefore, I was able to work for a year prior to sitting my practical exam. This was a great help to me as I was able to orient myself to the Canadian health system and learn from my colleagues prior to sitting the exam.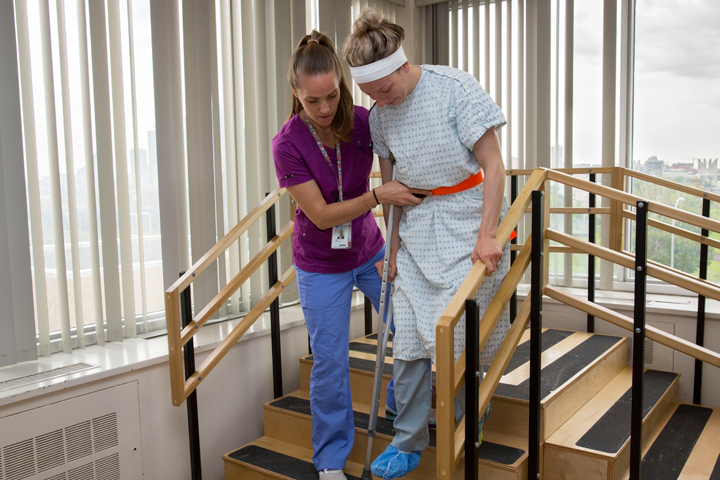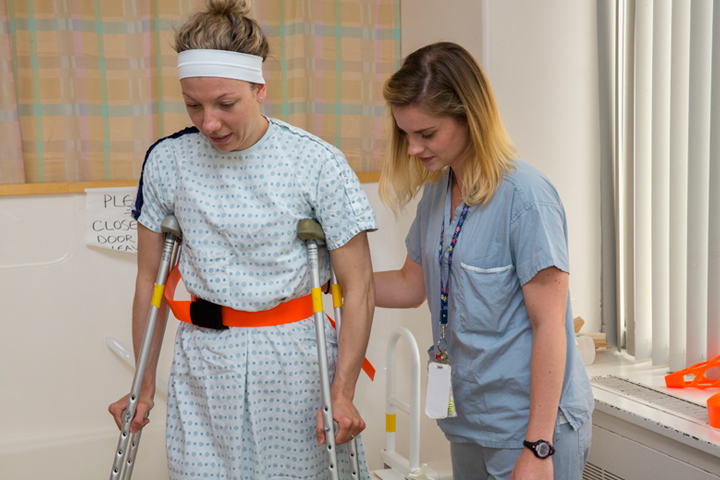 Do you have any advice for someone who is applying to AHS as an international applicant?
Siobhan: Be up to speed with what is needed for the appropriate work permit and ensure that you have all necessary documentation. There are a number of different avenues that you can explore to get authorization to work here in Canada, so be sure you know which is suitable for you and what is required as this makes the process much smoother and faster.
It's not an overnight process [registering as an occupational therapist], you need to show your qualifications are equivalent to the Canadian Association of Occupational Therapy qualifications and you have to sit a national exam, which is only available twice a year. Once you have passed the exam you need to produce documentation showing you're legally entitled to work in Canada to register with the Alberta College of Occupational Therapists.
Aoife: The International Experience Canada visa is similar to a ticket lottery, they offer approximately 10,000 visas to Irish applicants, and once they are gone that's the allocation for the year. You need to have all your paperwork in line, so that when you apply there is no delay, because if you are missing a piece of documentation, you lose your spot.
Look into the registration process for your profession in advance and give yourself lots of time to gather college documents, police clearance certifications etc. From a physiotherapy point of view, the Canadian Alliance of Physiotherapy Regulators was really helpful, as was the Physiotherapy Alberta College and Association.
What do you enjoy most about living in Alberta?
Siobhan: It's fantastic being so close to the beautiful Canadian Rockies. The weather during the summer months is usually great and there always seems to be lots going on. Since moving here, I have developed an interest in triathlons. I also really enjoy bike riding and just generally being outside in the fresh air. I have dabbled in skiing – however, let's just say there is lots of room for improvement!
Aoife: I love the proximity to the mountains, which offer such a different experience in winter and summer. I've been able to try downhill skiing, cross country skiing, ice skating, snowshoeing, trail running, and golfing. I'm always grateful to cycle to work over the High Level bridge on a beautiful sunny morning and admire the stunning river valley views. Canadians seem to feel a strong connection with the Irish and are always interested to hear about my home and my culture, which has made me feel very welcome here.
What drew you to work for AHS?
Siobhan: AHS offers a variety of great teaching hospitals under its umbrella and working in a larger hospital was what I was interested in. At the time that I was looking for a job prior to moving here, there were various job opportunities in many different types of settings, so there were lots to apply for depending on what area you were interested in. Currently, I work as an occupational therapist in the intensive care unit at the Royal Alexandra Hospital (RAH). This is definitely a unique area to work in and I really enjoy the learning opportunities that it brings.
Aoife: I had a friend who was working at the RAH and she recommended it as a great hospital to come work in, because of the strong learning opportunities that are available. The ability to rotate through different services at RAH was a huge draw for me. Most recently, I have taken up a full-time position in Women's Health at the Urogynecological Clinic at the RAH's Lois Hole Hospital for Women. As a physiotherapist, I think it's vital to your development to have a wide knowledge base.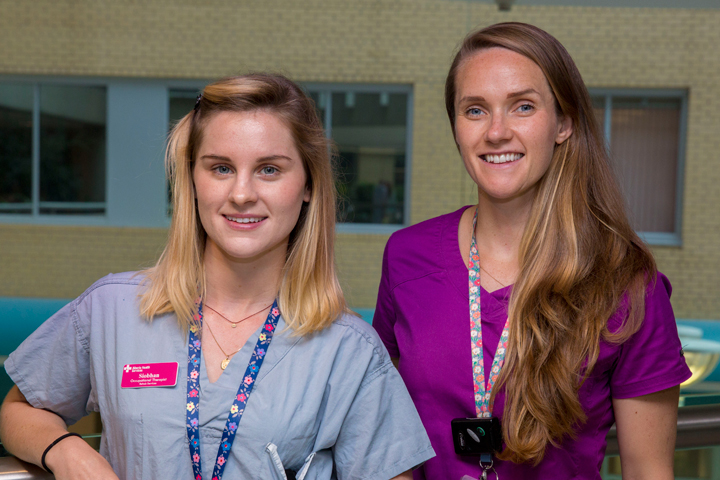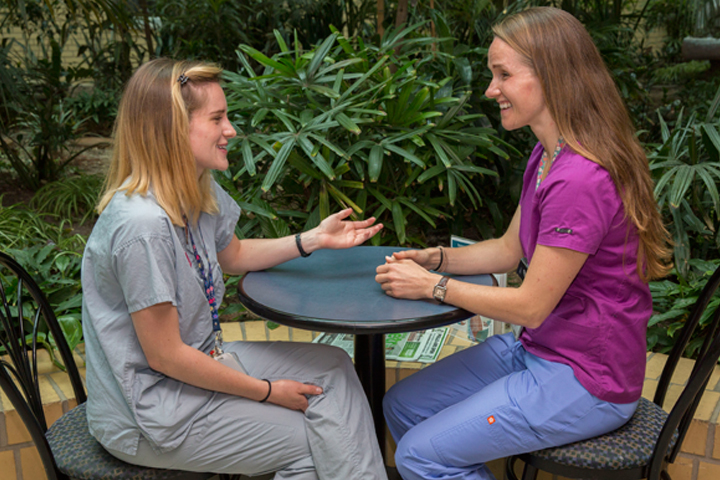 What do you love about your job?
Siobhan: I really enjoy the people I work with; they are a great bunch of people. I also enjoy the learning opportunities and challenges that working in acute care brings. I love the creative aspect of being an occupational therapist and the diversity of our patient population keeps my job interesting for sure! I think the collaboration here between coworkers, especially physical therapists and occupational therapists, is very unique. It's nice to be so collaborative with your team, which you work with every day, and know your patients as well as you do.
Aoife: My favorite part of my job is that I feel like I am making a positive impact in the quality of life of the patients that I treat every day. That's not something that everyone gets to say about their job, so I'm very thankful for this opportunity. As an inner city hospital, the RAH has a large number of high risk service users and we see a wide variety of patients and conditions. The environment is fast paced and dynamic, but makes for a very interesting work day. I have been able to advance my critical thinking and clinical skill base.
How would you describe your team?
Siobhan: There is a great team spirit among us. I find that everyone is extremely supportive of one another and there is always someone to lend a hand if needed. I also think that there is a great emphasis on continuous learning and skill enhancement and this is a really nice environment to work. It's been such a wonderful experience becoming a better therapist and clinician, and I think I owe that to the people I work with.
Aoife: I think there is an amazing culture of encouragement and collaboration across our team. I have had the opportunity to work on various units in various clinical settings at the RAH and all of the Allied Health staff I have been welcoming, approachable and enigmatic. I love the strong push towards promoting evidence-based practice and fostering professional development. Our Physiotherapy and Occupational Therapy Practice Leads are fantastic in creating and promoting learning opportunities.