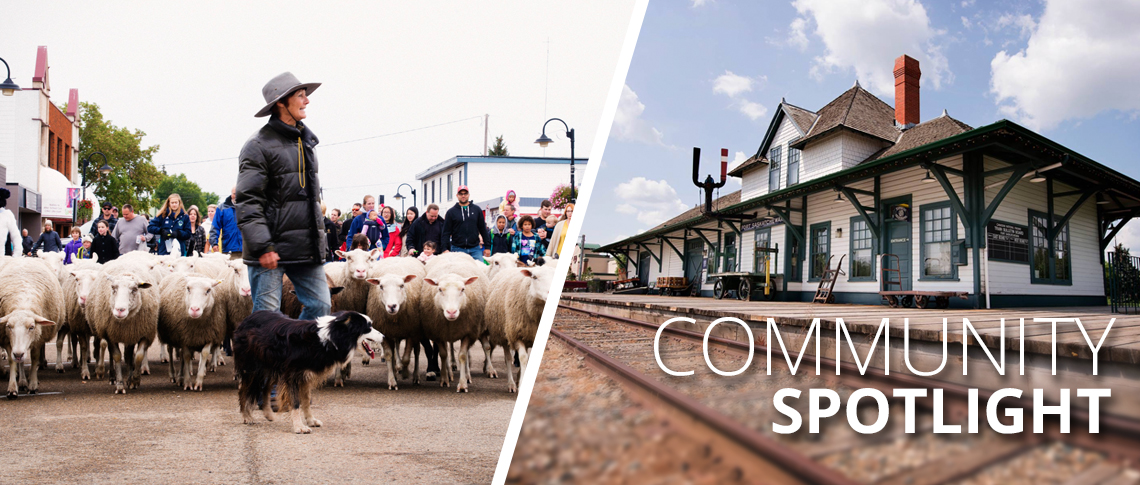 Photos courtesy of City of Fort Saskatchewan
City of Fort Saskatchewan
Hugging the banks of the North Saskatchewan River, the City of Fort Saskatchewan is located just 15 minutes or about 30 kilometres northwest of Edmonton and has a population of approximately 24,000 people. Known affectionately as "Fort Sask," or "The Fort," it has all the services, amenities, and activities you expect from big city living, plus a history and charm that is uniquely its own.
Modern comfort, frontier history
Fort Saskatchewan has an extensive network of parks and trails, with over 400 hectares of parkland and 75 kilometres of trails to walk, bicycle, play sports in, and enjoy. Legacy Park, located in the heart of Fort Sask's downtown, hosts multiple festivals in the community, including the annual Family Festival and Canada Day celebrations. A statue of a Royal Canadian Mounted Police officer and his horse overlooks the park – in honour of how the city was founded as an RCMP outpost in 1875.
Many structures from Fort Saskatchewan's history are preserved alongside modern infrastructure, as part of the Fort Saskatchewan Heritage Precinct. People can take in the courthouse, train station, and the very fort the city's named for. A spot on the river is still known as Red Coat Landing, in reference to the brightly-coloured formal uniforms of the RCMP.
Here's looking at ewe
Fort Sask is also known for its "green" approach to keeping the grass mowed: a flock of 50 Finn sheep moves in every spring to keep the grass in city parks trimmed over the summer months. Are they friendly? Yes they are! You are encouraged "Join the Flock" and get up close and personal with these fuzzy lawnmowers, and see the shepherd and border collies at work. It's a tradition embraced by locals and visitors alike – in fact, the town mascot is Auggie the Sheep. When the sheep are rounded up in the fall, they are paraded down Main Street in an annual event.
Surrounded by natural beauty
Elk Island National Park is about a half hour's drive from Fort Saskatchewan. Forty-five kilometres from city limits, you can see elk, moose, and even wood bison grazing peacefully in their native habitat. Head out for day hike, or paddle Astotin Lake in a canoe, kayak, or stand-up paddleboard to observe wild loons, herons, or pelicans resting on the water. In addition to the wildlife, the park's extensive geological and cultural history is reflected in 227 aboriginal campsites, stone-tool making sites, and other areas, as well as 13 sites left behind by the earliest European homesteaders, including Alberta's first Forest Ranger station.
Community highlights
Families with school-age children like having a choice of six elementary schools, one French-immersion elementary school, three middle schools and three high schools. Post-secondary students may choose to take the short drive to Edmonton to attend University of Alberta, MacEwan University, or Northern Alberta Institute of Technology (NAIT).
There are multiple recreational centres offering plenty of ways to stay active, social, and fit. If you're a golfer, there's a golf course in town and three others within a short drive of city limits. There are active clubs for figure skating, ringette, and hockey, in addition to fitness areas and equipment for all ages and fitness levels. The Fort Saskatchewan Pottery Guild as well as local theatre groups, dancers, musicians, and artists regularly put on exhibits and performances that many locals enjoy.
Career opportunities in healthcare services
Alberta Health Services provides a full range of healthcare services based out of the Fort Saskatchewan Community Hospital. This new facility, which opened in 2012, offers 24/7 emergency services and features 38 acute care beds, diagnostic imaging, radiology services, obstetrical and gynecology, outpatient and rehabilitative services.
The connected Health Services Centre provides community and public health programs, home care, addictions and mental health, and home care services. The close proximity of all departments makes it easy to collaborate as a multi-disciplinary team in an attractive, modern healthcare facility.
Working with AHS, you will have ample opportunity to continue to grow and enhance your skills. Professional development is not only encouraged, but supported, with a range of internal training courses and seminars on relevant topics such as patient indications to watch for following a stroke, pediatrics, or regular skills update courses that cover current best practices.
The community of Fort Saskatchewan offers the best of both worlds: all the city amenities, combined with a friendly, small-town feel. Visit Fort Saskatchewan's website and social pages, which include Facebook, Twitter, and Instagram to learn more about living and working in Fort Sask. You can also look for current opportunities in Fort Saskatchewan using Alberta Health Services' online job board.