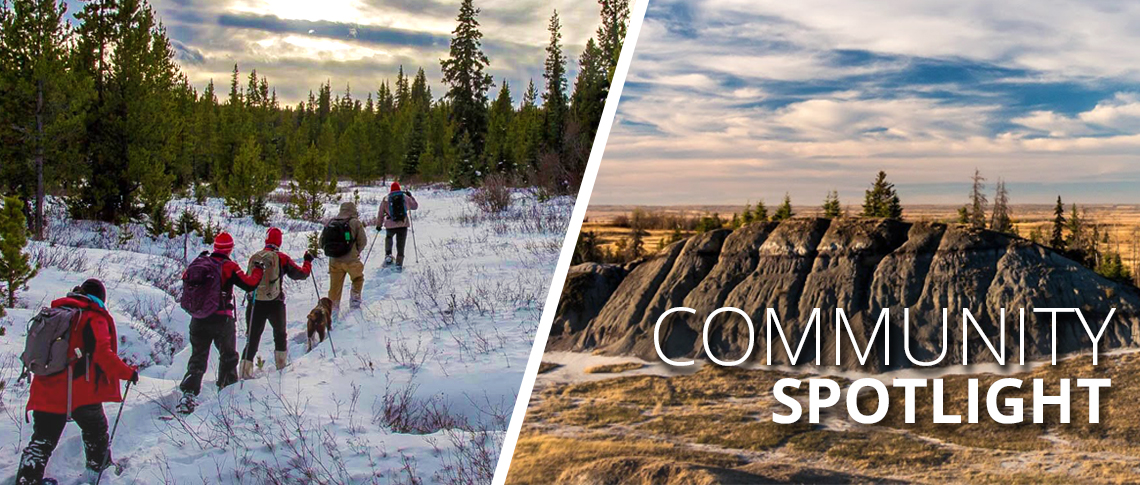 Photos courtesy of Darrel Comeau, Misty Mountain Photography, and Grande Prairie Regional Tourism Association.
Grande Prairie is named for the broad, sweeping plains that surround it to the north, east, and west. Just south of the community, the grasslands give way to boreal forest, stretching into the foothills of the northernmost tip of the Canadian Rockies.
A thriving city of 68,556 people (2015), Grande Prairie is located 459 kilometres northwest of Edmonton. This community has a youthful, growing population and all the amenities associated with city living – shops, restaurants, pubs, and active social, cultural, sports, and arts clubs.
Families have plenty of choice in schools from preschool to grade 12, with Grande Prairie Regional College (GPRC) as a local post-secondary option. There are numerous parks and playgrounds, with over 18 kilometres of walking trails to explore. World-class acts like Elton John, Keith Urban, and Rihanna have performed at the local arena, Revolution Place.
Grande Prairie is also home to Alberta's newest dinosaur museum. The new Philip J Currie Museum opened its doors in 2015, and houses a plethora of fossils from prehistoric land, air, and water creatures. The fossils were found and excavated in the nearby Pipestone Creek Bonebed, just 30 minutes outside of the city – a popular place for families to hike, swim, camp and enjoy the outdoors.
AHS operates three facilities in Grande Prairie. The regional hospital Queen Elizabeth II (QEII) Hospital in Grande Prairie is an acute care facility with 24-hour emergency services, an intensive care and neonatal intensive care unit that provides trauma care to patients from several communities in the surrounding area. A new hospital is under construction and is scheduled to open in 2020.
AHS also provides home care, therapeutic and social services based out of QEII Mackenzie Place and the Virene Building. Physiotherapists, occupational therapists, social workers, audiologists, and speech-language pathologists provide client care for a wide range of needs and programs. In addition, AHS delivers community healthcare, immunization, and laboratory services at the GPRC College and Community Health Centre.
AHS healthcare teams focus on interdisciplinary collaboration, which provides employees an opportunity to get to know each other on a personal level. Teams are very collaborative at all of the facilities, providing employees the opportunity to get to know each other on a personal level. Regular meetings help information flow freely in a professional capacity, while regular potlucks and birthday celebrations help to grow interpersonal relationships. There is a strong family atmosphere, and a high level of personal and professional respect.
When the workday's done, many employees are busy doing what they love most – spending time with family. They stay active in the community by volunteering, coaching their children's sports teams, or contributing to the vibrant arts and cultural scene. AHS programs support better balance between work and life through programs like on-site childcare or flexible work arrangements. Internal seminars on topics related to health and well-being also help employees find the right balance between work and life.
Grande Prairie offers many big-city benefits with the perks of small-city lifestyle: shorter commutes, lower cost of living, and outdoor adventures right at your doorstep, combined with all the amenities and services you expect from urban lifestyle.
To learn more, visit the City of Grande Prairie website, Grande Prairie Tourism, or the community's Facebook, Twitter, or YouTube sites. See what exciting opportunities await you on our online job board.