March 20, 2017
Meet Becky
As told to Christy McPhillamey
What does the Urgent Services team do?
We provide crisis support and stabilization on a short-term basis for people who are at risk due to a mental health concerns or addictions. Care is provided to people until the crisis has passed or they are connected with a long-term care provider.
Urgent services is different from emergency services – we provide help through support options for people who are at risk due to acute mental health issues. However, if someone is at risk of harming themselves or is in the process of doing so; those people would be directed to emergency services for immediate intervention through 911.
Our initial step is to connect with the client and complete a mental health assessment. From that, we determine whether that client is best supported by our team, through resources in the community, or if they meet criteria under the mental health act to be transported to a hospital. As part of a mobile team, I answer calls and meet with clients in their homes, in coffee shops, or other community facilities.
What do you do on a day-to-day basis in your role?
A big part of my job is connecting our clients with community resources. The clients that I support might need help with psychosocial concerns, like finding employment, shelter, food, or legal assistance. All of these things have a huge impact on physical and mental health, and connecting with these resources can be a big part of a person's recovery plan.
Assisting people with various applications can be a big part of my job, including applications for housing, financial and legal assistance. There's a long waitlist for subsidized housing in the city, so often, we're getting creative and helping clients look down other avenues. This might be keeping up-to-date with specialized housing or programs for specific groups of people, finding out which agencies are offering rental incentives, or helping people find affordable rooms in shared accommodations.
What do you enjoy or find most interesting about your job?
I never know where my day's going to go when I start my shift. One day I might be meeting with a client that needs help with family and relationship issues, and getting them connected to the proper resources. The next day might be meeting with an individual who is homeless, and has no income and nowhere to go.
Every day is different. I feel like I always have to really keep on my toes.
I am constantly expanding my social work network, within AHS and beyond to stay by staying abreast of new agencies, programs, or resources in the community that we can refer clients to.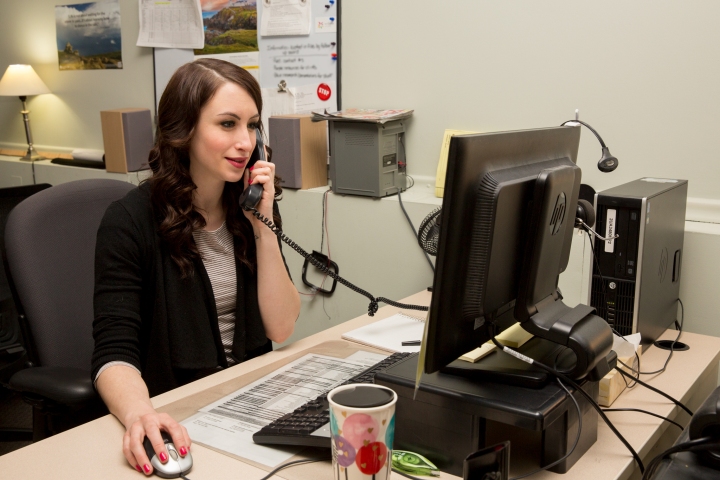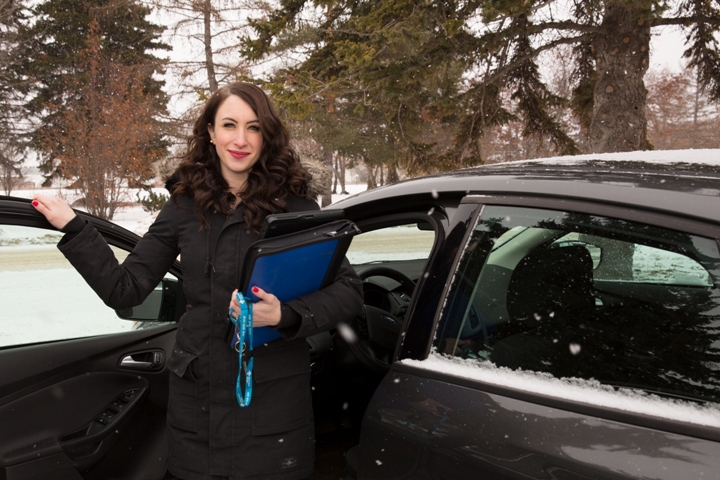 As a social worker, what are some assumptions that people make about your job?
When most people think of social work, they think of Child Protection Services. While Child Protection Services is an honourable field, there are many other settings that social workers can play a role in. In AHS, social workers are found in hospitals, correctional centres, addiction and mental health programs, and a variety of different clinics. There's lots out there!
So what attracted you to working in mental health, and by extension, social work?
I really found the study of psychology and what influences people's behaviour interesting. People are just so complex! I've always fallen into the natural role of helper – I like to help people. So, getting some educational background on what is best practice, and how I can help people make a real difference in their lives made perfect sense to me.
I work with fantastic people. I love my team – they're a huge part of what keeps me here. They're knowledgeable, and always ready to share their experience, or offer a fresh perspective. We keep having fun, we joke together, we support each other, and we're all passionate about mental health. So the fact that we get to do that work together, and they're just good people to work with – it's a winning combination!
What kind of educational background is needed for this position?
Social worker II's are required to have a bachelor's degree in social work, and to maintain registration with the Alberta College of Social Workers. AHS also employs social worker I's occasionally, which is a diploma-level social worker, as well as social worker III's, which is a master's level social worker. I'm currently working towards my master's degree to become a mental health therapist.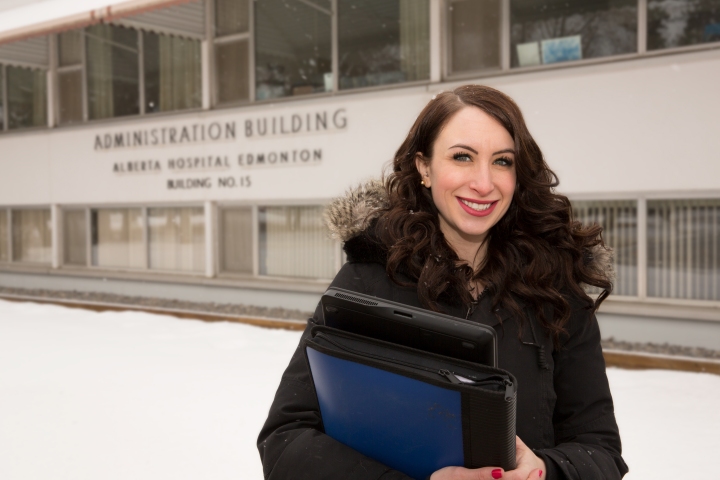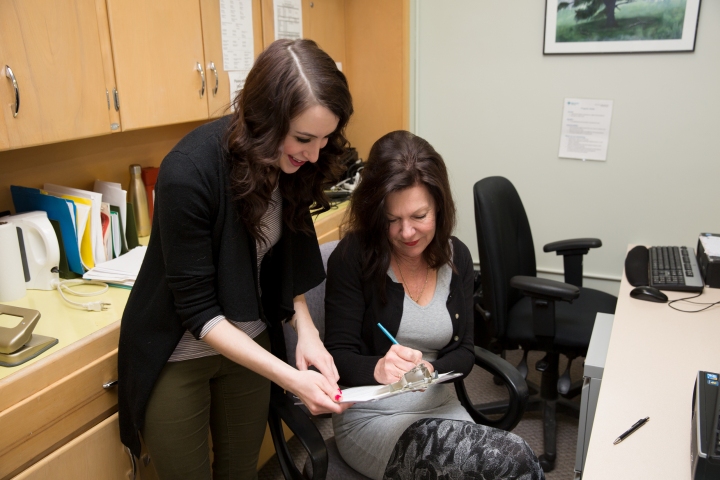 How can you develop your career as a social worker?
There are many ways you can develop your social work career, either as with a bachelor of social work, or by getting your master's degree, or a master's in a related field. In addition to Mental Health, AHS has social workers attached to several programs, hospitals, and departments that make it easy for you to move laterally. Taking opportunities to change departments, or taking temporary positions offering new experiences can really help you move up your career.
I had the opportunity to take a temporary position with the University of Alberta hospital, which provided me with new knowledge that I was able to use in my current role. I believe this experience made me better at my job here, because we do referrals to the program I was temporarily working for. I know the program, its hours, and the people you need to talk to – the firsthand experience has made a big difference!
How does your position enhance patient care?
I feel lucky to work on a multidisciplinary team; mental health therapists, master's-level social workers, psychologists, occupational therapists, psychiatric nurses, and registered nurses. With so many disciplines represented within our team, we really work together to try to get a big-picture view of our clients and their circumstances.
For example, if a patient is prescribed a medication that's going to help them with their symptoms, but they can't afford that medication, or they need to do physiotherapy but can't drive to appointments – then that's not going to be an effective treatment plan.
My role within the team would be to try to bridge the gap in some of those big-picture concerns. I think this approach really improves the patient's overall experience with the healthcare system. It helps patients feel more "seen."
What kind of person do you think would excel at social work?
I think a good balance of critical thinking and compassion – balancing these two things is very important. You also need to be a creative problem-solver, thinking both "outside the box," as well as inside the box that the client might be thinking in. It's important to be compassionate and empathetic while still being able to gently challenge some of the assumptions that people may be vulnerable to when they are in distress. Sometimes this means telling a client who thinks they've hit the end of the road, "I think there's actually one more thing we can try."
Do you have any advice for someone looking to follow your career path, and might want to become a social worker, or a mental health worker?
I'm always telling people to consider a social work degree if they want to go into mental health. A lot of people aren't aware that you can get these types of positions, and simply default to being a psychologist if they want to work in the mental health field. Even for me, I've gotten some good experience counseling on this team, working alongside mental health therapists. It's allowed me to see what that looks like, and to grow some of those skills, to a level that's within my scope of practice. Even if your ultimate goal is to get your master's degree, like mine is – a bachelor of social work can be a great foundation to start from.