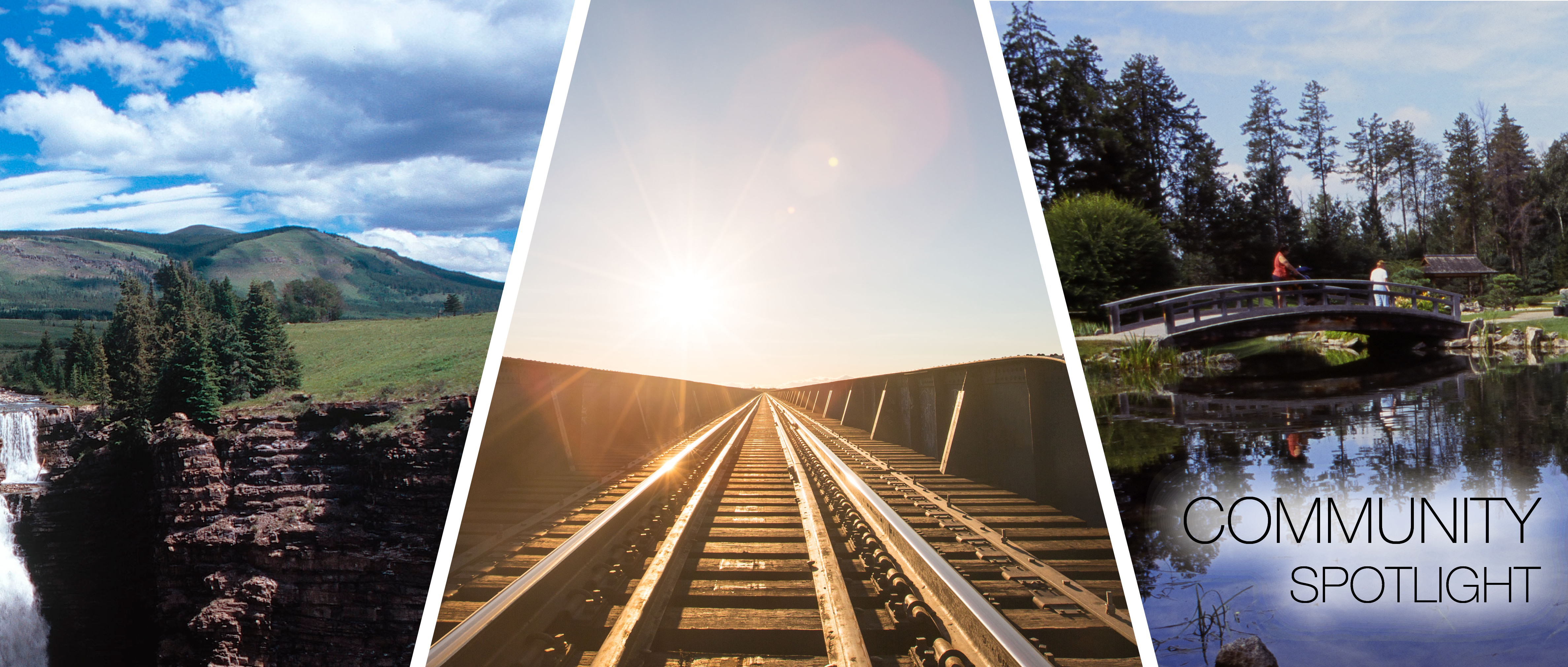 In the heart of southern Alberta, the Oldman river valley carves its way through the semi-arid landscape as the river snakes through and branches off into smaller coulees. The Blackfoot people in the area called it Aksayim, or "Steep banks."
Located about 220 kilometres southeast of Calgary, or about two hours' drive, Lethbridge is a thriving city of 92,729 inhabitants and serves as an economic, agricultural, governmental, and service hub.
Lethbridge enjoys warm summers and mild winters. Summers are bright and sunny, with the city receiving over 320 days of sunshine per year. The Rocky Mountains that lay 150 kilometres to the west are the reason behind Lethbridge's unique weather patterns, including the prevalent winds. While Lethbridge has a reputation for the ever-present wind, it's not actually the windiest place in Canada – it only ranks 8th on the list. Also because of the mountains, the chill of winter is broken by warm winter chinooks.
The Lethbridge Viaduct runs almost parallel to the main highway and is one of the most distinctive structures in town. It's the highest and longest steel trestle bridge in North America, measuring 95.7 metres, or 314 feet at its highest point. The city skyline is punctuated with the clock tower, atop the old post office, and the water tower, which has since been converted into a one-of-a-kind restaurant.
Although the Lethbridge area is traditionally agricultural in nature, it's grown into a vibrant, multicultural urban centre. Residents get the best of city living, with all the modern conveniences at their fingertips. There's a thriving cultural scene for visual and performing arts, sports, and recreation, as well as a great mix of bars, cafes, and restaurants to enjoy, and a full calendar of special events year-round.
You can cheer on the local Western Hockey League team, the Lethbridge Hurricanes, or reflect on the beauty of the Nikka Yuko Japanese garden. Whatever your lifestyle or interests, there's something for you here. A recently renovated and expanded Henderson Lake is a popular family attraction with a 24 hectare man-made lake perfect for kayaks, canoes and paddle boats alike along with a spray park, rock climbing wall, diving board, outdoor pool and water slides for all ages.
Families with children have plenty of access to education. There are both public and Catholic School divisions providing education to students from Kindergarten to Grade 12, including twelve Kindergartens and elementary schools, four middle schools, and four high schools. Lethbridge is one of only a few cities its size that has two post-secondary institutions, Lethbridge College and the University of Lethbridge. Each institution offers a full range of certificates, diploma, and degree programs, as well as options in the trades and continuing education.
The broad range of services available in Lethbridge provides patients and healthcare professionals alike benefit from seamless multidisciplinary care. The local healthcare team is equipped to support patients from the initial diagnosis, through active care and treatment, to rehabilitation.
The Chinook Regional Hospital provides a full suite of healthcare services that encompass a 24-hour emergency department, acute and trauma care, surgery, obstetrics, lab, x-ray and diagnostic imaging services, physical and occupational therapy. The 270-bed facility serves over 150,000 people in southern Alberta and is equipped with a helipad for emergency transport to the specialist centres in Calgary.
The Jack Ady Cancer Centre within the Chinook Regional Hospital provides cancer treatment and radiation therapy.
The Lethbridge Community Health Centre provides prenatal and programs for babies and toddlers, laboratory services, health promotion and public health services. Additional facilities in Lethbridge provide continuing care and long-term care, addiction and mental health services, nutrition and dietician services.
Discover the many learning and professional development opportunities within Lethbridge. Employees have access to regular training through classroom seminars, webinars, or blended learning on a range of relevant topics, such as current best practices, specific skill certifications, or cultural awareness to improve the patient experience.
Lethbridge has plenty to offer individuals and families of all ages. From the wide range of career opportunities across multiple professions, to the vibrant arts and cultural scene and the spectacular scenery of southern Alberta, Lethbridge has something for you. To learn more about this community, visit the City of Lethbridge's website or Facebook page. Ready to join our outstanding team? Check out the opportunities that are currently available on our job board.