January 19, 2017
Central Zone Volunteer Resources team creates the conditions for joyful days of giving
Story by Laura Manuel
Just imagine a role where you pay people in joy. It's reality for Brenda Farwell, one of 15 Volunteer Resources coordinators in Central Zone. This team strives daily to inspire nearly 3,000 volunteers.
"Managing volunteers is different," says Farwell. "We aim to provide joy and learning in exchange for their time and effort."
Every day, the Central Zone Volunteer Resources team works to ensure volunteers feel supported and engaged.
"People want to volunteer," says Farwell. "Our job is similar to the role of human resources advisors… we place them in the most appropriate position."
Volunteers work in a wide range of roles — from helping in the labs and greeting visitors at a hospital to education and assisting with end-of-life care. Volunteers also play the role of patient advisors. And hospital gift and coffee shops are heavily supported by volunteers in partnership with hospital auxiliaries and associations.
To date, the team has assessed the individual interests and skills of around 2,500 adults and 320 youths — and connected them program needs at AHS.
Lynn Gray, Manager of Central Zone Volunteer Resources/Pastoral Care, is proud of her team's dedication and how they support a broad range of volunteers.
"We have one of the largest youth volunteer programs in the province," says Gray. "We also welcome those with challenges to be volunteers. We aim to be diverse and welcoming in our program."
To become a volunteer, people apply just as they would for a paid position. Volunteer Resources then conducts an interview to determine where an individual would best fit based on their interest, skills and opportunity. At this stage, the volunteer then goes through a security screening, orientation and training.
"We're very proud of the training we do with our volunteers," adds Farwell. "We're proactive about giving people knowledge to do new roles."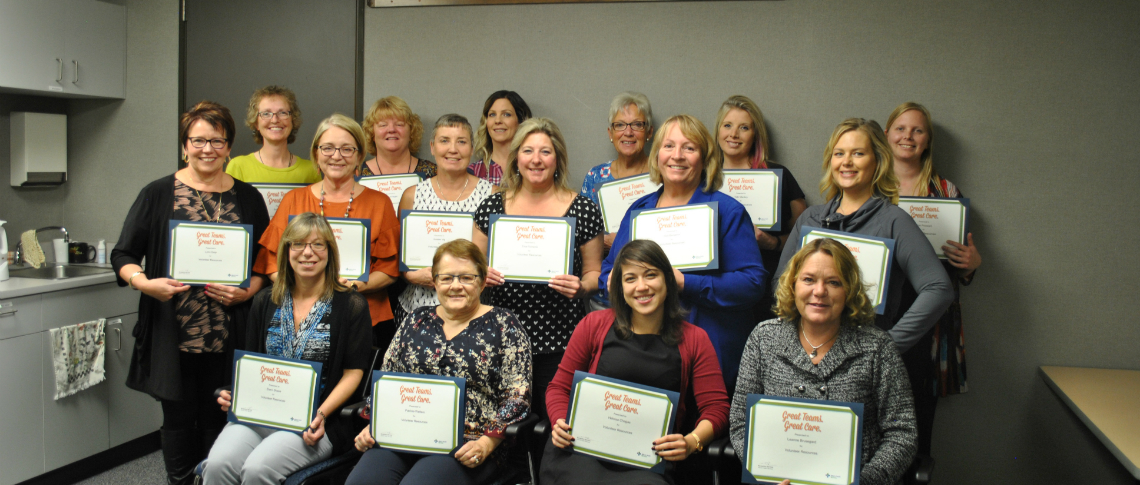 Volunteers in Central Zone have the opportunity to participate in a range of learning programs. There's training available in areas such as palliative and end of life care, facilitation, bereavement support and managing responsive behaviors.
Volunteers are also trained in mealtime assistance with information about proper swallowing, hygiene and how to position the tray and food to support the individual needs of each patient.
"We provide most of our training through telehealth," explains Gray. "This way, volunteers can access training in their own communities."
It's essential that volunteers are trained to identify and manage sensitive situations.
"For example, one of our volunteers discovered that a patient hadn't revealed their diagnosis to their family," says Farwell. "A patient will often share things with a volunteer that they may not reveal to staff."
This particular volunteer was able to share this information with healthcare providers so they better understood the situation.
Central Zone Volunteer Resources was named by AHS as one of its Great Teams in 2017. It was also one of the recipients of the 2017 Central Zone Spirit Award of Excellence.
"We're fortunate we get to coordinate the efforts of those who step up," says Farwell.
Central Zone Volunteer Resources is part of provincial Volunteer Resources that supports over 15,000 volunteers across Alberta.